Celebrity Interview: Maria Sharapova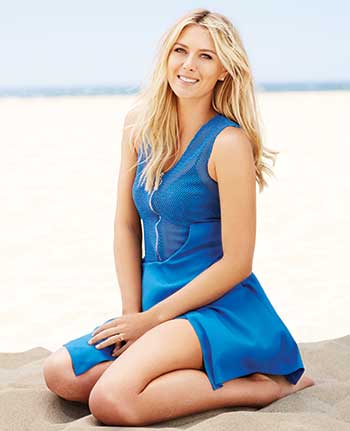 Tennis champ Maria Sharapova dishes on her perfect day in Los Angeles, her most memorable career moment and more.
In an age of celebrity scandals, it's refreshing to see a star making waves for all the right reasons. Look no further than tennis champ Maria Sharapova, 27, who is adding to the "businesswoman" column of her impressive resumé with the recent collaboration of her Sugarpova candy line with SoCal obsession Pinkberry.
The candies (Flirty Mini, Flirty Sour Mini and Smitten Sour Mini) represent different sides of Sharapova's personality, and a portion of sales from the Sugarpova candy collection are donated to the Maria Sharapova Foundation.
We caught up with the Russian-born athlete to dish on her perfect day, her most memorable career moment and more. Wimbledon champ, U.S. Open winner, Olympic silver medalist, Forbes' highest paid female athlete for the past nine years, and candy entrepreneur—sweet success indeed. — Jessica Radloff
You moved to the U.S. at age 7. What do you remember about Los Angeles at that time?
L.A. is a crowded place, and it can be overwhelming at first. But it's a dreamer's city—the palm trees, warm weather and ocean views sweep you away. It's a great place to work toward an athletic career because you can be outdoors at any point during the year.
Now you have a home in Manhattan Beach. What do you love most about the city?
I like how casual Manhattan Beach is. The beaches are beautiful and it's a great place to exercise and find peace. There's a fair amount of anonymity, mixed with a neighborhood feel—[Manhattan Beach] feels about a million miles away from downtown L.A. I love driving up the coast to Malibu and just being by the water.
When you look back over your exceptional career so far, which win means the most to you?
We're coming up on the 10th anniversary of when I won Wimbledon—that's a moment I will never forget. But 2012 was also pretty amazing after winning the French Open and the silver medal at the London Olympics. I can't choose because those all meant very personal things to me.
You've achieved so much success as both an athlete and a businesswoman. What are some words of wisdom that you live by?
I think it's important to realize that there are no barriers that can't be overcome. My favorite motto is "live life with no regrets."
So how did you come up with the concept of Sugarpova?
I don't eat a lot of sugar before I compete, but I do love to treat myself afterwards if I've had a really tough practice, or a good day. In the Russian culture, you always have a cup of tea around 5 p.m., but I'd always want something sweet with it, so that's where the philosophy of treating yourself comes into play. Instead of loading up on sugar, it's about treating yourself to something.
Your goal with Sugarpova is to help children achieve their dreams. What's your next dream you'd like to achieve?
Apart from tennis, my main business goal is to keep growing the Sugarpova brand with other collaborations and crazy, out-of-the-box events. Proceeds from the sales of the candy are donated to my foundation, so it's really a win-win for everyone.
Maria's Perfect Day
early morning
Strand Stroll
Head to Peet's for a latte; take my dog on a walk on The Strand in Manhattan Beach.
late morning
Juice Refresh
Grab the latest fresh juice mix at either Pressed Juicery or Nekter Juice Bar (800.385.1650).
afternoon
Nosh & Shop
Visit Venice for a healthy lunch at Gjelina on Abbot Kinney [followed by] boutique shopping at Guild.
dinner
Fine Dining
Amazing Italian at La Sosta Enoteca in Hermosa Beach or Hamasaku for sushi in L.A. (310.479.7636).
evening
Sweet Finale
[See] a concert at the Greek Theatre, [then] hit up Pinkberry  for a sweet treat (and my Sugarpova mini collection!).