Celebrity Interview: Margot Leitman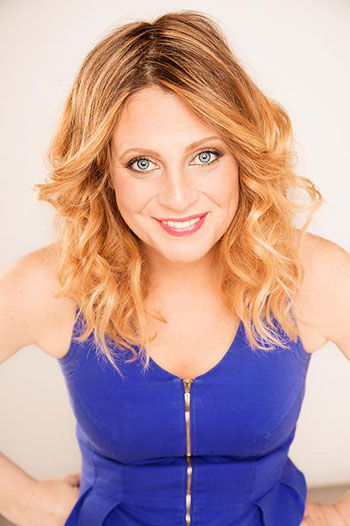 Awaken your inner storyteller with tips from Margot Leitman.
By Christina Xenos
In a city rife with storytellers, who spins the best tale and what's the best way to do it? Enter Margot Leitman—you've seen her on Best Week Ever, Conan, and several comedy stages around town. The Moth Grandslam winner and founder of the Upright Citizens Brigade storytelling program takes her tips from the stage to the pages of her new guide, Long Story Short: The Only Storytelling Guide You'll Ever Need. Read on to discover how Margot charmed audiences from New York to L.A. and how to wake your inner raconteur.
What lead you to write Long Story Short?
I had been teaching a self-created curriculum to great success for quite a while. My classes were selling out within the hour at times, but I was limited to teaching in just a few cities. I wanted people all over the world to have access to these lessons. It stemmed from wanting everyone to have the tools to share their story.
Where do you like to see comedy in L.A.?
The thing about LA is you can see great comedy in a backyard. When I lived in NYC that wasn't possible…no yards there. I have a three-year-old so I don't get out to see as much live stuff as I'd like, but I have seen great shows at UCB, IO West, and this past year's Hollywood Fringe Festival at various venues. I also try and make the Moth Grandslam which happens every few months at the Echoplex.
Where else are your favorite places to perform in L.A.?
I like to perform on the big stage at Busby's East, UCB both Franklin and Sunset venues, love the stage and vibe of Bar Lubitch, and the Virgil.
How did you get involved with the Moth?
I started in NYC waiting in an epically long line, putting my name in the hat and hoping to get picked. I think it took me four times of going to even get picked, and then maybe four times telling a story before a win. Then it took three tries to win the whole-she-bang, the Grandslam. So that's a long way of putting, it took a lot of patience!
What's the biggest embellishment you've ever told on stage?
I'm a big advocate of the truth being funnier than anything you can possibly make up. So, I'm not really much of an embellisher.
Has anything embarrassing happened to you in the middle of a performance?
Yes, yes, and more yes. Which do I choose? How about when I had some dental work going on and I had a temporary tooth in that flew out of my mouth in the middle of a performance? I think I'll go with that one.
What are some basic tips you can give potential storytellers?
A lot of beginners do too much research time and not enough getting on stage time. Take a chance and get up on that stage! Shows like the Moth Storyslam (various locations) and John Flynn's "Oh Hey Guys" (UCB Sunset Inner Sanctum) pick audience members out of a hat (actually it's a tote bag at the Moth) and it's a great way to start meeting fellow storytellers and figuring out who you are as a performer. Oh, and read my book too!
See Margot Leitman and some of her favorite storytellers—Dave Ross (Drunk History, IFC's "Women"), Vanessa Marshall (Star Wars Rebels), June Diane Raphael (Grace and Frankie) and Dan Curry (the Eric Andre Show)— live at UCB Franklin during the Long Story Short book release show on Oct. 22 at 7 p.m. More Info.
Learn more about Long Story Short.