Celebrity Interview: John Varvatos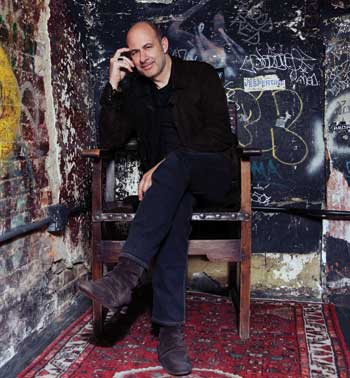 Make room for cool. John Varvatos, designer to rock gods, shares the art of packing light—with maximum swagger.
John Varvatos is, like the musicians he dresses, on constant tour. When the New York City–based designer isn't in his studio, he's on the road—in Milan for Fashion Week to show his menswear collection, jetting to Los Angeles for the John Varvatos Stuart House Benefit and traversing the globe in search of both inspiration and sites for his retail empire. Trust the man who outfits rock legends such as Iggy Pop, Slash and Gary Clark Jr. to put some swagger in your next trip. Read on for his expert fashion tips.
How has travel influenced your work as a designer?
Travel is the only time I'm not in meetings, and I have time to think. So, when I'm traveling, I'm watching people in the street. I'm going to flea markets, art galleries, vintage clothing stores and bookstores and looking at architecture and details on buildings and cars.
If you could wake up any- where tomorrow, where would that be?
The island of Mustique. It's a place I go to shut out everything except my family and friends I'm with. My wife and I eloped there, and we go pretty much once a year. It's a magical place.
Preview the John Varvatos fall 2013 Tailored Clothing Collection on Sept 19-21. Get information on events in Los Angeles and Orange County.
What's your idea of the perfect travel outfit?
A great-looking dress shirt you can take from a business meeting and later on, wear with a T-shirt and jeans. You can never go wrong with a great pair of dark jeans and boots. I'm not talking about Western boots. Our boots are Old World; they have an elegance to them and a worn-in look. If I have those core pieces, I can get through anything.
What do you always have with you on a flight?
A light scarf—on the plane, it keeps you warm, and if it's made of cotton or silk, you can wear it to dinner as a tie. And my iPad; I call it my life.
Any tips for packing light?
Think about versatile items that can go from day to night, so that they can be both casually elegant and elegant. Less is more in a way.
Do you have a foolproof look for business meetings?
I can get away with more, since I'm a designer. I show up at a meeting wearing a leather jacket—and it works. If you're in the corporate world, you need a great-fitting suit. It's not about the price. It's about great tailoring. You automatically look more powerful when you have things that fit well. Even if you're bigger, anything that gives you shape is better.
What kind of gent do you design for?
Of course we love artists, photographers and musicians, but it's just someone with a creative bone, who has an affinity for details, whether it's electronics, cars or their clothes. He has an appreciation for fine things and he's more concerned about style than fashion.
What are the easiest updates to make this season?
A new suit … preferably in midnight. It's very chic—even in tuxedos. We're also in a moment where it's all about the jacket. It's a tailored piece, not outerwear. You can dress it up, dress it down and turn the collar up.
Shop John Varvatos' boutiques in Los Angeles and Orange County
8800 Melrose Ave., West Hollywood, 310.859.2791
3825 Cross Creek Road, Malibu, 310.317.8487
3333 S. Bristol St., Costa Mesa, 714.545.5551