Celebrity Interview: Hannah Simone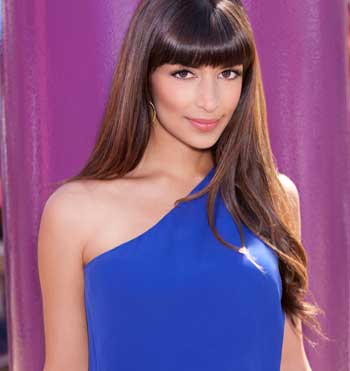 If you're a fan of New Girl—and if you aren't, why not?—then you might agree that Hannah Simone has been a revelation as Cece, the on-screen BFF to Zooey Deschanel's Jess. Read on to find out what life's like on set and a few of Simone's favorite Los Angeles spots.
Prior to starring on the Fox hit, Simone hosted the Canadian design show Space for Living before becoming a popular music veejay on MuchMusic. But her experiences haven't been limited to North America; born in London, the cosmopolitan Simone grew up in Saudi Arabia and India. She has since settled down in West Hollywood and divides her time between New Girl (the new season premieres Sept. 17), various film projects, and being an ambassador to the Pink Daisy Project, which provides care to young women facing breast cancer treatment. —Jessica Radloff
You moved to L.A. five years ago after living all around the world.
Yeah, we were a pretty nomadic family. We moved countries every [few] years. But I feel like a part of me is very Los Angeles, too, especially since my brother lives here. I had visited L.A. several times before, and I did not connect with it at all. But here's the secret: L.A. is awful to visit because it's so spread out, but it's an incredible place to live. New York is an incredible place to visit, but it's a harder place to live. So the best of both worlds is getting to live in L.A. and visit N.Y.
What's coming up this season on New Girl?
Nick [Jake Johnson] and Jess are in Mexico, and it's going to get weird! Cece and Elizabeth [Merritt Wever] are both in the first episode with Schmidt [Max Greenfield] kind of picking up where he left off [deciding who he wanted to be with]. That was really exciting, to read what he's going to do.
What are your relationships with the cast like?
It's a family where you have a sister and three brothers. What's great about Zooey is that I know she has my back, and between me, Zooey and [creator] Liz Meriwether, there's just this great sense of sisterhood. It's an honest, trusting dynamic.
In November, you star in the Spike Lee film Oldboy.
I had the good fortune of meeting Spike Lee after he had seen New Girl on a plane. Swear to God. He invited me to come down to New Orleans to have a part in the movie, so I jumped at the chance. It was amazing, and it's with Elizabeth Olson, Hannah Ware, Samuel L. Jackson and Josh Brolin.
When you're not off shooting movies, where do you like to shop in L.A.?
I am such a big fan of the Melrose Trading Post on Sundays. It's easy, and there's always really good-quality stuff. You could decorate your entire apartment there! I also go to Venice Beach. I love First Fridays on Abbot Kinney.
Where do you like to dine?
I love Terroni on Beverly Boulevard. It's a Canadian restaurant that moved down here. They have really great pizza and tagliatelle bolognese. I also like Robata Jinya on 3rd Street. They have the best ramen in the city. The Pikey on Sunset is great, and their fish 'n' chips and full English breakfast [are] amazing. We went with the cast once.
What's your favorite L.A. attraction?
The Getty. Maybe it's because I grew up in London, but they just have such a beautiful garden there, and it makes me feel like I'm not in L.A. I sound so English, but I love the gardens!
DETAILS
Abbot Kinney First Fridays First Friday of each month on Abbot Kinney Boulevard between Main Street and Washington Boulevard, Venice, abbotkinney1stfridays.com
Getty Center 1200 Getty Center Drive, L.A., 310.440.7300
Melrose Trading Post 7850 Melrose Ave., L.A., 323.655.7679
The Pikey 7617 W. Sunset Blvd., L.A., 323.850.5400
Robata Jinya 8050 W. 3rd St., L.A., 323.653.8877
Terroni 7605 Beverly Blvd., L.A., 323.954.0300; 802 S. Spring St., downtown, 323.954.0300
Venice City Beach 2700–3100 Ocean Front Walk, Venice