Celebrity Interview: Grumpy Cat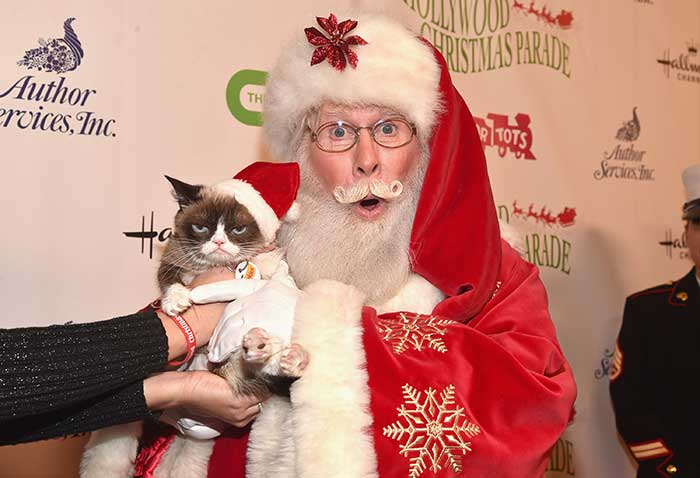 If you didn't make it to the Hollywood Christmas Parade on Nov. 29, you can watch the 84th annual event on The CW Network this Friday. Among the floats, bands and celebrities one familiar face will definitely stand out—and it's feline.
Grumpy Cat took her seat—reluctantly clad in a kitty-sized Santa hat—in the back of a '64 Mustang convertible, and was able to wave and snap selfies with her fans along the route.
She was in good company at the event that was grand marshaled by Pen & Teller, and featured throngs of familiar faces like Laura McKenzie, Erik Estrada, Dean Cain, Montel Williams and the cast of Jane the Virgin. But Grumpy Cat wasn't only in superstar mode star mode throughout the night, she also played fan, snapping her own selfies with the likes of Oscar De La Hoya.
Grumpy Cat rode along the route with a special Friskies collar to get the message across to everyone that if you use the hashtag #GiveFriskies between Dec. 1 and Dec. 25, you can help cats in need. Friskies has pledged to donate one meal per use of the hashtag up to 10k meals. Friskies is close to her heart. Her favorite food is Friskies beef shreds with gravy. "She knows the sound of the can and will come out for food being opened," said Tabatha Bundesen, Grumpy Cat's owner.
This wasn't her first time enjoying the spotlight in the City of Angels. While lounging at her a-list crash-pad a the Hollywood Roosevelt Hotel she said, (through Bundesen) that she has made rounds at Disneyland, Universal Studios, the Walk of Fame and Capital Records building. She loves the weather here—especially soaking up the sun. She also visited the Jim Henson Creature Shop last year to model for a puppet that was used in Grumpy Cat's Worst Christmas Ever, a TV movie that premiered on Lifetime in 2014.
Movies and music videos are just the beginning for the cat that launched a million memes. Her first comic book just came out, she's about to drop her own line of Golden Books for kids and on Dec. 8 she'll jet up to San Francisco to be immortalized as Madame Tussauds unveils her anamatronic wax figure (which will eventually travel to the five other Madame Tussauds locations, including Hollywood).
What's the jet-set life like for a cat? She has a few tips in true Grumpy Cat fashion for felines and humans when traveling:
"Don't talk to the people next to you."
"Stay hydrated."
"Avoid the TSA. "
See Grumpy Cat in the spotlight during the Hollywood Christmas Parade, which airs on The CW Network on Dec. 11.