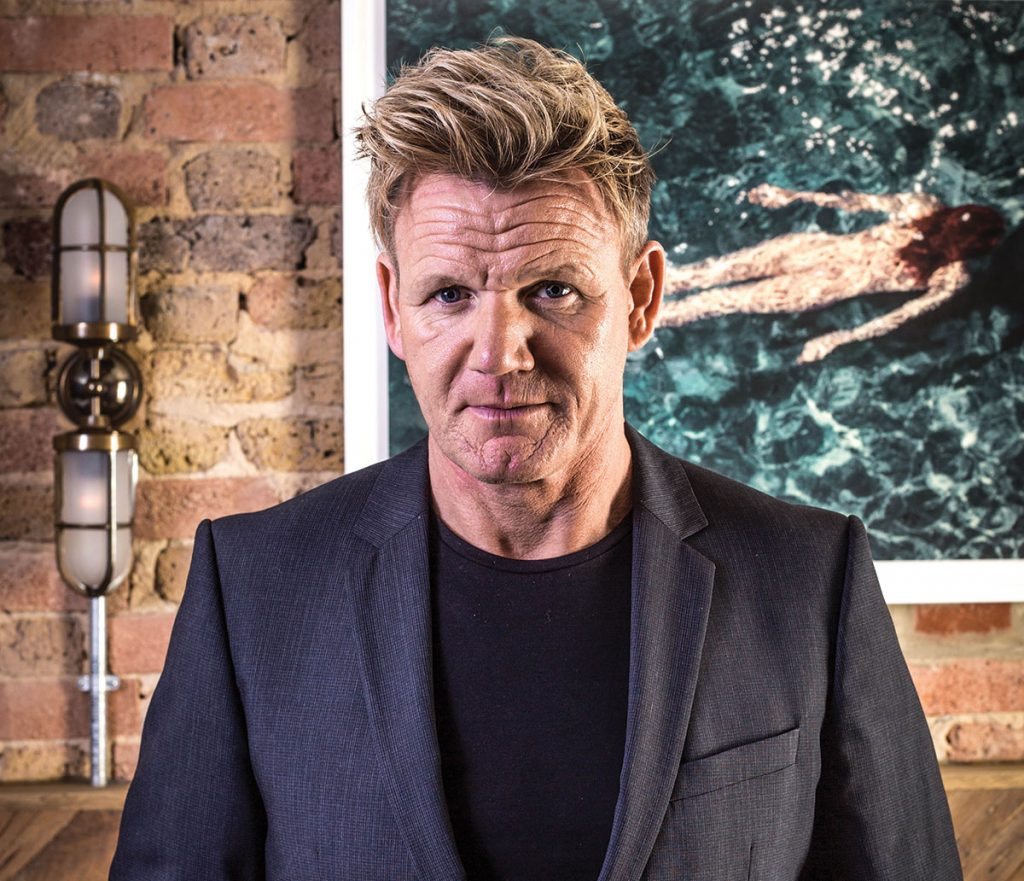 Gordon Ramsay — the most interesting chef in the world — is short-tempered, largely because he's short on time. Discover his favorite things to do in LA out of the studio — and his favorite burger spot.
Gordon Ramsay doesn't always scream at people, but when he does, he prefers to use obscenities. With 30 restaurants, 27 cookbooks, 10 top-rated TV shows in the U.S. alone, 6 Michelin stars, 5 pets, 4 kids and 1 potty mouth, the most interesting chef in the world is short-tempered, largely because he's short on time. He's constantly on the go between the LA and UK hubs of his media empire, which is currently serving up new Fox seasons of MasterChef (Wednesdays at 8 p.m.) and Hotel Hell (Tuesdays at 8 p.m.). But though Ramsay is a hothead, he clearly has a warm heart when it comes to the small fries. He's a big softie who melts around his young MasterChef Junior contestants, and he minds his manners (mostly) with his own foodie brood.
As a native Brit, what do you appreciate most about life in Los Angeles?
The best things about LA are the beautiful views when I'm riding around on my bike or running in the canyons. But there's no ignoring the fact that it has its quirks. No one knows how to drive in the rain, and sometimes people are a bit too laid back!
What silly kid stuff do you enjoy most on LA adventures with your son, Jack, and daughters Matilda, Megan and Holly?
We love spending time at the beach, so we'll go swimming, paddleboarding and biking along the beach in Santa Monica. The kids have even taken surfing lessons in Malibu at the Malibu Surf Shack. We love going to the different farmers markets, especially the Santa Monica one on Saturdays. And at night, the kids love to go to Cinespia to watch outdoor movies.
Chefs have never been more stylish. Where do you shop for clothes?
When I'm not shopping online, I like stopping by Theory or checking out some of the amazing designers on La Brea. There's also great shopping at Cross Creek in Malibu, with a delicious brunch at Malibu Farm. And the views are pretty good as well!
The culinary world currently points to Los Angeles as the best dining city in America. What's energizing the food scene here?
I think it's because of the ability for LA chefs to be creative, just like the creative community that is based in LA I think the chefs here are more apt to take risks and put their own spins on classic cuisines, like at Bestia and Otium. The produce and seafood you can get in Southern California is extraordinary as well. That freshness helps get a lot of young, talented chefs excited and creative with their dishes.
What are LA's hottest restaurants? Tell us where to go and what to order.
Go to Wolf for Marcel Vigneron's vadouvan lamb rack. Santa Monica Yacht Club for the whole fried snapper. Norah restaurant for crispy rillettes. The Bellwether for Ted Hopson's tempura cauliflower. You can't go wrong with that.
Summer is barbecue season. Where is LA's best?
There's a lot of great barbecue in LA, but my current favorite is Barrel & Ashes in Studio City. They have a great selection of delicious smoked meats.
You don't always eat fine food; I once spotted you at an In-N-Out Burger drive-thru. Which LA joint wins the burger wars?
In-N-Out. Always.
Which local chefs do you think could give you a run for your Michelin-starred money?
My daughter Tilly! She has her own cooking show in the U.K. on CBBC. I guess you can say she learned from the best.
Gordon Ramsay's Favorite LA Spots
Barrel & Ashes 11801 Ventura Blvd., Studio City, 818.623.8883
The Bellwether 13251 Ventura Blvd., Studio City, 818.285.8184
Bestia 2121 E 7th Pl., downtown, 213.514.5724
Cinespia 6000 Santa Monica Blvd., Hollywood, 877.435.9849
In-N-Out Burger see website for 50 Greater LA locations
Malibu Farm 23000 Pacific Coast Hwy., Malibu, 310.456.8850
Malibu Surf Shack 22935 Pacific Coast Hwy., Malibu, 310.456.8508
Norah 8279 Santa Monica Blvd., West Hollywood, 323.450.4211
Otium 222 S. Hope St., downtown, 213.935.8500
Santa Monica Yacht Club 620 Santa Monica Blvd., Santa Monica, 310.587.3330
Theory 8428 Melrose Ave., L.A., 323.782.0163 (additional locations in Brentwood and Beverly Hills)
Wolf 7661 Melrose Ave., L.A., 323.424.7735