Celebrity Interview: Gaby Dalkin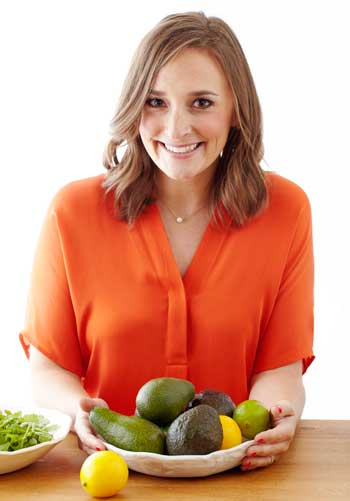 Los Angeles-based food and lifestyle writer, Gaby Dalkin just launched her first cookbook, Absolutely Avocados. Read on to discover her inspiration behind the book, secrets to making the perfect guacamole, and her favorite places to eat guacamole and sip margaritas (guac's perfect counterpart) when she's out in L.A.
Gaby Dalkin is a trained chef, recipe developer, and food/lifestyle writer based in Los Angeles. Her food and recipe blog WhatsGabyCooking.com features original recipes and images that inspire and delight even the pickiest of palates, along with anecdotes from Gaby's life on-the-go. Her first cookbook, Absolutely Avocados, is hot off the presses and celebrates her uncontrollable obsession with nature's most perfect food: the avocado.
Edited by Christina Xenos
What inspired you to write Absolutely Avocados?
I have always been known as the guacamole/avocado fanatic of the food blogging world. So when I was approached to write a cookbook, I casually threw out the idea of writing a whole book on avocados! I had no idea anyone would take me seriously – but here we are! I'm seriously a huge avocado fan, I don't think a day goes by without at least 1 avocado somewhere in my meals. I'll never be able to move away from Southern California, I couldn't live without seeing avocado trees every few blocks.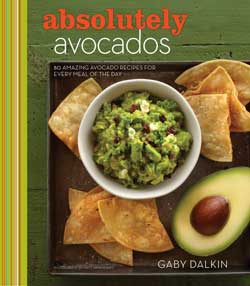 You have more than 80 recipes in your book! What are some of the most surprising dishes you can make with avocados?
The desserts will probably be the most surprising to everyone. Baking with avocados as a substitute to butter is not something you'd think to do, but it's really easy. Also, you can use avocados to make a great pasta sauce or Caesar salad dressing. There is just so much more to avocados than guacamole!
What are your secrets for a perfect guac?
Citrus, spice, something flavorful and herbs. I always use a little lemon or lime in my guacamole – or sometimes both! Add some chopped peppers like serrano or jalapeño to give the guacamole a nice little kick too. I'm a fan of adding in fun "mix-ins" like mangos, pineapple, goat cheese or bacon to really step it up a notch. And then of course herbs. So many people use cilantro, but I like to mix things up with chives, scallions or other fun fresh greens you find at your local market.
When you're not making guacamole at home, where do you get your fix in Los Angeles?
I love the guacamole from Mercado in Santa Monica! I'm also a huge fan of the guac at The Ivy.
How about Margaritas? Do you have your own fresh take on mixing the perfect complement to guacamole?
I like to keep my margaritas simple with some freshly squeezed citrus juice like grapefruit or orange juice, good tequila, a splash of lime and some sweetness from agave nectar! If we're getting super jazzy, I'll add a muddled jalapeno and then strain it out before serving. My Sunburnt Margaritas recipe on my blog is my go-to for guacamole girl's night.
Where do you like to drink Margaritas in Los Angeles?
The Skinny Margaritas at Don Antonio's on Pico are to die for! And I love the classy margs they pour over at Red O.
How will you be spending Cinco do Mayo this year?
Eating boat loads of guacamole of course! I like to have all my friends over for a little guacamole and margarita-infused afternoon out by the pool!