Celebrity Interview Erin Foster and Sara Foster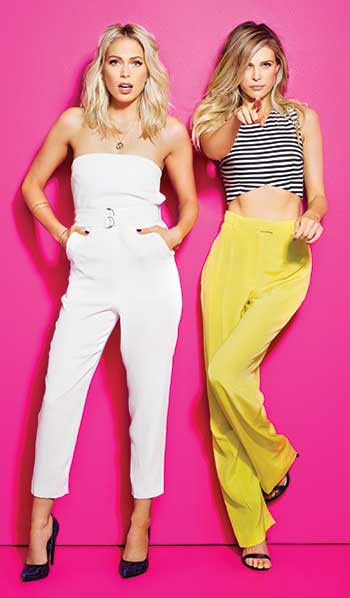 The Barely Famous stars chat about their new show and some of their favorite things to do in L.A.
By Suzanne Ennis
Intentionally or not, reality television provides plenty of comedic fodder. And who better to send up that world than screenwriter Erin Foster (left) and actress Sara Foster, who've witnessed it from the inside? The daughters of über music producer David Foster, stepdaughters of Real Housewives of Beverly Hills' Yolanda and ex-stepsisters of Bruce Jenner's sons (got that?) co-produce and star in Barely Famous, a new parody on VH1.
With A-lister cameos, awkward moments and laugh-out-loud one-liners galore, the show follows the duo across L.A. as they film a reality show, all the while hiding it from their friends and family. On the eve of the show's premiere, the sisters helped Where separate fact from fiction.
Barely Famous pokes gentle fun at a genre that your extended family has embraced. Has that led to some awkward conversations around the dinner table?
Erin: The truth is … no one in our family feels like it's mean-
spirited, because it really isn't. We love watching reality TV; we just don't want to be on reality TV.
Your dad is multi-Grammy-winning producer David Foster. Did you inherit his musical talents?
Erin: Unfortunately, we did not! … But he was always very clear that he followed music because that was his dream and that we should go follow whatever our dreams are. There was never any expectation. … We love music, but we just love being fans of it.
Where do you like to hear live music in L.A.?
Sara: I love the Hollywood Bowl. I think the atmosphere makes it an experience in itself. I recently saw a show at the Wiltern, which is a cool space; it's a little more intimate. Most of the big shows now are happening at Staples.
Erin: Or the Forum. … I saw Sam Smith, and I saw the Black Keys at the Forum, too.
Can we expect any cameos from musicians on the show?
Erin: We'd love that! There's definitely gotta be some kind of funny storyline with a musician.
There are scenes that remind me of The Larry Sanders Show, where it's so painful to watch but so funny at the same time.
Sara: The Larry Sanders Show, Curb Your Enthusiasm, Extras … those are the shows that influenced us. So that's the biggest compliment we could get.
You look like you're having a blast. What are the best parts of working together?
Sara: I'm glad that it appears that way! Obviously, it's a dream to be able to work with your sibling, it's a dream to have an idea and have a network believe in it and give you a chance, so we couldn't feel more blessed. But there were long hours, long days. … For two years this is all we've breathed, which is why we're so excited that it's finally coming out. We can't believe it. Our billboard on Sunset just went up this morning!
Erin: We're like, OK, it's real.
This show is for real!
A Few Foster Faves Around L.A.
⁄ dining ⁄
We'll have what they're having.
Craig's, Sunnin (Erin: It was featured on Curb Your Enthusiasm.), 9021Pho (Erin: Their chicken curry pho is, like, addicting.).
⁄ shopping ⁄
The L.A. look.
Zara (Erin: [I like] to shop cheap!), Nasty Gal, Scoop NYC.
⁄ fitness ⁄
Workin' it out.
The Gym on Nemo (Erin), Pilates Platinum (Sara: For me, the all-around best workout ever.)
⁄ beauty ⁄
Getting gorgeous.
Beauty Park, Kate Somerville (Sara: My go-to place.), Andy Lecompte Salon (Erin: We're loyalists. We've been getting our hair [colored] there by Denis De Souza. … No matter who you are, you walk in the door and they treat you really nicely.)