Celebrity Interview: Duff Goldman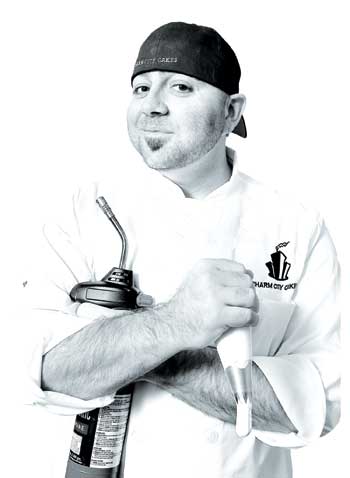 Cake artiste Duff Goldman holds all the aces: In addition to starring on the Food Network show Ace of Cakes and running blockbuster bakery Charm City Cakes in Baltimore, he now has two cake shops in Los Angeles
Los Angeles is a natural location for these new endeavors. "We were already making so many cakes [for customers] in L.A., and I really got sick of driving cakes across the country," he jokes. In addition to Charm City Cakes West is the new concept Duff's Cakemix, where customers can decorate their own confections. "Seeing how many people we touched with Ace of Cakes, and how much people loved to decorate cakes, Cakemix has been a Willy Wonka–type dream of mine for a long time," he explains. Based in Baltimore, this part-time Angeleno has discovered many sweet spots in La-La Land. —Katie McCarthy
What are some of the most elaborate cakes you've made?
We made a life-size baby elephant, a life-size NASCAR car for Time Warner, a life-size working R2D2 for George Lucas. We also made a winter wonderland Disney castle for an event at Disney World last week. And when we make a Disney castle, we make every little detail, including Dumbo on skates!
You've made cakes for celebrities and royalty. Who has been your favorite famous client?
I'd have to say either George Lucas or the owner of the Boston Bruins [Jeremy Jacobs]. Getting to make cakes for my heroes is awesome because I get to be super fan-boy while doing my job.
You spend your days surrounded by sweets. That's dangerous.
I used to eat a lot of cake; I have a crazy sweet tooth. Lately, though, I've lost about 47 pounds and I'm trying to lose about 50 more, so eating sweets is a luxury I can't really indulge in too often. But, let's be honest, my cakes are awesome and it's pretty much impossible to not sneak a bite once in a while.
When you're not on a cake kick, where do you get dessert?
Fonuts, for sure. I love everything they make. I'm a big fan of the desserts at Red Medicine. They are visionary, beautiful, but most importantly, delicious! But, in all honesty, my lemon poppy cupcakes keep me up at night.
Any other favorite eats in L.A.?
The calamari at Villa Blanca is awesome. The José Andrés at Ink. Sack is the best sandwich in town. My go-to right now is the Pink Asylum at Liquid Juice Bar. The sesame wasabi poke at Poke-Poke at Venice Beach is a good treat.
You're also a musician. Where do you like to see shows?
The Troubadour has some of the best shows I've seen here. It's like the Ottobar of L.A. Maybe I need to start a new band out here. I'm in an Elvis tribute band called Danger Ace that plays a few times a year for charity functions. Hmm….
Any other favorites?
I'm a fan of the L.A. Zoo. I like the giraffes and the golden lion tamarins. Here's a weird one: I've been fascinated by the La Brea Tar Pits since I was, like, five years old, and I've been [there] at least three times this year. You know what else I love about L.A.? The graffiti. I was a graf writer when I was a kid and I've seen some beautiful stuff here, and stuff you only see in magazines, like [graffiti by Shepard] Fairey and Banksy. Yeah, L.A. pretty much kicks ass.
DETAILS
Charm City Cakes West 8302 Melrose Ave., L.A., 323.642.7234
Duff's Cakemix 8302 Melrose Ave., L.A., 323.650.5555
Fonuts 8104 W. 3rd St., L.A., 323.592.3075
Ink. Sack 8360 Melrose Ave., L.A., 323.655.7225
Liquid Juice Bar 8180 Melrose Ave., L.A., 323.300.8070
Los Angeles Zoo and Botanical Gardens 5333 Zoo Drive, Griffith Park, 323.644.4200
Page Museum at the La Brea Tar Pits 5801 Wilshire Blvd., L.A., 323.934.7243
Poke-Poke 1827 Ocean Front Walk, Venice, 424.228.5132
Red Medicine 8400 Wilshire Blvd., Beverly Hills, 323.651.5500
The Troubadour 9081 Santa Monica Blvd., West Hollywood, 310.276.1158
Villa Blanca 9601 Brighton Way, Beverly Hills, 310.859.7600