Celebrity Interview: David Arquette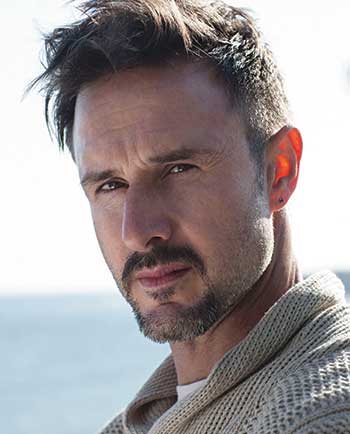 True Hollywood multihyphenate David Arquette discusses his new flick and his favorite spots around Los Angeles.
By Gillian Glover
David Arquette is a true Hollywood multihyphenate. Born into a family of actors and raised in L.A., he's acted, written, directed and produced, and has also mentored at-risk youths in SundanceTV's Dream School. Away from the camera, he co-owns nightclub Bootsy Bellows in West Hollywood. Despite having been up all night tending to his baby boy with fiancée Christina McLarty, the star dished to Where about the raucous new game show he's producing with ex Courteney Cox, Celebrity Name Game, and his favorite spots to frequent in L.A.
How does working on a game show differ from the other shows that you've produced?
I've always loved game shows. I don't know what it is. I grew up with my grandfather. … He was on the original Hollywood Squares. Maybe because of that, I've just always loved game shows. And I love playing games … Pictionary, or charades, or Celebrity. It's sort of one of those fun things you do with people that—you know, it marks good times, in a weird way.
Do you have any upcoming projects that you're excited about?
I do. Yeah, I have a film coming out called The Key. It's written and directed by Jefery Levy. More than a film, it truly is an art piece. It's just about this couple that has a really intense relationship, and it's really about this husband that just wants to please his wife. And I guess that's a lot of people's story. [Laughs]
Do you prefer working in front of the camera or behind it?
Acting is truly like my first love. It's something that my whole family did, and my mother and my father were both actors. My grandfather, even my great-grandfather and grandmother, were on vaudeville. So, to me, it's something that's just a
passion and a love.
So what inspired you to open your first nightlife spot, Bootsy Bellows?
What inspired me was the fact that my family came from vaudeville. I mean, there's something about entertainment, and just going up and putting on a show. I mean, there's something, like, I Love Lucy, Ricky Ricardo having his club, you know what
I mean? [Laughs]
What, in your opinion, makes a good nightlife destination?
An element of surprise. Like, not your typical thing. Something that makes it more of an experience, rather than just a destination. Because, you know, everyone works really hard. And part of the whole beauty of going out is to celebrate, to cut loose, to not take it all too seriously, to have a little fun. So then if you keep that in mind, then you try to provide an environment that provides that for people.
What are some of your favorite L.A. bars or restaurants?
Definitely The Magic Castle. Definitely the Frolic Room. It's a great—I'll say dive bar, or just a great bar in general. [You] just meet interesting people. It was Charles Bukowski—one of his favorite bars. It just has that element. Pour Vous is a really cool little place. It's right on the corner of Melrose and Gower, where I grew up. I tend to have a lot of nostalgia in sort of the things I do or the things I love. I love Musso & Frank's. You sit in a place, that's, you know, Hollywood's oldest restaurant. You sit in the same booth that maybe Humphrey Bogart sat at, or Marilyn Monroe. There's something to that mystique—and especially since we're in Hollywood—that is beautiful.
What's your favorite thing about the city?
Overall, my favorite part of L.A. is, if you were so inspired, in the wintertime, you could go to the beach in the morning, and then hop in your car and be skiing in the evening. [Laughs] There's not a lot of places where you could do that. My other favorite aspect of L.A. is finding the history, because a lot of people say L.A. doesn't have a history, but it does. It's just a brief history, and it's still there. So to find things that tap into the movie industry. I still love going to Hollywood Boulevard, I still love going to the old Hollywood Wax Museum, you know, even just seeing the handprints in front of the Chinese Theatre.
Details
Bootsy Bellows 9229 W. Sunset Blvd., West Hollywood, 310.274.7500
Frolic Room 6245 Hollywood Blvd., L.A., 323.462.5890
Hollywood Wax Museum 6767 Hollywood Blvd., L.A., 323.462.5991
The Magic Castle 7001 Franklin Ave., L.A., 323.851.3313
The Musso & Frank Grill 6667 Hollywood Blvd., L.A., 323.467.7788
Pour Vous 5574 Melrose Ave., L.A., 323.871.8699
TCL Chinese Theatre 6925 Hollywood Blvd., L.A., 323.461.3331