Celebrity Interview: Chelsea Peretti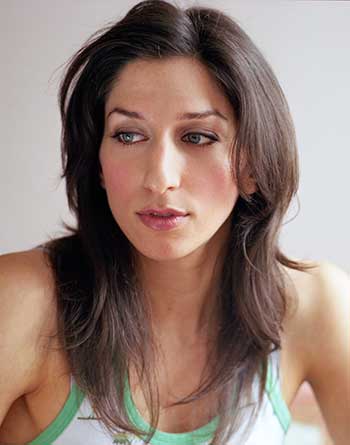 Actress Chelsea Peretti is best known for her role as meddlesome office administrator Gina Linetti in the New York-centric award-winning Fox comedy Brooklyn Nine-Nine, but deep down, she's a Golden State girl at heart.
Born and raised in Oakland, Peretti moved to New York for college and returned to her California roots in 2013. Peretti is also known for her wildly successful podcast, "Call Chelsea Peretti," and has earned her comedic chops writing for the likes of Parks and Recreation, Kroll Show, Saturday Night Live and The Sarah Silverman Program. Peretti and her new pooch call Los Angeles' Eastside home, but she's equally happy on the road, where you can find her as of late, touring the country with her "American Treasure" stand-up comedy show.
—Lesley McKenzie
What are some of the topics you'll be tackling on the road?
I am a new dog owner, so it's about dogs and humans and the way they are and what they bring out in each other. A lot of stuff about technology and the way we interact with it.
What kind of dog, and what's his name?
He's a rescue, so I haven't decided yet if I'm going to do the DNA testing thing. On Instagram, people keep asking me his name. I don't tell because I don't want people to be able to call him.
Speaking of social media, Rolling Stone voted you one of the 25 Funniest People on Twitter. What's the secret to a good tweet?
My personal take on it is keeping it simple. I like it when people are expressing their mood or what's happening in their lives.
Whom do you like to follow on Twitter?
Yassir Lester, who is opening on tour with me. He's really funny.
We hear you and Brooklyn Nine-Nine co-star Andy Samberg went to elementary school together. Any fun memories?
He used to play basketball. And I used to have a crush on him so I would call his house and hang up all the time.
Where is your go-to brunch spot in Los Angeles?
I like going to The Beverly Hills Hotel. The small counter diner space feels like its own world. The simplest things taste amazing there and I don't know why. And the service reminds me of New York somehow, mixed with the '50s. I also like the Saddle Peak Lodge in Calabasas and Cora's in Santa Monica.
What's your favorite comedy venue in town?
I don't go watch comedy much, but my favorite venues to perform at are Largo, The Comedy Store and UCB [Upright Citizens Brigade Theatre]. Largo is a beautiful theater space run by exceptionally nice people. The Comedy Store is dark and moody and has a crazy family feel. UCB is young and lively and a fun place to try new material.
What is your idea of a perfect night on the town?
I love going to Mozza (both the Pizzeria and Osteria), seeing movies at the ArcLight, and walking my dog in the hills [and] looking at houses. I also love going downtown and having Japanese food and buying mochi.
Best coffee in L.A.?
I like making coffee at home and having it with my boyfriend and dog while we all hold each other.
DETAILS
ArcLight Hollywood 6360 W. Sunset Blvd., Hollywood, 323.464.1478
The Beverly Hills Hotel 9641 Sunset Blvd., Beverly Hills, 310.276.2251
The Comedy Store 8433 Sunset Blvd., L.A., 323.650.6268
Cora's Coffee Shoppe 1802 Ocean Ave., Santa Monica, 310.451.9562
Largo at the Coronet 366 N. La Cienega Blvd., L.A., 310.855.0350
Osteria Mozza 6602 Melrose Ave., L.A., 323.297.0100
Pizzeria Mozza 641 N. Highland Ave., L.A., 323.297.0101
Saddle Peak Lodge 419 Cold Canyon Road, Calabasas, 818.222.3888
Upright Citizens Brigade Theatre 5919 Franklin Ave., Hollywood, 323.908.8702