Celebrity Interview: Brent Bolthouse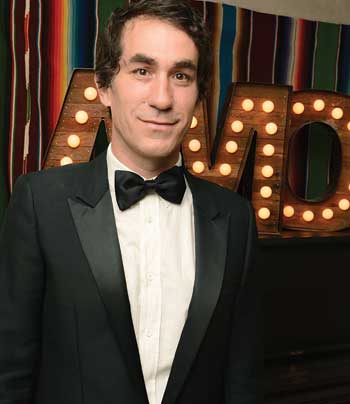 Entrepreneur Brent Bolthouse is Los Angeles nightlife. No one person has been as effective as luring Young Hollywood and Old Hollywood out to see and be seen than this California native.
After creating Bolthouse Productions in the '90s, Brent Bolthouse, 42, partnered with Sam Nazarian's SBE Entertainment Group and created such establishments as Hyde, Area, Foxtail and Katsuya. In 2009, the Hollywood Dell resident joined forces with VOX Entertainment to form Bolthouse VOX, which counts HBO, Mercedes-Benz and Wolfgang Puck among its clients. His newest nightspot, the Bungalow, adjacent to the Fairmont Miramar Hotel & Bungalows in Santa Monica, is a place "that I can call home for my friends and [me]," says Bolthouse. —Jessica Radloff
How did you get involved in the hospitality and nightlife industry?
I was 19, and it happened at the right time and place, with my first club being Opus Lily. I had no idea what I was getting myself into, but there was a line with 300 kids by 10 pm.
You moved to LA from Joshua Tree. How did your lifestyle change?
I came to LA to get sober and I have stayed sober. That's been the biggest change of my life.
How has the nightlife industry evolved in the past 10 years?
The landscape has changed so much. The truth is, nightlife in Hollywood has become only about money and the guy who buys tables from $300 to $3,000 per night. There is no vibe, there is no soul, there is no sense of family like there once was 10 or 15 years ago when the whole cast of That '70s Show spent every Friday night after a taping at whatever club we had at the time. Additionally, TMZ has changed so much about nightlife. While it feeds the public's addiction to celebrity, it in turn also keeps those same celebrities out of most clubs. This is why the Chateau Marmont and SoHo House are better than ever. We all love going to a place that makes us feel safe.
Do you still enjoy going out to a lounge or club after spending so many years in the business?
I love going out and I love people. Of course I have nights to myself, but even after 22 years, it is still in me. [However,] I don't love fist-pounding clubs with dance music at 120 decibels on my night off.
How did you come up with the concept for the Bungalow?
For years, I wanted to have a place on the Westside and have always loved the Baja Cali vibe that is part of LA life. Santa Monica needed a place with a vibe that fit their lifestyle. It was one of those "a-ha" moments.
What kind of hours does a nightcrawler like you keep?
That's funny. I'm up by 8:30 am each day and go to bed no later than 2 am.
Where do you go for the best meal in L.A.?
Tasting Kitchen in Venice, Il Ristorante di Giorgio Baldi, and Fig in Santa Monica.
Where do you shop?
I like to keep it simple—Chucks and Dior jeans and H&M for everything else.
For those that are intimidated by L.A. nightlife—bottle service, the velvet rope—what's your best advice for having a good time?
Go to The Bungalow and skip the velvet rope. We're a neighborhood place with a warm and welcome vibe.
DETAILS
The Bungalow 101 Wilshire Blvd., Santa Monica, 310.899.8530
Chateau Marmont 8221 Sunset Blvd., L.A., 323.656.1010
Dior Homme 315 N. Rodeo Drive, Beverly Hills, 310.247.8003
Fig Fairmont Miramar Hotel & Bungalows, 101 Wilshire Blvd., Santa Monica, 310.319.3111
H&M 6922 Hollywood Blvd., Hollywood, 323.466.7633; Sunset Plaza, 8580 Sunset Blvd., West Hollywood, 310.855.9683; additional locations at hm.com
Il Ristorante di Giorgio Baldi 114 W. Channel Road, Santa Monica, 310.573.1660
SoHo House 9200 W. Sunset Blvd., West Hollywood, 310.432.9200
Tasting Kitchen 1633 Abbot Kinney Blvd., Venice, 310.392.6644