Celebrity Interview: Barry Sloane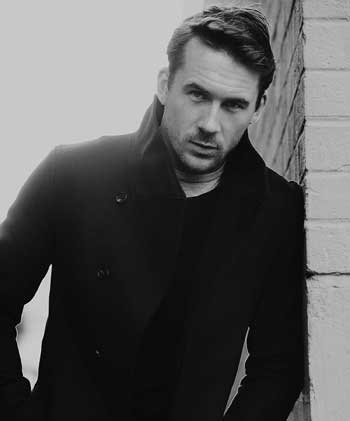 The Hollywood leading man dishes on Revenge, being directed by Darren Aronofsky in an upcoming film and his favorite spots in Los Angeles.
It's not supposed to happen like this: A handsome actor decides to move to Los Angeles, gets off a plane, and immediately starts working on a hit TV show. For the dashing Barry Sloane—who plays Aiden Mathis opposite Emily VanCamp's Emily Thorne on the ABC prime-time soap Revenge—there was no living on couches with pennies to his name. Instead, a long résumé of award-winning dramas and theater in Sloane's native England preceded his well-thought-out move to Hollywood.
Now, the only possible regret for the Santa Monica resident of 18 months is that he didn't move here sooner. "It was an easy transition, actually," says the Liverpool native, "considering I was right by the ocean and could walk around a lot." Yes, sounds exactly like Liverpool to us. —Jessica Radloff
Growing up in Liverpool, were you reluctant to move to Hollywood? Talk about culture shock.
Liverpool is a wonderful city with incredible people, and it's shaped me as the man I am. I always wanted to succeed, so I suppose in the back of your mind as an actor, you know that if you want to get to the top of your game you'll eventually end up in Los Angeles for some period in your life. I'm very proud that I'm here now.
And you're on a hit show! What's the best part about being on Revenge?
The wonderful cast. We're all very close and socialize outside of work, as well as during. They're all wonderful actors, very passionate about the show and what they want it to be. I hang out with Gabe Mann, Emily VanCamp, Josh Bowman and Nick Wechsler all the time. [When I joined the show], they really took care of me and welcomed me. Hopefully I've done that for the new guys who joined this season.
What's coming up for Aiden?
We're currently filming episode 10, which is a very big episode. All will be revealed about the flash-forward at the beginning of the season. Obviously the continuing love story for him and Emily has been going strong. They are very much in love, but there are going to be obstacles. It's going to be interesting seeing them both navigate those problems and pushing on with killing people and ruining other people's lives. It's going to be fun.
You just finished filming Noah with Russell Crowe, Jennifer Connolly and Emma Watson. Not a bad cast!
To be able to be directed by Darren Aronofsky and to have him want me to be a part of his movie [is incredible]. Also getting to work with Russell Crowe, a master of his craft and someone who was very kind to me, was amazing. We had many conversations. He gave me some pointers and help within the industry. It was wonderful just watching him work and learning from him.
You and your wife, Katy, have a young daughter. What are your favorite places to go with the family? What are your favorite family friendly things to do in LA?

We have a wonderful life here. It's a great place for family. You've got the bluffs and ocean right there, and a wonderful town center with the Brentwood Country Mart, which we go to a lot. We'll go to the Annenberg a lot. You've got the kids playground, the beach cafe, the pool and the splash pad, which is something our daughter loves.
And when you're on your own?
Being English, I do enjoy having a beer at the King's Head and watching football. My wife and I also like Tar & Roses. They have popcorn with bacon, which is incredible. I personally just love getting in the car and going up the PCH [Pacific Coast Highway] and doing that drive. I literally drive for hours on that road—it's beautiful, and one of my favorite things.
DETAILS
Annenberg Community Beach House 415 E. Pacific Coast Hwy., Santa Monica, 310.458.4904
Brentwood Country Mart 225 26th St., Santa Monica, 310.451.9877
Tar & Roses 602 Santa Monica Blvd., Santa Monica, 310.587.0700
Ye Olde King's Head 116 Santa Monica Blvd., Santa Monica, 310.451.1402