Celebrity Interview: Audrina Patridge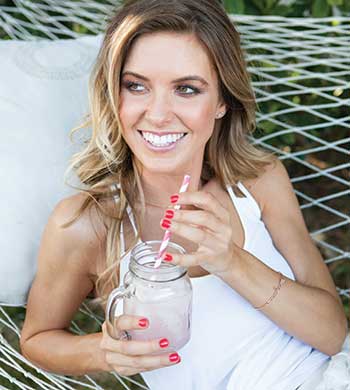 The reality star/actress/host Audrina Patridge discusses her new lifestyle travel show and her perfect day in Los Angeles.
By Jessica Radloff
Considering that reality star/actress/host Audrina Patridge was almost too shy to pursue a career in showbiz, it's remarkable that what catapulted her to fame was starring as herself on MTV's L.A.-centric reality show The Hills—and that she followed up her six-season run with two more stints on reality TV. But just because she got the shyness out of her system doesn't mean that the Hollywood Dell-area resident has lost her sweetness. As host of NBC's lifestyle travel show 1st Look, which airs after Saturday Night Live, Patridge has found her niche. "I'm such a people person, and I love traveling, so the show is a great fit." Between far-flung destinations, the 29-year-old caught up with Where to share her favorite spots in the city that put her on the pop-culture map.
Fans must approach you all the time wanting to still ask you questions about The Hills.
I get asked whether I talk to Justin Bobby all the time. I keep in touch with everyone off and on, and that was a huge part of my life, but we've all gone down different paths. I always get asked if the show was real or fake.
What prompted you to pursue a career in front of the camera?
I grew up watching The Mickey Mouse Club and I loved watching [the actors] dance, but I was so shy. In high school, I actually wanted to be a psychologist, and even went to night school for it, but did acting classes during the day.
How did you overcome your shyness?
I kept pushing myself and made myself do things out of my comfort zone. Sometimes the more you push yourself to do what scares you, the more you [triumph].
Five years from now, where would you like to see yourself personally and professionally?
I'm launching my own swim line [called Prey] with my sister. We've worked so hard on it. It's the highest quality [material] and there's something for everyone. So in five years I really just plan on focusing on that, living in a beach house, being married, raising a family and traveling. I love hosting, but I don't want to have to depend on television [for a career]. Plus, I live in a bathing suit, so it only makes sense!
What are some of your favorite hidden gems around Los Angeles?
There's this bar in Silver Lake called 4100, and I love that it's really dark and has a Moroccan theme. The Hungry Cat is another one that I love.
What's the most underrated neighborhood in Los Angeles?
Beverly Hills. It's not just for the old and rich. There are a lot of fun things to do there and it's so beautiful. It's not snooty and stuck up. Nic's (310.550.5707) is this great little jazz bar that's kind of lounge-y. I really like it there.
Audrina's Perfect Day
morning
Rise 'n' Shine
For breakfast, I go to Solar De Cahuenga on Cahuenga and Franklin. They have amazing crepes! Then I'll go work out at Bodyline Fitness Studio on Wilshire.
midday
Shop & Primp
Lunch is usually a great casual spot like Toast Bakery Cafe . For shopping, I love Planet Blue. … Then I'll go to BlushLA in Brentwood for facials.
evening
Dinner Bell
For a date night, [my boyfriend, Corey Bohan] and I always go to The Bowery for great food and wine. … And I love the patio at Katana.
late night
On the Town
I love going to Pearl's Liquor Bar on Sunset and sitting up on the second-floor patio. Then my girlfriends and I will pop into The Roxy or The Viper Room to see what shows are going on.