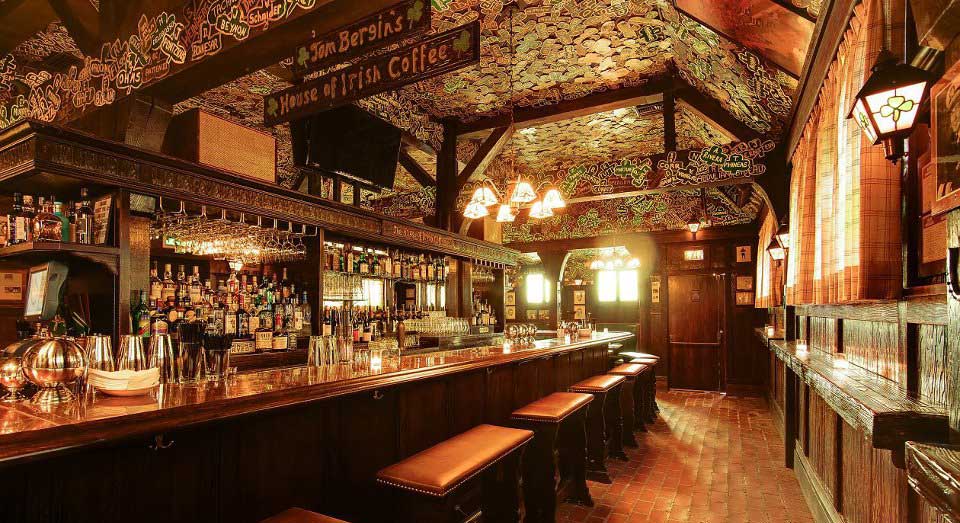 Celebrate St. Patrick's Day in Los Angeles with all-day parties, parades, free flowing Guinness, green beer and more.
By Christina Xenos
Tom Bergin's Public House
March 17. If there were one place to celebrate St. Patrick's Day in Los Angeles, it would be at Bergin's Public House. This year, they not only celebrate the holiday in all its glory, but also toast their 80th birthday. The party starts at sunrise with Irish breakfast at the horseshoe bar, and extends from 6 a.m. until 2 a.m. Festivities really get rolling at 11 a.m., when the party moves out into the parking lot and offers a Guinness truck with plenty of beer, Magners Irish Cider, Irish-inspired cocktails, two beer pong tables, DJs and more.
Casey's St. Patrick's Day Street Festival
March 17. This 43rd annual all-day street festival enlivens downtown Los Angeles with Irish food, games, Irish drink specials (green beer, anyone?) and sets by a live DJ. Headquartered at Casey's Irish Pub, the street festival takes place in front of the pub. 6-2 a.m. Free general admission until 3 p.m., $10 after 3 p.m.
Rock & Reilly's St. Paddy's Block Party
March 12. Start your celebration early with an all-day party filled with green beer, 12 full bars, DJs, face painting, games and more. 1-10 p.m.
The Original Farmers Market
March 17. The Original Farmers Market gets in on the holiday spirit with a day-long celebration featuring traditional Irish fare, music, a strolling bagpipers, Irish beers and more.
Hermosa Beach St. Patrick's Day Parade
March 12. St. Patrick's Day kicks off early in Hermosa Beach. World-famous dancer Anna Trebunskaya (Dancing with the Stars) is the Grand Marshal for the 22nd annual St. Patrick's Day parade. Find floats, marching bands and leprechauns dancing down Pier Avenue. Kicks off at 11 a.m.
The Pikey
March 17. The Hollywood English pub serves up specials like smoked salmon soda bread; cabbage and boiled bacon; Guinness ice cream and cookies and sweet treats like Guinness floats; Irish coffee with Guinness foam and an Irish flight of four Irish whiskeys.
Angel City Brewery
March 17. The downtown brewery observes the holiday with a day of Irish-themed festivities that kick off at 2 p.m. include special beers, live music, cornhole tournament, Irish themed food trucks and an Off the Ropes comedy show starting at 9 p.m.
The Abbey Food & Bar
March 17. Celebrate St. Patrick's Day the way only The Abbey can—with with leprechaun gogo dancers and Miller Lite and Jameson shots on special.
Public School on Tap
March 14-19. All locations of the modern gastropub will celebrate with skillet-style corned beef hash (braised, house-made corned beef with a stout-mornay reduction and topped with a 6-minute egg, crispy smashed potatoes, roasted carrots and Brussels sprouts) alongside their rotating craft beer taps and select Irish whiskeys.
Eveleigh
March 17. Revel over four specialty Irish-themed cocktails and three different whiskey flights.
Vintage Enoteca
March 17. The Hollywood wine bar offers their annual grilled cheese and beer tasting event where they will pair three craft beers with three creative grilled cheese. $30, includes three 6-oz. glasses pairs with three half sandwiches. From 5 p.m.
Tavern
March 17. The revered Brentwood restaurant offers specials like corned beef and cabbage, traditional Irish breakfast, Shepherd's Pie, chocolate whiskey cake, a whiskey flight and Tavern's signature cocktail, Tavern on the Green (brugal añejo rum, lime, muddled basil, cilantro and jalapeno). You can also get the specials to go at The Larder at Tavern and The Larder at Burton Way. From 5 p.m.
Tam O'Shanter
March 17. One of L.A.'s oldest restaurants celebrates the holiday with their annual party, which includes a tented area in their parking lot that holds live music, green beer, pub food and more. From 1 p.m.
Ox & Son
March 17. The modern American restaurant in Santa Monica celebrates the holiday with half-priced beers all day. Pair them with Irish specialties from Executive Chef Brad Miller like fish and chips (11 a.m.-3 p.m.) and corned beef & cabbage cassoulet (after 5 p.m.)
Saddle Peak Lodge
March 17. The Calabasas dining destination offers corned bison with boiled fingerling potatoes, napa cabbage, and Guinness sauce for $42.
Hopdoddy Burger Bar
Forget green beer and head to Hopdoddy Burger Bar for their Luck-O-The-Doddy Burger (a green egg bun, green beer cheese, Kennebec fries, beef patty, white onion, tomato, lettuce and sassy sauce) offered on St. Patrick's Day. All month long, you can also sink your teeth into their Green Eggs & Ham burger (beef patty, prosciutto, fried egg, manchego cheese, salsa verde, onion, tomato and arugula on a fresh-out-of-the-oven egg bun), strawberry buttermilk pie milk shake and cilantro jalapeño margarita. Available at the El Segundo and Playa Vista locations.
The Hook & Plow
March 12. Hermosa Beach gets in on the St. Patrick's Day celebrations early this year with their St. Patrick's Day parade. Along with that, local restaurant the Hook & Plow, on the parade route, serves up specials like corned beef hash and a champagne juice flight.
Horse Thief BBQ
March 17. Celebrate at Grand Central Market's BBQ spot over a corned beef and cabbage special as well as Guinness on tap.