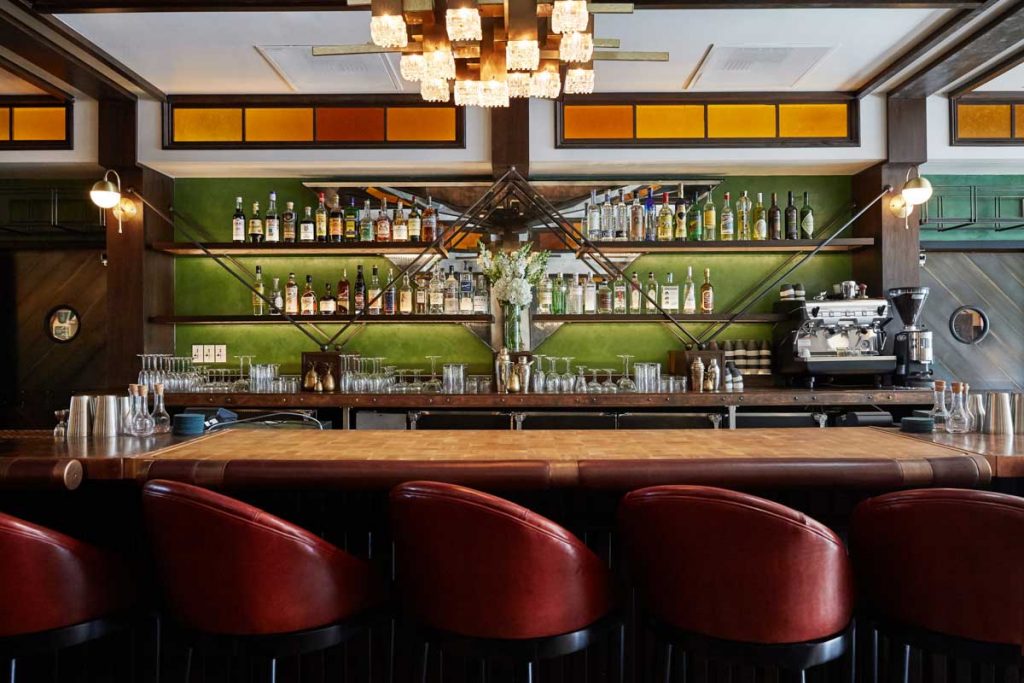 Celebrate St. Patrick's Day in Los Angeles with parties, free flowing Guinness, green beer and more.
Tom Bergin's Public House
March 17-18. If there were one place to celebrate St. Patrick's Day in Los Angeles, it would be at Tom Bergin's Public House. The party starts at 6 a.m. with Irish breakfast and Irish coffee at the horseshoe bar. Festivities really get rolling at 11 a.m., when the party moves out into the parking lot and offers two bars, beer pong, a Fernet ice luge, giveaways and more until 2 a.m.. You may even see Mayor Eric Garcetti stop by to bartend for a bit. For the first time ever, the bar opens for a Hair of the Dog Night Time After Party on Saturday at 4 p.m.
Casey's St. Patrick's Day Street Festival
This annual all-day street festival enlivens downtown Los Angeles with Irish food, drink specials (green beer, anyone?) and sets by a live DJ. Headquartered at Casey's Irish Pub, the street festival takes place in front of the pub. 6 a.m.-1 a.m.; festival 11 a.m. Free general admission before 3:30 p.m. 21+.
Flogging Molly
The Irish-American seven-piece Celtic punk band from Los Angeles headlines the Forum with Mighty Mighty Bosstones and Mariachi El Bronx. The St. Patrick's Day show starts at 3 p.m. with Guinness, green beer or Irish-inspired cocktails at the Tullamore Dew Whiskey Bar. Select concession stands will offer a special St. Paddy's Day menu with corned beef and cabbage sandwiches, Irish chicken and waffles and Lucky Charm dessert bars. Also find backyard games like giant Jenga and corn hole, as well as festive tunes, a photo booth, custom merch and more. If you're Ubering to the event use PADDYSFORUMEVENT to save $10.
Tam O'Shanter
One of L.A.'s oldest restaurants celebrates the holiday with their annual party, which includes a tented area in their parking lot that holds live music, green beer, pub food and more. From 11 a.m.
Whiskey Red's St. Patrick's Day Patio Party
Celebrate St. Patrick's Day at Whiskey Red's annual party that features drinks specials on everything from green beer ($4) to Irish car bombs ($8), live music from the Molly Maguire's Band and a buffet snacks. Tickets.
Manuela
The downtown restaurant celebrates the holiday with a beer garden in the restaurant and adjacent public garden. Enjoy food specials like deer burgers, pimento grilled cheese and lime ice box pie; along with live music beer and cocktails from 4-9 p.m.
The Pikey
Reveared Hollywood English pub celebrates its neighbor to the north with Irish-inspired food like black and white pudding with colcannon and gravy, corned beef and cabbage and Guinness ice cream with brandy snaps. Also find themed cocktails like the Guinness float, Denver Mint Fizz and Irish whiskey flights.
Rock & Reilly's
The Irish bar in downtown celebrates all day with a party featuring green beer, DJ tunes, Irish nachos, a giant shamrock pretzel and more including all the March Madness you can watch.
The Abbey
West Hollywood's iconic gay bar promises an over-the-top St. Patrick's Day celebration that takes you over the rainbow with go-go dancing leprechauns and "little people" filling the dance floor.
Angel City Brewery
Celebrate the holiday with live music, signature brews and food truck fare.
Golden Road Brewing  
The Pub at Golden Road Brewing is the perfect spot to sit outside and celebrate over Shamrock Specials of four beers for $16 and Golden Road's Irish Stout served with Irish Cream popsicles. You can also dine on food specials like corned beef and hash sliders, shepherd's pie, stout beef stew, Irish soda bread, Lucky Charms Rice Crispy treats and more.
Westbound
March 14-17. The St. Patrick's Day specials start on Tuesday at the downtown bar and eatery. Get a head start on the holiday with corned beef sliders, green eggs and ham and drinks like Irish Flag Swizzles and St. Patrick's Day sours. Also find events throughout the week like Irish beer pong, themed music and more. The party culminates on Friday with early opening at 3 p.m.
The Wallace
Celebrate over $9 themed cocktails like the Shamrock (Shake) Flip with creme de menthe, cacao, brandy and egg; $6 beer; and $5 food specials like green mini fast food tacos and Auntie Rebecca's pretzel with green mustard.
Dudley Market
Chef Wesley Barden be serving up some Irish favorites for St. Patty's Day. Stop in for lunch or dinner and enjoy house made corned beef, steamed cabbage, and Weiser Family Farms Magic Myrna potatoes with house made Irish soda bread for $16 at lunch or $24 for dinner.
Vintage Enoteca
The Hollywood wine bar's anti-green beer celebration is a non-traditional tasting of a trio of grilled cheese sandwiches each paired with a glass of craft beer. $30/pp. From 5 p.m.
Terranea
Getaway this weekend at the luxurious Palos Verdes resort and celebrate St. Patrick's Day while you're there. Sea Beans kicks off your day with an Irish Breakfast Wrap, while Nelson's serves their hearty Guinness Beef Irish Stew for lunch. Stop by the lobby bar to sample an Irish Whiskey Flight of Jameson, Jameson Black Barrel, Red Breast 12 year, and Red Breast Cask Strength before ordering a traditional colcannon, buttery mashed potatoes with bacon, leeks, and cabbage, at the bar. If you're still hungry, the newly opened Catalina Kitchen for Irish additions to their Friday night seafood buffet, including slow roasted corned beef and duck lamb sausage with caramelized onion, potatoes and Jameson gravy.
The Cannibal
The beer and butcher shop at Platform in Culver City is serving up all you can eat corned beef and cabbage plate as well as drink specials like AYCD beer for $25.
The Fat Dog
At both locations of the Fat Dog, indulge in holiday classics like corned beef and cabbage $3 Wonderland lager-green beer, $5 Irish Setters (whiskey, Irish cream liquor and green creme de menthe) and $7 St. Paddy's themed Fat Drink of the Day.
Villains Tavern
It true St. Patrick's Day fashion, enjoy drink specials like $6 pints of Guinness and shots of Jameson, $8 Irish Car Bombs and $10 Jameson Casemates drink special.
Tart
The restaurant at the Farmer's Daughter Hotel offers a variety of food specials like roasted lamb loin with fingerling potatoes, and Irish blood sausage, along with drinks like the Honeydew Ginger Martini with vodka, Midori, ginger liquor, lemon and bitters.
Horse Thief BBQ & Beer Garden
The Grand Central Market restaurant will be adding corned beef to their menu for St. Patrick's Day starting at 4 p.m. They will also be serving Guinness on draught for $7 to enjoy on their outdoor patio.
Sycamore Tavern
Revel with green beer, Jameson shots, Guinness and food specials like their ruben roll, corned beef hash, and more. The party kicks off at 2 p.m.
The Church Key
St. Patrick's Day comes alive on the Sunset Strip with corned beef cheeks, green cabbage and festive brown butter brioche donuts paired with a Shamrock Shake.
Tavern
The Brentwood restaurant offers chef Suzanne Goin's Irish-inspired dishes like corned beef and cabbage, Guinness beer-battered fish and chips, braised lamb pot pie and Tavern's Chocolate Whiskey Cake. Also find an Irish Whiskey flight of Jameson, Tullamore Dew and Bushmills.
The Hudson
The West Hollywood hotspot celebrates with a pint of Guinness and a shot of Bushmills for $9.
Hyperion Public
The Silver Lake and Studio City outposts of the gastropub offers Irish-themed food specials like the HP19 (their take on the famous Langer's Deli no. 19 corned beef sandwich). Guinness and Irish Whiskey will also be on special for $12.
Brack Shop Tavern
The downtown tavern opens early to celebrate the holiday with Corned beef and cabbage hand pies $10, and drinks specials like $7 pints of Guinness, $9 Jameson cocktails, $5 pints of green beer and Irish Car Bombs. Los Angeles based DJ Renato will be spinning from 10 p.m.–2 a.m.
Neat.
The new west LA bar offers themed cocktails like the Irish Spring (Tullamore Dew, Green Chartruese, lemon and ginger) and whiskey shots for the holiday.
Baldoria
Get your weekend started with exclusive sample sized St. Patrick's Day themed cocktails for $5.
Copa d'Oro
Toast the luck of the Irish with $7 Bushmills Red Bush Irish Whiskey cocktails.
Birds & Bees
The new subterranean hidden cocktail den in downtown Los Angeles offers their version of an Irish coffee, The Irish Grasshopper for $8.
The Independence
The Santa Monica restaurant offers a corned beef sandwich on special from noon-6 p.m. and corned beef can cabbage from 6-10 p.m. Also find their seasonal Cloverdose Cocktail for $7 and traditional Green Beer Pints for $5.
The Raymond 1886
The cozy craftsman cottage in Pasadena celebrates with speciality cocktails like The Tipperary is crafted with Tyrconnell Irish whiskey, Green Chartreuse and Carpano Antica; along with food specials like roasted duck and marinated young lamb.
Wolfgang Puck Bar & Grill
The L.A. Live restaurant celebrates St. Patrick's Day with live music and passed small bites of shepherd's pie, corned beef sliders, bangers and mash and a Guinness beer float. $20 includes entrance into the patio, food and your first green beer. Tickets. https://www.eventbrite.com/e/st-patricks-day-bites-brews-tickets-32662054083
33 Taps
The sports bar's Hollywood and Silver Lake locations celebrates with green beer and shepherd's pie ($10).
The Gallery
The restaurant at the Shoppes at Westlake celebrates over tradition food specials like potato leek soup with crispy chives, Guinness steak pie and slow-cooked corned beef and cabbage.
Venice Whaler
Party steps from the beach with food and drink specials, surprise giveaways and more. Drinks include $10 Miller Light drafts in a St. Paddy's Day cup and Guinness + Irish whiskey special for $10, along with $5 Tullamore Dew shots and $7 Guinness pints.
Burger City Grill
Through March 31. Get your burger fix and revel in the St. Patrick's Day spirit all month long with the burger chain's The Yorker Burger, piled high with deli-style pastrami, red onions, Swiss cheese and B.C.G. spread sandwiched between a brioche bun. On St. Patrick's Day, Burger City Grill will offer 50% off all beers.
Napa Valley Grille
The newly remodeled Westwood restaurants offers food specials for the holiday like Guinness-braised brats for lunch and corned beef and cabbage for dinner.