Celebrate Oscar Week At The Academy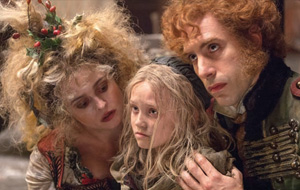 In the week leading up to the Oscars, the Academy of Motion Picture Arts and Sciences celebrates with five public events.
The Oscar Week events feature screenings, film clips, and discussions with filmmakers and artists whose work has garnered nominations in the Animated Feature Film, Documentary, Foreign Language Film, Makeup and Hairstyling, and Short Film categories. All events will take place at the Academy's Samuel Goldwyn Theater in Beverly Hills.
The Oscar Week schedule is as follows:
Oscar Celebrates: Shorts
Feb. 19. Stop by for a screening of all of the 2012 Oscar-nominated films in the Animated and Live Action Short Film categories, plus onstage discussions with the filmmakers (schedules permitting). The event is hosted by actor Jason Schwartzman ("Moonrise Kingdom," "Fantastic Mr. Fox," "The Darjeeling Limited," "I Heart Huckabees" and "Rushmore"). 7:30 p.m.
Oscar Celebrates: Docs
Feb. 20. This evening spotlights the work of the nominated filmmakers in the Documentary Short Subject and Documentary Feature categories. The program includes clips from all of the nominated documentaries in both categories, and panel discussions with filmmakers from each group. The event is hosted by Documentary Branch governor Michael Moore. Moore won the 2002 Documentary Feature Oscar for "Bowling for Columbine" and also was nominated in 2007 for "Sicko." 7:30 p.m.
Oscar Celebrates: Animated Features
Feb. 21. See the nominated achievements in the Animated Feature Film category. The nominees (schedules permitting) will discuss how their films were developed, reveal their creative processes, and present clips illustrating their techniques. 7:30 p.m.
Oscar Celebrates: Foreign Language Films
Feb. 23. The directors of the motion pictures nominated in the Foreign Language Film category (schedules permitting) will discuss their experiences developing their projects, and address such wide-ranging topics as art, politics and the challenges of their profession. This two-hour event also features brief clips from each of the nominated films. The evening is moderated by Oscar-winning producer Mark Johnson. Johnson, a two-time Academy Award® nominee, won the 1988 Oscar for "Rain Man."
Oscar Celebrates: Makeup and Hairstyling
Feb. 23. Oscar Week's culminating public event celebrates the nominated achievements in the Makeup and Hairstyling category. The nominees will discuss their creative processes and present film clips, photographs and displays of their work, including appliances, molds and wigs. The evening is moderated by by Makeup Artists and Hairstylists Branch governor Leonard Engelman. Engelman's feature credits include "Burlesque," "Heat" and "The Accidental Tourist." 2:30 p.m.
Tickets go on sale starting Feb. 1. Tickets to the shorts, docs and animated feature events are $5 for the general public and $3 for Academy members and students with a valid ID. Admission to Saturday's events is free, but tickets are required. Doors open one hour prior to each event.
Samuel Goldwyn Theater, 8949 Wilshire Blvd., Beverly Hills, 310.247.3600. oscars.org