Celebrate National Rum Day In Los Angeles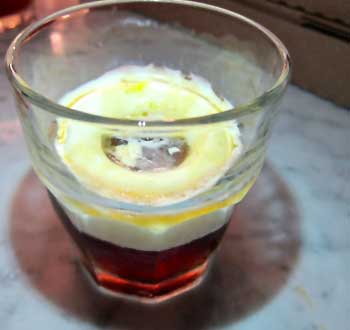 If you're looking for things to do in Los Angeles to celebrate National Rum Day on August 16, try sipping some of these cocktails around LA.
By Christina Xenos
While most liquors are made from distilling ingredients like corn (bourbon), potatoes/grain (vodka), or agave (tequila), the origins of rum are a little sweeter coming straight from sugarcane juice or offshoots of it like molasses. It's to this spirit that we pay homage on August 16—National Rum Day. Rum is your ticket to experiencing offbeat Los Angeles! Is there any cooler way to spend an evening in Los Angeles than that?
Spiced Rum purveyors Sailor Jerry popped up at Stella Barra Pizzeria in Hollywood to kick off the celebration offering rum-riffs on classic cocktails—like the rum Manhattan and rum Singapore sling—pairing them with chef Jeff Mahin's offerings like burrata over roasted tomato jam, and organic pork meatballs. You can stop by the Hollywood and Santa Monica outposts through Aug. 20 to sip on Sailor Jerry's signature rum-root beer float which is a smooth combo of Sailor Jerry spiced rum, root beer and vanilla ice cream.
In downtown Los Angeles new-to-the-scene cocktail den Ebanos Crossing, offers carefully crafted cocktails by award-winning mixologist and Beverage Director Philip Ward. To celebrate the holiday order up their Jet Scream: Jamaican rum, crema de mezcal, ginger, Don's mix (inspired by Don the Beachcomber), grapefruit, lemon juice. Or sip a variety of inventive rum cocktails around the city:
The Bazaar by Jose Andres
Passion Fruit Up with orange rum, passion fruit and ginger-laurel syrup, topped with passion fruit foam.
Pharmacie LA
Italian Swizzle with rum, Punt e Mes sweet vermouth, simple syrup, fresh lime juice and Angostura orange bitters.
Comme Ca
Dominican Roulette with Atlantico Reserva rum, Bauchant orange liqueur, fresh lime, simple syrup, egg white and apple bitters.
Hatfield's
Hemingway Daiquiri with rum, cherry liqueur, fresh sweet & sour mix, grapefruit juice.
Wolfgang Puck at Hotel Bel-Air
Monroe's Passion with passion fruit rum, Bacardi 151, passion fruit juice, orange juice, cranberry juice, ginger juice and chili syrup.
Eveleigh
Hotel National with rum, apricot eau de vie, fresh pineapple, lime and cane sugar.
Le Ka
Jamaican Maroon with Appleton rum, Meletti amaro, velvet falernum, orange bitters, cayenne salt and lemon peel
Hinoki & the Bird
Kingston Negroni with Smith + Cross Jamaican rum, Gran Classico, sweet vermouth, served on the rocks with an orange twist.
Plan Check Kitchen + Bar
High & Low with Zaya rum, Fino sherry, cointreau and grenadine.
Little Dom's
Planter's Punch with Smith & Cross Jamaican rum, lime, hibiscus grenadine, orgeat, Angostura bitters and mint.
Dominick's
Cucumber Hibiscus Mojito with Flor De Cana, lime juice, fresh cucumber and mint with housemade grenadine topped with soda.
La Sandia
Mango Mojito with Castillo rum, mango, mint and lime.
Islands
Shipwreck with Parrot Bay Coconut rum, Midori, orange and pineapple juices and grenadine