Celebrate Mother's Day in Los Angeles: Brunch, Spa and More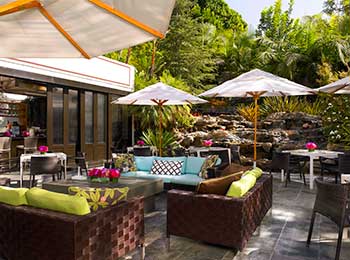 Celebrate Mother's Day in Los Angeles over lavish brunches and dinners, spa treatments and special treats. We have your full Los Angeles Mother's Day Guide.
SPA + BEAUTY
SPA at Sunset Marquis
Treat Mom to a luxurious spa day with a special package that includes a 90-minute massage, 90-minute facial, manicure and pedicure for $500. The package must be booked my Mother's Day, but mom can enjoy it any time she wants. 1200 Alta Loma Rd, West Hollywood, 310.657.1333. sunsetmarquis.com
Royal-Tea Treatment at the Ritz-Carlton Los Angeles
Moms can start celebrating their day over stunning views of LA with a special "Tea at the Top" in WP24. The tea includes a selection of sandwiches, scones, pastries and tea. After tea, moms can retreat to the spa for a signature massage followed by a mani/pedi, and the option to add on a shampoo, style and makeup application. Package $310/pp. Tea at the top seatings 1 p.m., 1:30 p.m. and 2 p.m., $65/pp, $20/pp children. 900 West Olympic Blvd., downtown, 213.763.4400. ritzcarlton.com
Blushington
May 5-11. Los Angeles' go-to makeup and beauty lounge is treating moms to a complimentary makeup application ($40 value) when they come in with their daughter during the week of Mother's Day (May 5-11, excluding Saturday). Choose from one of their six looks such as Life of the Party or Simply Glowing or design your own. 8591 Sunset Blvd, West Hollywood, 310.652.5874. blushington.com
BRUNCH + DINNER
Langham Huntington, Pasadena
This luxurious Pasadena retreat is the perfect spot to fete mom over a variety of brunches in the Huntington Ballroom, The Terrace and The Royce Wood-Fired Steakhouse, or over the Pink Chocolate Afternoon Tea. The tea will be offered in the Lobby Lounge and will include a selection of savory tea sandwiches, scones with Devonshire cream, fruits, tarts, mousse torts and crème brülées – all containing different chocolate essences. Also find a grand pink chocolate fountain is the focal point of the tea, with surrounding chocolate sculptural art. Tea is offered from noon-3 p.m.; $59/pp, $29.50/pp children 4-12. 1401 S Oak Knoll Ave., Pasadena, 626.568.3900. pasadena.langhamhotels.com
Terranea
Make the Palos Verdes seaside resort your destination for a perfect Mother's Day celebrations. Find brunch offerings, including the resort's ever-popular Mother's Day Ballroom Brunch and special menus at Catalina Kitchen and signature restaurant mar'sel. The Spa at Terranea is offering a variety of special treatments and packages (like the "All For Me" package that offers a combination of treatments from manicures to massages to facials and comes with a complimentary gift of Honey Grapefruit Ginger Scrub) throughout May for both moms and moms-to-be to unwind and enjoy a little pampering. 100 Terranea Way, Rancho Palos Verdes. 310.265.2740. terranea.com
Patina
Dine on a decadent three-course, prix fixe brunch menu that includes highlights like tartine of Dungeness crab, served with saffron aïoli, watercress salad, and tomato pain perdu; zucchini agnolotti with spring peas à la française and goat cheese emulsion; and wild striped bass with fennel barigoule and grape-tomato sauce vièrge. $55/pp, alongside an additional $29 three-course, prix fixe option for children 12 and under. 141 S. Grand Ave., downtown, 213.972.3331. patinarestaurant.com
Four Seasons Los Angeles at Beverly Hills
Celebrate Mom with a luxe brunch at the Four Seasons Los Angeles at Beverly Hills that includes waffles, dim sum, sushi, red wine braised short ribs, seafood, and "sinless" eggs benedict. The buffet also includes a special gluten-free station with sweet and savory selections and families can delight in a station just for children. $99/pp, $49/pp children, bottomless mimosas $25/pp. 10 a.m.-3 p.m. 300 South Doheny Dr., L.A., 310.860.4000. fourseasons.com
Tres by Jose Andres
Chef Jose Andres has created a special Mother's Day brunch spread at Tres.  The extravagant buffet includes a carving display of roasted beef rib eye and rotisserie chicken, a caviar station, Greek yogurt parfaits, a cheese and charcuterie spread and assorted desserts and pastries from The Patisserie, along with coffee, tea and juice. $52/pp., $26/pp children. 11 a.m.-4 p.m. SLS Hotel, 465 South La Cienega Blvd., 310.276.5551. slshotels.com
Spago
Join Wolfgang Puck for a special Mother's Day brunch that will also be the only brunch Spago serves the entire year. Enjoy a three-course featuring dishes such as ricotta-lemon blintzes with wild huckleberry compote; bincho grilled black cod with shiro miso, shiso rice and sesame-miso aioli; wild blueberry "Hot Cakes" with warm Vermont maple syrup; Wolfgang's classic veal "wiener schnitzel" which was a childhood favorite of his from Austria; and decadent desserts such as a selection of, "Mom's Favorite" cookies and confections including chocolate bonbons, caramels and macarons. $70/pp, $35/pp children under 9. 11 a.m.-2:30 p.m. 176 North Canon Dr., Beverly Hills, 310.385.0880. wolfgangpuck.com
InterContinental Los Angeles Century City
Celebrate over a fanciful brunch at Park Grill. The buffet includes  specialty brunch and lunch items such as an omelet station; miso ramen bar with traditional accompaniments; seafood ice bar with fresh crab legs, shrimp and oysters on the half shell; slow roasted ribeye freshly sliced; and a liquid nitrogen ice cream bar. A variety of fresh pastries with an assortment of toppings is also available, along with artisan cheeses and salamis. Also find a specialty lemonade stand and kids' buffet. The lady flaunting the best statement hat (and who tweets or facebooks the photo) will have the chance to win a $100 Spa InterContinental gift certificate and $100 American Express® gift card (find details here). Park Grill, 2151 Avenue of the Stars, L.A., 310.284.6536. intercontinentallosangeles.com
Wolfgang Puck at Hotel Bel-Air
Master Chef Wolfgang Puck has created a three-course prix-fixe menu for the Hotel Bel-Air's annual Mother's Day brunch. Menu highlights include wiener schnitzel, a favorite from Wolfgang's childhood in Austria; hand cut English pea tortelloni pasta; Maryland blue crab cakes, old fashioned ricotta lemon blintzes, a dessert station and choice of a glass of champagne, mimosa or Bloody Mary. 10:30 a.m.-3 p.m. $120/pp, $60/pp child under age 9. 701 Stone Canyon Road, 310.909.1644. wolfgangpuck.com
Four Seasons Hotel Westlake Village
Celebrate over live music and an array of culinary offerings at the Four Seasons Hotel Westlake Village's jazz brunch. Executive Chef Alexander La Motte has created a decadent buffet of seasonal dishes including a seafood selection of east and west coast oysters, White Head prawns, king crab legs and claws; signature dishes such as rabbit paella with ancient grains, local peas, tomato, and saffron; carving station with garden rosemary beef tenderloin, Peking duck breast with peppercorn gastrique, and more; ONYX Japanese Bar with sushi rolls and dim sum; and kids' selection of gourmet pizza, burgers, and more.  To top off the brunch, Pastry Chef David Couch offers a fine selection of house-made desserts including seasonal tarts, variety of layered cakes, cream puffs, cake pops, crème brulees, crepes, and more, including a special take-home gift. $109/pp, and $54/pp children age 12 and under. Four Seasons Hotel Westlake Village, 2 Dole Drive, Westlake Village, 818.575.3000. fourseasons.com/westlakevillage
Bouchon
Treat Mom to the ultimate French bistro experience in Beverly Hills. For her special day, Bouchon offers brunch and dinner specials like buttermilk waffles with Brooks cherries; Delta green green asparagus salad with poached hen egg and sauce Paloise; Dungeness crab and Maine lobster hash, yellow corn, sunburst tomatoes, Jidori hen egg; and grilled swordfish with sunburst tomatoes; and English pea angolotti with summer truffles. Mom's will also receive a limited edition Strawberry Macaron with a complimentary gift card for a bottle of Red or White wine specially selected for her when she returns for dinner anytime throughout the month of May. 235 N Cañon Dr, Beverly Hills. bouchonbistro.com
THE Blvd
Celebrate over THE Blvd's traditional brunch or a special prix fixe menu that includes a glass of Champagne. Highlights of the menu include appetizers such as lobster, fish ceviche or white asparagus salad, and main courses from soft shell crab tempura, to halibut or rotisserie chicken. The special prix fixe menu is available from 11 a.m.- 5 p.m. for $75/pp. Beverly Wilshire Hotel, 9500 Wilshire Blvd., Beverly Hills, 310.385.3901. theblvdrestaurant.com
CUT by Wolfgang Puck
The stylish steakhouse will be open especially for the occasion. Dine on an array of delectable choices from Snake River Farms American Wagyu, to filet Mignon to seafood selections. Moms are welcomed with a special glass of champagne. 5-9 p.m. 9500 Wilshire Blvd., Beverly Hills, 310.276.8500. wolfgangpuck.com
Queen Mary
Mom will have the opportunity to take a culinary trip around the world with Asian, Chinese and Mexican favorites as well as made-to-order breakfast fare, carving station and an abundance of fresh seafood at their champagne brunch. 9 a.m.-3 p.m. $59.95 adults; $19.95 children 12 and under. 1126 Queens Hwy., Long Beach, 562.499.1606. queenmary.com
One Pico
Dine over fabulous views of the beach on a three-course menu that includes seasonal ingredients and European inspirations. Selections include organic salmon tartare with horseradish, capers, dill, and pumpernickel; lobster risotto with artichokes and Bloomsdale spinach; and a raspberry and chocolate tart with salted caramel sauce. Shutters on the Beach, 1 Pico Blvd., Santa Monica. shuttersonthebeach.com
"Festa della Mamma" at Drago Centro
Celebrate Mom with a three-course brunch from Chef Celestino Drago and Chef di Cuisine Ian Gresik. Highlights of the menu include asparagus salad with poached egg, prociutto and ciabatta; pappardelle with roasted pheasant and morel mushrooms; rabbit ravioli with artichokes, shaved carrots, rosemary breadcrumbs; and more. 11 a.m.-2 p.m. $39/pp. 213.228.8998. dragocentro.com
Comme Ca
Enjoy special a la carte brunch specials like spring mushroom and leek quiche, and mascarpone stuffed French toast with peaches and cinnamon Chantilly. The restaurant also offers a three-course dinner that includes Spring nettle soup with blue crab, cucumber and crème fraiche; pan-fried dourade with fava beans and morel ragout; and for dessert a butterscotch pot de crème served with a cardamom spiced cookie ($60/pp). 11 a.m.-2:30 p.m., Dinner 6 p.m.-9 p.m. 8479 Melrose Ave., L.A., 323.782.1104. commecarestaurant.com
Girasol
Celebrate Mom with an artful and delicious brunch of foraged and locally sourced ingredients to showcase the spring season. Executive Chef CJ Jacobson offers a three-course menu that includes highlights like eggs Benedict with duck confit, spring quiche of farmers market vegetables, a cheese board of select California cheeses and more. $40/pp. 11334 Moorpark St., Studio City, 818.924.2323. girasolrestaurant.com
Faith & Flower
Mother's Day is the perfect occasion to celebrate over Faith & Flower's new brunch in downtown. Dine on dishes like bone marrow waffles with chipped beef gravy; slow scrambled egg mousse with truffled country potatoes; confit duck croquettes with spicy kumquat preserves and more, including inventive cocktails like the Mimosa Noir with Champagne brut rose, Bigallet Amer, China China and fresh orange. 705 W. 9th St., downtown. faithandflowerla.com
Mr. Chow Malibu Country Mart
Celebrate over a three-course brunch menu with highlights like chicken satay, green prawns, Beijing chicken, strawberry toffee with vanilla ice cream, and more. $55/pp. 3835 Cross Creek Road #18A, 310.456.7600. mrchow.com
Cavatina
Tucked inside the Sunset Marquis hotel, you can treat mom to brunch in a romantic ambiance at Cavatina. Highlights include a seafood bar with California prawns, King crab legs and assorted sushi, displays of smoked salmon, charcuterie and cheese, pastas and more $80/pp, $35/pp children 5-11. 1200 Alta Loma Rd, West Hollywood, 310.657.1333. sunsetmarquis.com
The Church Key
One of Sunset Blvd. hottest dining destinations is celebrating Mother's Day by inaugurating their new brunch. Enjoy dishes like Benton ham eggs Benedict with truffle Béarnaise; German souffle pancakes with brown butter and Meyer lemon; Chilaquiles with chorizo and more, including a pastry cart, champagne cocktails and canned Bloody Marys served dim-sum style. 10 a.m.-3 p.m. 8730 Sunset Blvd, West Hollywood, 424.249.3700. thechurchkeyla.com
Kendall's Brasserie
Celebrate over a three-course menu over selections like poached eggs with duck confit hash; soup a l'oignon gratin with caramelized onions and Gruyére cheese, and more. $38/pp, $19/pp children under 12. 10:30 a.m.-3 p.m. Music Center, 135 N. Grand Ave., downtown, 213.972.7322. kendallsbrasserie.com
Ray's & Stark Bar
Dine with mom on an a la carte brunch that features dishes like lobster and grits; bucatini with squid ink pasta, calamari and bottarga; soppressata wood fired pizza; and more. 11:30 a.m.-3 p.m., 5-10 p.m. LACMA, 5905 Wilshire Blvd., L.A., 323.857.6180. raysandstarkbar.com
Bourbon Steak Los Angeles
Celebrate the special mom in your life over a spread of Alaskan king crab eggs Benedict, fried chicken and beignets, skirt steak with truffle pain perdue, or house-made cinnamon roll with bourbon icing, then walk it all off with a day of shopping at The Americana at Brand.  889 Americana Way, Glendale. michaelmina.net
Cecconi's
Always a destination for holiday dining with its pristine patio, Cecconi's is treating moms to truffles and tarts this year with a white asparagus and black truffle Benedict and a  strawberry and Rhubarb tart special. Toast the occasion with a prosecco cocktail like the La Dolce Vita featuring Veev, St. Germain, Martini Rosato, Raspberries, Lime, Mint & Cecconi's signature draft prosecco. Reservations are strongly recommended. 10 a.m.-3 p.m. 8764 Melrose Ave., West Hollywood, 310.432.2000. cecconiswesthollywood.com
smoke.oil.salt
Paella Nights begin during dinner service on Mother's Day and run Sunday and Monday each week thereafter. A $45 tasting menu including the individual choice of a starter, a medium plate and dessert with shared a paella plate (choice of meat, seafood or veggie) is offered with an optional wine flight pairing. smokeoilsalt.com
The Abbey Food + Bar
Drag moms deserve love too, so The Abbey is celebrating with a drag-centric Mother's Day Brunch, appropriately hosted by everyone's favorite West Hollywood diva, Momma. Every mom in attendance (drag or not) gets a free mimosa with the purchase of an entree. Drag mothers must bring their children in drag to redeem. abbeyfoodandbar.com
Gracias Madre
The new vegan hot spot from the Café Gratitude family is living up to its name with the ultimate "Thank You" to Mom on Mother's Day. All moms can enjoy a free entree of their choice from Executive Chef Chandra Gilbert's all-organic lunch menu. Think tortas with avocado and coconut bacon; ensalada de frutas featuring farm lettuce in chipotle vinaigrette with ruby grapefruit, avocado and almonds; or a comforting bowl of pozole 11 a.m.-5 p.m. 8905 Melrose Ave., West Hollywood, 323.978.2170. graciasmadreweho.com
Union
Celebrate family style over a special Italian-inspired Sunday supper from chef Bruce Kalman. Highlights of the menu include roasted peaches with radicchio, Farro and ricotta; spaghetti and tomato sauce; pork meatballs; olive oil poached tuna with olives, fennel and cara cara orange; summer squash; and fava bean tostone. $49/pp; $9/children under 10. 37 E. Union St., Pasadena, 626.795.584. unionpasadena.com
L'Assiette Steak Frites
Celebrate over a steak frites centric menu that also includes choice of sorrel soup or little gem salad and a free Kir Royale. $25/pp. 5:30 p.m.-midnight. 7166 Melrose Ave., L.A., 323.274.2319. lassiettesteakfrites.com
Post & Beam
Executive Chef Govind Armstrong has planned an elaborate brunch buffet, featuring 14 breakfast, lunch, and dessert options. Items include deviled eggs with grilled shrimp, country style grits, biscuits and sausage gravy, quinoa and grilled market vegetable salad and Mom's Apple Pie with whipped crème fraiche. $36/pp, $18/pp for children 10 years old and under. Seatings at 11:30 a.m. and 1:30 p.m. 3767 Santa Rosalia Dr., L.A.,  323.299.5599. postandbeamla.com
Willie Jane
Chef Govind Armstrong offers his regular brunch menu, along with two special dishes in honor of mom, including potato and chive waffle with smoked salmon and whipped crème fraiche, as well as Mama's brown sugar pecan sticky buns. 11:30 a.m.-2:30 p.m. 1031 Abbot Kinney Blvd., Venice, 310.392.2425. williejane.com
Catch
Dine with epic views of the Pacific on a three-course, prix-fixe menu. Highlights include heirloom tomato and lobster salad with cucumbers, hearts of palm, and watercress; Dungeness crab Florentine with poached eggs, English muffin, spinach, and citrus hollandaise; and pistachio semifreddo with farmers' market strawberries, and basil. $80/pp. 1910 Ocean Way, Santa Monica, 310.581.7714. hotelcasadelmar.com
Fig & Olive Melrose Place
Fig & Olive's bight and breezy ambiance is the perfect place to celebrate with Mom. Dine on a three-course prix fixe brunch or dinner with highlights like lobster bisque, crab cakes Benedict, and roasted free range chicken; while for dinner you can enjoy delicacies like braised octopus a La Gallega with Pimenton lemon dressing, Chilean sea bass, fig gorgonzola tartlet with prociutto. Brunch $40/pp, noon-3 p.m.; dinner $52/pp 6-10 p.m. 8490 Melrose Place, West Hollywood, 310.360.9100. figandolive.com
Napa Valley Grille
Enjoy a seasonal brunch buffet at Westwood's wine country-inspired dining destination. Brunch offerings include duck confit hash with poached eggs; house made wild mushroom agnolotti; beer braised short ribs with roasted tomatoes; and more, including bottomless mimosas for $12. $45/pp, $15/pp children. 11 a.m.-3 p.m. 1100 Glendon Ave., L.A., 310.824.3322. napavalleygrille.com
Strand House
May 10-11. Celebrate over stellar views of the beach on a menu that includes fresh baked cinnamon rolls with cream cheese glaze, white asparagus and lobster with poached eggs and more. 117 Manhattan Beach Blvd., Manhattan Beach, 310.545.7470. thestrandhousemb.com
Eveleigh
This Sunset Strip staple is known for their innovative farm-to-table brunch dishes, as well as the cocktails that keep their celeb clientele in their comfy back patio for hours. 8752 Sunset Blvd., West Hollywood, 424.239.1630. theeveleigh.com
Celestino Ristorante & Bar
Whisk Mom away to Italy by taking her to Celestino Ristorante & Bar in Pasadena. Chef Calogero Drago has prepared some of his finest dishes, including his Swordfish Carpaccio with orange and fennel salad, and his infamous Half-Moon Ravioli stuffed with duck, mushrooms and mascarpone, served in a special blueberry sauce. 5:30-9:30 p.m. South Lake Avenue, Pasadena, 626.795.4006. celestinopasadena.com
Osawa
Treat mom to a Mother's Day Bento Box which includes sashimi, a Futomaki sushi roll, Mizuna salad, Hijiki with Tofu, Gomaae, crispy yellowtail, chicken Tsukune, rice and miso soup. Mom can also enjoy a complimentary mimosa during lunch and a complimentary glass of sparkling sake mio for dinner. $28/lunch, $32/dinner. 77 North Raymond Blvd., Pasadena, 626.683.1150. TheOsawa.com
Shade Hotel
Spend the day in Manhattan Beach and dine on a special brunch buffet that includes egg, pancake, salad, chilled seafood, entrée, and dessert stations, as well as a kid's craft table. Shade will also give brunch goers a special gift just for mom. $55/pp, $25/pp children 10 and under. 9 a.m. to 3 p.m. Zinc at Shade, 1221 N. Valley Dr., Manhattan Beach, 310.469.3466. shadehotel.com
Café Pinot
Treat Mom to a three-course brunch that features offerings like brioche French toast with strawberries and raspberries; tapioca parfait with cocoanut tapioca, sesame brittle and more. $45/pp, $19/pp children under 12. 10 a.m.-3 p.m. 700 W Fifth St., downtown, 213.239.6500. patinagroup.com/cafepinot 
The Whisper Restaurant and Lounge at The Grove
Executive Chef Anthony Jacquet has created a family friendly prix-fixe menu showcasing his contemporary menu of American classics. Follow it up with a post-brunch shopping spree at The Grove. whisperloungela.com
Hakkasan Beverly Hills
Treat Mom to thhe Taste of Hakkasan menu, designed by Chef Ho Chee Boon. The three-course menu features offerings like steamed dim sum to start, spicy wild prawn with lily bulb and almond as a main and Gianduja mousse with espresso ice cream and black sesame feuilltune for dessert ($15), and also includes a specialty cocktail. $48/pp. Noon-8 p.m. 233 N. Beverly Dr., Beverly Hills, 310.888.8661. hakkasanbh.com
Salt Air
Kick off a day on Abbot Kinney Boulevard with brunch that includes specials like grilled octopus with beluga lentils and chorizo; mussels with cocoanut curry; steak au poivre; olive oil poached salmon; and fish and chips. 1616 Abbot Kinney Blvd., Venice, 310.396.9333. saltairvenice.com
Littlefork
Celebrate over a brunch inspired by the northeast Atlantic. Highlights include lobster frittata; smoked meat hash; eggs Benedict with Johnny cakes and your choice of pork belly or trout and more. 1600 Wilcox Ave., L.A., 323.465.3675. littleforkla.com
Blue Ribbon Garden
Celebrate with a buffet brunch in the garden at Walt Disney Concert Hall. Selections include hand-carved honey glazed ham; Belgian waffle bar, buttermilk biscuits with brown butter spinach and oxtail gravy and poached egg. $50/pp, $22/pp children under 12. 9:30 a.m.-12:30 p.m. Walt Disney Concert Hall, 111 South Grand Ave., downtown, 213.972.7565.
Descanso Gardens
Enjoy a buffet style Mother's Day brunch at Descanso Gardens. Items on the menu are house made buttermilk pancakes with gourmet toppings, pan seared white fish, and a selection of macarons. $59/pp, $50 members, $23/pp children under 12, $19 member children. Seatings at 9 a.m., 11 a.m., 1 p.m. 1418 Descanso Dr., La Canada, 818.790.3663. patinagroup.com/descanso
The Wallace
The Wallace has an underlying philosophy that food should be thoughtfully executed, from start to finish, and that is exactly what your mother deserves. The Wallace is a rustic yet elegant dining destination that offers an inventive and welcoming culinary experience for your mother. Also enjoy bottomless mimosas. 3833 Main St, Culver City, 310.202.6400. thewallacela.com
Oliver's Prime
Treat Mom to a steak or lobster dinner. All moms will receive a complimentary glass of sparkling wine and famous bread pudding dessert, which is a deconstructed version of the dish made with brioche sticks, house-whipped chocolate chip whipped cream, a smooth crème anglaise and "cinnamon smoke" under glass. The Grafton on Sunset, 323.491.9003. graftononsunset.com
Esterel
Celebrate alfresco at the Sofitel Los Angeles. Esterel offers a four-course prix fixe menu  that features organic cuisine, bottomless mimosas and live music by the Miles Davis Jazz Quartet. $55/pp. 8555 Beverly Blvd., L.A., 310.358.3979. sosundaybrunch.com
LACMA Cafe
Spend a day at LACMA and treat Mom to a special three-course brunch. Highlights of the menu include frisee lardon salad with poached egg, crispy pork belly and lentil vinaigrette; smoked whole roasted chicken with buttermilk biscuits; classic cinnamon French toast with salted dulce de leche whipped cream. $60/pp, $25/pp children under 12. Seatings at 12:30 p.m., 1:30 p.m. 5905 Wilshire Blvd., L.A., 323.857.6180.
Tortilla Republic
Celebrate over a variety of "fresh Mex" specials at Tortilla Republic in West Hollywood. Highlights of the Mother's Day brunch include breakfast enchiladas, lobster and black truffle omelette, TR croque monsieur with spanish ham and Mexican manchego and more. 616 N Robertson Blvd, West Hollywood, 310.657.9888. tortillarepublic.com
The Pikey
Dine early for brunch or stop in late for the English pub's Sunday roast dinner. Highlights include asparagus and spring garlic quiche; house cured char with fresher baked brioche; ramps wrapped in bacon with a fried egg (brunch); and roast pork belly and roast short rib for dinner. 11 a.m.-3 p.m. brunch, dinner from 3 p.m. 7617 W Sunset Blvd., L.A., 323.850.5400. thepikeyla.com
RivaBella
Dine in the posh indoor-outdoor space for brunch or dinner. Brunch highlights include smoked salmon carpaccio with fresee and buffalo mozzarella; and eggs Benedict with ciabatta bread, prosciutto cotto, hollandaise sauce and fresh melon; and Cavatelli with broccolini, chile, and salmoriglio for dinner. Brunch, 11 a.m.-3 p.m.; dinner, 5:30– 10:30 p.m. 9201 Sunset Blvd., West Hollywood, 310.278.2060. innovativedining.com
The Churchill
Dine on a special four-course menu with highlights like baby Tuscan kale salad, eggs Benedict on jalapeño cheddar biscuits, short ribs and eggs, lobster frittata, chocolate pot au creme and more. 11:30-4 p.m. $40/pp. 8384 W 3rd St, West Hollywood, 323.655.8384. the-churchill.com
Cafe del Rey
Enjoy a three-course Mediterranean inspired brunch from Executive Chef Chuck Abair. The prix-fixe menu includes unlimited sparkling wine, mimosas, Bloody Marys, and sparkling cider to pair with Chef Abair's rustic brunch fare. Highlights include short rib hash, brioche French toast, grilled tiger shrimp, roasted leg of lamb and more. $48/pp. 10:30 a.m. – 2:30 p.m. 4451 Admiralty Way, Marina del Rey, 310.823.6395. CAFEdelREYmarina.com
W Los Angeles – Westwood
Dine poolside at The Backyard on a three course menu that includes selections like buttermilk pancakes with whipped Nutella and bananas, grilled skirt steak salad, pan roasted salmon, among others. 930 Hilgard Ave., L.A., 310.208.8765. wlosangeles.com
Vertical Wine Bistro
Dine on a brunch menu that includes blueberry and banana compote French toast, arugula and scallop salad, smoked salmon or serrano ham Benedict, beef short ribs, seared sea bass and more, including interchangeable mimosa with mixers including Ginger Royale and Pear/Cranberry. Moms can also enjoy a complementary glass of champagne. $39/pp. 11am – 2:30pm. 70 N Raymond Ave, Pasadena, 626.795.3999. verticalwinebistro.com
RockSugar Pan Asian Kitchen
Dine on a special four-course menu with highlights like such as the Indonesian braised short rib, banana leaf Chilean sea bass, Vietnamese fried chicken and more, with sweet treats to complete the meal like the house made Southeast Asian-inspired ice cream sandwiches and strawberry shortcake with Thai basil. $58/pp. 10250 Santa Monica Blvd., L.A.,  310.657.1333. rocksugarpanasiankitchen.com
Andaz West Hollywood
Treat Mom to a morning out at this chic boutique hotel with a rock 'n' roll past. Dine on a special breakfast menu with bottomless mimosas on selections that include fresh eggs, farmer's market whole fruit, Belgian waffles, pastries with house-made marmalade, coffee, and more. 8401 Sunset Blvd., West Hollywood. westhollywood.andaz.com
Kabuki
May 9-11. Dine on a special menu for Mother's Day that includes garlic beef yaki, king crab, scallop and shrimp dynamite with shrimp and vegetable tempura served with soup, spring mix salad and your choice of white or brown rice. Also receive strawberry kochi ice cream for dessert. $23.95. kabukirestaurants.com
Stella Barra
Chef Jeff Mahin will be offering a flower and special package pastry for all moms who come in to Stella Barra this year for Mother's Day. The regular menus will be offered for the holiday, including the new breakfast pizza menu that includes selections such as Chilaquiles Pizza with parmesan cream sauce, crispy tortilla strips, grana padano, Fresno chili and green onion. 2000 Main Street, 310.396.9250, Santa Monica; 6372 W Sunset Blvd., L.A., 323.301.4001. stellabarra.com
Coast Beach Café & Bar
Celebrate over epic views of the Pacific on a three-course prix-fixe menu that includes highlights like market greens with candied hazelnuts; roasted Alaskan Halibut with corn succotash and English peas; and Marscapone Cheesecake with market strawberries and pistachio streusel. 1 Pico Blvd., Santa Monica. shuttersonthebeach.com
The Tripel
Executive Chef Brook Williamson, and mother of 6 year old Hudson, has redefined the South Bay dining scene with her elevated gastropub restaurant. Brunch followed by a stroll on the nearby beach is the most relaxing way, west of the 405, to wish your mother well on her special day. 333 Culver Blvd, Playa Del Rey, 310.821.0333. thetripel.com
Little Dom's
The Los Feliz's favorite neighborhood restaurant offers a brunch that will have mom's feeling like they have hit the jackpot. Mom's can enjoy their day on the outdoor patio with a plate of oven roasted eggs or ricotta cheese and blueberry pancakes. 2128 Hillhurst Ave., L.A., 323.661.0055. littledoms.com  
Dominick's
The for Rat Pack hangout's cozy back patio is the perfect place to dine with mom for dinner. Dishes include wood grilled pizzas and signature arancini. 8715 Beverly Blvd, West Hollywood, 310.652.2335. dominicksrestaurant.com
The Must  
Offering bottomless Sorbet Sparklers, complete with a scoop of fresh sorbet topped with sparkling wine, a perfect patio, and items like the biscuit Benedict and Fluffernutter, any mom will want to make the downtown wine bar a "must" for her special day. 117 Winston St., downtown, 213.628.2000. themust.com
Public Kitchen & Bar
Dine in style at the Hollywood Roosevelt Hotel. Public Kitchen & Bar's special Mother's Day a la carte menu includes highlights like herb roasted prime rib; smoked salmon tartine; or opt for the brunch buffet ($42/pp) that offers smoked salmon, artisan cheeses, crab cake Benedict, build your own omelette and more. 7000 Hollywood Blvd., L.A., 323.769.8888. thompsonhotels.com
Loteria Grill
Dine on a special brunch from Executive Chef Jimmy Shaw. Menu highlights include Mexican inspired French toast, scrambled eggs with squash blossom enchiladas and more, including a specialty cocktail called the Tequila Rose. Check website for locations. loteriagrill.com
DeSano Pizza Bakery
LA's new favorite authentic Neapolitan-style pizzeria is rolling out a special chocolate and strawberry cannoli for Mother's Day that will be available free for moms dining at the East Hollywood pizza destination. 4959 Santa Monica Blvd., L.A., 323.913.7000. desanopizza.it
Santa Anita Racetrack
Bring Mom to the luxe Turf Terrace for a special Mother's Day dining experience. Santa Anita has created a menu for Mom featuring an all-inclusive experience from valet to champagne, to brunch, to racing. Derby Hats Encouraged. $75/$100 Turf Terrace 285 W Huntington Dr., Arcadia. sap.ticketmob.com
La Sandia
Every mother will receive a rose as they sit down to dine on Mexican dishes and margaritas. Highlights of the menu include huevos rancheros, Mexican chocolate waffles, carnitas sopes eggs Benedict with corn cakes and more. 395 Santa Monica Place, 305 N, Santa Monica. richardsandoval.com
Zengo
Richard Sandoval's Latin-Asian restaurant, Zengo, is the Santa Monica go-to for weekend bottomless brunch. Occupying the rooftop terrace of Santa Monica Place, Zengo's $35 brunch offers free-flowing cocktails and a wide array of bold dishes, including Thai Chicken Empanadas, Bacon Fried Rice, and Grilled Achiote Salmon. 395 Santa Monica Place, Santa Monica. richardsandoval.com