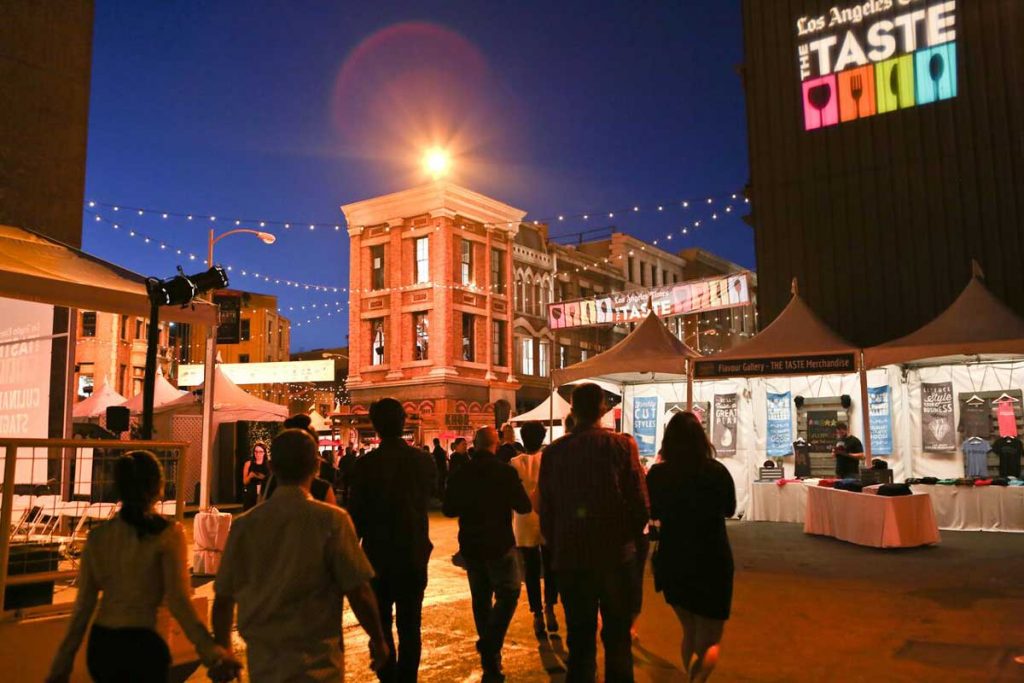 The Los Angeles Times' The Taste celebrates LA's rich culinary culture with their annual food festival.
By Christina Xenos
It's hard to believe that summer is winding down and Labor Day weekend is right around the corner. While the weekend is synonymous with the backyard barbecue, the Los Angeles Times has something else in mind. Their annual The Taste festival celebrates what's hot in the city's vibrant culinary scene with a weekend packed full of tastings, chef demos and discussions.
In addition, for the first time this year, you can also get a taste of Japan. The Japan National Tourism Organization will have a pavilion on Friday and Saturday where Sake Master Toshio Ueno will be holding tastings of regional sakes paired with food.
Find out more about what you can expect at this year's event.
Sept. 2
7:30-10 p.m.
Opening Night
Party on Paramount Studio's backlot during the intimate opening night celebration, which features a curated collection of tastings in addition to wine and cocktails. Revisit some of LA's top restaurants like M.B. Post, Guisados and BOA Steakhouse, while also discovering new favorites like Spring, Simone and Salazar. The evening is hosted by the LA Times A-team of Noelle Carter (test kitchen director), Jonathan Gold (restaurant critic), Jen Harris (deputy food editor) and Amy Scattergood (food editor), in addition to DJ Scott Dallavo.
Sept. 3
11 a.m.-2 p.m.
Field to Fork
California is a hotbed of fresh, local produce that inspire an endless display of culinary creativity. Join Amy Scattergood and Michael Cimarusti (Providence, Connie & Ted's) as they explore our local terroir. Scattergood will lead a conversation on the new artisan grain movement with Nan Kohler (Grist and Toll), Alex Weiser (Weiser Farms) and Roxana Jullapat (Friends and Family). Cimarusti, who advocates for sustainable seafood, will share his socially-conscious kitchen secrets during a live demo. Madcapra's Sarah Hymanson and Sara Kramer, will team up for a vegetarian cooking how-to. In addition to all the action on stage, enjoy tastings from restaurants like Maple Block Meat Co., The Halal Guys, The Springs, Ocean Prime Beverly Hills and moro Restaurant.
Sept. 3
7:30-10:30 p.m.
Dinner with a Twist
Learn the secrets behind LA's best dishes and cocktails when star chefs and bartenders tag-team live on stage, revealing the chemistry behind their signature creations. Broken Spanish's and B.S. Taqueria 's Ray Garcia (chef/owner) and Michael Lay (beverage director) host the event along with Jonathan Gold and Jenn Harris, and will will highlight Mexican-American flavors steeped in tradition and crafted with a modern sensibility. Terrine's Kris Morningstar and Ryan Wainwright showcase the Southern California terroir parlays into their dishes and drinks. Gold and Harris will host a group demo with three market-driven mix masters: Katie Emmerson (The Walker Inn), Nathan Oliver (WOLF) and Tobin Shea (Redbird). Fill out your eating and drinking curiosity with tastes from a restaurant list that includes Ivory on Sunset, Leona, The Bellwether, Viviane and Jar.
Sept. 4
11 a.m.-2 p.m.
Sunday Block Party
Labor Day is all about the backyard cookout, and you can get inspiration for yours from some of the best chefs around the city. On tap for the day are Duff Duff Goldman (Charm City Cakes West/Cake Masters), who shows off his over-the-top pastry-meets-sculpture skills in a live demo. Mary Sue Milliken (Border Grill) serves up modern Mexican fare while Ramiro Arvizu and Jaime Martin del Campo (La Casita Mexicana/Mexicano) demonstrates authentic dishes from south of the border. Noelle Carter also hosts a discussion on resourceful ways to maximize ingredients with Bruce Kalman (Union/Knead & Co. Pasta Bar), Chris Cormier (L.A. Mission) and Michael Flood (L.A. Regional Food Bank). Enjoy food from restaurants like L&E Oyster Bar, Little Beast, The Cannibal and The Guild.
Sept. 4
7:30-10:30 p.m.
Flavors of LA
During the final event of The Taste Jonathan Gold leads you on a journey of LA's culinary influences. Join him as he leads a roundtable on new Filipino cuisine with three acclaimed chefs: Charles Olalia (Rice Bar), Gary Menes (Le Comptoir) and Alvin Cailan (EggSlut/UNIT120/AMBOY). Kris Yenbamroong (NIGHT + MARKET) Food & Wine magazine's current Best New Chef, shows off his Thai cooking skills, while Nyesha Arrington (LEONA) shares a seasonal recipe. Also get a glimpse into a fermented future with Baroo's Kwang Uh, and don't miss Tricia Carr's (The Concoctologist) cocktail demo with aperitifs, bitter liqueurs and rosé wines. Nosh on tastes from Cento Pasta Bar, Badmaash, Baroo and Simbal, among others.
Tickets $100-$150; $300 weekend pass. For more information on specific events and all participating restaurants and chefs, visit events.latimes.com/taste/tickets