Celebrate Cinco de Mayo In Los Angeles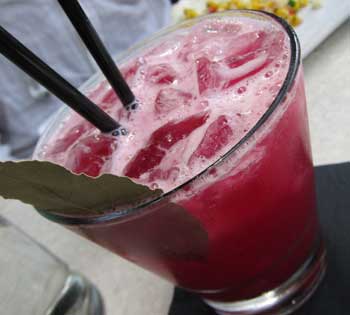 Cinco de Mayo 2013 heats up Sunday in Los Angeles. Tequila starts flowing early, while mariachi music takes L.A. revelers late into the night. Check out our roundup of the best Los Angeles Cinco de Mayo events.
Edited by Christina Xenos
EVENTS + FESTIVALS
Los Lobos Cinco de Mayo Festival
The Greek Theatre kicks off its summer season with the festival that features Los Lobos with Robert Randolph, Los Super 7, Willie G of Thee Midnighters, in addition to special guests Kinky, El Chicano and Pedro Torres Y Su Mariachi. The Greek Theatre Plaza Stage will feature La Santa Cecilia, Los Fabulocos and Making Movies for a full day of music and celebration beginning at 3 p.m. $25-$70. 2700 N Vermont Ave., L.A. greektheatrela.com
Lucha VaVoom
Ridiculously fun performance featuring masked Mexican wrestlers, comedy, and burlesque acts all rolled into one wacky and entertaining evening. Also expect Aztec and folkloric dancers, tequila, tamales and a dance party. Mayan Theatre, 1038 S Hill St., downtown. luchavavoom.com
El Chavo
May 2-5. This Los Feliz hotspot never disappoints with its annual Cinco de Mayo party; this year it's four days long. Find a fiesta that takes over the entire restaurant and back patio. Expect live entertainment, drink specials, taco cart on the patio and more. 4441 Sunset Blvd., L.A., 323.664.0871. elchavorestaurant.com
Mission Cantina
May 4-5. At the Hollywood cantina, celebrate over two days with mariachis, a photo booth, food and drink specials and giveaways. Noon-2 a.m. 5946 W Sunset Blvd., L.A. themissioncantina.com
Calle Tacos
The Hollywood taco truck with a permanent storefront along Hollywood Blvd., celebrates the holiday and their one-year anniversary with a fiesta that offers drink specials, DJs, photo booth and live donkeys. 2-8 p.m. 6508 Hollywood Blvd., L.A. calletacos.com
Tortilla Republic Cinco de Mayo Block Party
El Tovar place and the West Hollywood open air parking lot adjacent to Tortilla Republic will be transformed into an outdoor celebration celebrating Mexican heritage and culture, featuring food, pinata pit, cocktails, beer, food, and live entertainment, including a top 40 mariachi band. Next door, Tortilla Republic offers specially priced social margarita pitchers, buckets of beer specials, a photo booth and more. 2-7 p.m. $10, $20 VIP. 616 N Robertson Blvd., West Hollywood, 310.657.9888. tortillarepublic.com
Cinco
The new Oaxacan focused restaurant near LAX offers specials on their traditional barbacoa platter and barbacoa tacos, in addition to cocktail specials like the Gardenia for $7, and Tommy's margarita for $5. Festivities begin at 1 p.m. and a live mariachi band starts at 4 p.m. 7241 West Manchester Ave., L.A., 310.910.0895. cincola.com
TREATS
Sprinkles Cupcakes
L.A.'s classic cupcakery rolls out a new margarita flavored cupcake for the occasion. It's made with key lime tequila cake topped with key lime frosting and dusted with salt around the rim. sprinkles.com
FOOD + COCKTAILS
Tequila
Find festive tequila cocktails all over L.A. including some of our favorite margaritas at El Carmen, El Coyote, El Compadre, and Casa Vega. Mohawk Bend offers a shot of Greenbar tequila and a pint of Golden Road citrus blend for $7. Find other top cocktails like the Tuk-Tuk and Live In Lover at Tin Roof Bistro in Manhattan Beach, or opt for Rayo Verde at M.B. Post. Lazy Dog Restaurant & Bar offers a watermelon tequila fresca. Newbie Allumette in Echo Park offers the Smoking Gun with Vida mezcal, cynar at calisaya, while Cecconi's gets devilish with there El Diablo (Cazadores blanco, lime, ginger, grenadine, bubbles).
Mercado Santa Monica
The Santa Monica outpost for fresh Mexican cuisine offer all day food specials on guacamole, carnitas tacos, gringas and more, including drink specials like partida blanco house margaritas for $7, $4 Dos XX, $3 Carta Blanca, among others. 1416 4th St., Santa Monica, 310.526.7121. mercadosantamonica.com
Loteria Grill
At each of its Los Angeles locations, celebrate the holiday with a special 5-5-5 menu. Each restaurant will offer a limited menu of Chef/Owner Jimmy Shaw's five "best of" tacos alongside the top five house-favorite margaritas and five Mexican beers to soothe the palate. 11 a.m.-Close. loteriagrill.com
Susan Feniger's STREET
Susan Feniger is bringing both of her restaurants together to celebrate in global style. STREET is hosting a Cinco de Mayo Taco Night, featuring homemade tortillas by Border Grill. Tacos include land, sea and veggie options, everything from carnitas, to beer battered rock shrimp, smoked octopus, chipotle jackfruit and more. Wash it down with with aguas frescas and margaritas, in flavors like coconut horchata, cucumber mint, Strawberry, hot chile lime, among others. 742 N Highland Ave., L.A. eatatstreet.com
The Mixing Room
May 4-5. Stop by for a fiesta on their outdoor patio and indulge in Mexican street cuisine (tacos, nachos, guac, chocolate tamales, among others), drink specials like margaritas and other cocktails featuring Avion tequila and a mariachi band. Starts at 3 p.m. JW Marriott Los Angeles L.A. LIVE, 900 Olympic Blvd., downtown, 213.765.8600. lalivemarriott.com
Windows Lounge at Four Season Los Angeles
May 4-5. Windows Lounge gets in the spirit with a festive a la carte bar menu that includes three Dos Equis with pico de gallo and corn chips for $25. Other specials include Dungeness crab tostada, crispy chicken taquitos and Mexican-style shrimp cocktails. Featured cocktails include the watermelon refresher with Casamigos silver tequila, fresh watermelon and agave, among others. 300 S. Doheny Dr., L.A. fourseasons.com/losangeles
Red O's Street Food Social Hour
May 2-3. Grab a seat in Red O's tequila lounge or outdoor patio to enjoy a selection of specially priced items from Chef Rick Bayless' California-inspired Mexican menu and sip a variety of their specialty margaritas and cocktails, as well as a selection of wines for $7 and craft beers for. 5-7 p.m., Friday; 4-6 p.m., Saturday. Dinner continues post-party for those who want to check out the entire Red O menu, in addition to brunch on Saturday and Sunday. 8155 Melrose Ave., L.A., 323.655.5009. redorestaurant.com
Plan Check
The west L.A. restaurant and bar offers tequila flights all week leading up to Cinco de Mayo, either a $12 Herradura flight and $20 Siete Leguas flight. Other specials on the holiday include $5 margaritas and the cheeseburger machismo (habanero cheese, bacon, batter-fried onions, and jalapeno escabeche). 1800 Sawtelle Blvd., L.A., 310.288.6500. plancheckbar.com
Burger Lounge
On Cinco de Mayo, Burger Lounge launches a new festive grass-fed lamb burger with asadero cheese, jalapeno relish and housemade tomatillo-green chile mayo. Sink your teeth into it at locations from here to San Diego. burgerlounge.com
Islands
May 1-Jun. 2.The burger joint kicks off their Margarita month and celebrates the holiday with $1 off all their margaritas. islandsrestaurants.com
Tinhorn Flats
Celebrate in the heart of Hollywood with specials on quesadillas, dollar tacos, margarita and beer specials, all day long. 1724 N. Highland Ave., L.A., 323.462.2210. tinhornflatshollywood.com