Carmageddon Survival Guide: How to Conquer the 405 Shutdown in Los Angeles
The historic 405 shutdown is just days away. What are some of the best Los Angeles things to do to survive Carmageddon? No matter where you are, we've listed top offers for LA restaurants, hotels shopping, entertainment, nightlife and more.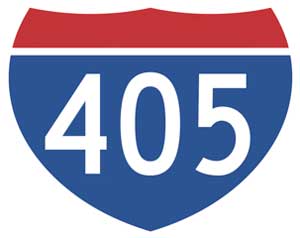 Car-Mageddon.com Kick-Off Party
July 15. Kick off Carmageddon in style with Car-Mageddon.com (your official guide for surviving the freeway shutdown) at Wokcano, Santa Monica. Find drink specials such as $3 "flat" tire beers, $5 "traffic jam" shots, $7 "Car" Jack & Cokes to the tune of live DJs. The Car-Mageddon.com team will be on-site with a live Twitter station, car-themed costumes and music, and have official Car-Mageddon.com t-shirts for sale. Free admission before 10 p.m., $5 after. Happy hour starts at 5 p.m. 1413 Fifth St., Santa Monica, 310.458.3080. Car-Mageddon.com
Carmageddon Block Party
July 15-17. The Shops at Woodman and Ventura are throwing a Carmageddon Block Party, inviting you to stay on the Valley side of the hill and spend the weekend shopping and eating at some of the Valley's indie businesses. Find food, beverages and special offers by many of the shops (shop at one, get 10% off another). There are new shops, galleries and eateries as well as all your old favorites offering discounts and goodies galore. Participating shops include: Abundance, a plus-size boutique for women sizes 12 and above, actress Melissa Jo Hart's Sweet Hart's sweet shop, Freak Beat for the best vintage vinyl records, NoRoses Gallery and Roni B. and many more. More Info.
Eat Real Festival
July 16–17. Food festival has a focus on sustainable ingredients and street and ethnic foods, craft beers and wines. Demonstrations, workshops and live music. July 16, 10:30 am–9 pm; July 17, 10:30 am–5 pm. Admission free. Helms Bakery District, 8800 Venice Blvd., Culver City, 510.250.7811. eatrealfest.com
Hammer Museum
July 16-17. Find free admission Saturday and Sunday. The Museum and the Hammer Cafe will have regular visiting hours this weekend, but will close one hour early on Friday, July 15. 10899 Wilshire Blvd., Westwood, 310.443.7000. hammer.ucla.edu
Daily Grill
July 15-18. Daily Grill invites Angelenos to seek refuge from the freeway closure with a special $4.05 menu featuring a selection of themed cocktails, appetizers and homemade desserts. Visit www.dailygrill.com for LA locations.
Tender Greens
July 16-17. Take the edge off during the Carmageddon weekend and commiserate with neighborhood friends with a glass of hand crafted beer on tap for only $4.05 (at Los Angeles locations with a Los Angeles I.D.). As a bonus event when stir-crazy-Sunday comes along for those who live in the Hollywood area, Tender Greens Hollywood is hosting a Sunday Beer Garden and Whole Animal Roast on Sunday, July 17 from 5 p.m. to 9 p.m. Chef Eric Hulme will roast a whole goat, paired with craft beer from Angel City Brewing. $35/pp, includes food, beer and tax. RSVP for animal roast to: Heidi@tendergreensfood.com. www.tendergreensfood.com
Hotel Palomar
July 15-17. The Hotel Palomar offers a special Carmageddon package that includes: 2-day stay, Deluxe package is $239, Vista Deluxe for $259; $40.05 dining credit; and Complimentary parking. Hotel Palomar, LA-Westwood, 10740 Wilshire Blvd., L.A., 310.475.8711. www.hotelpalomar-lawestwood.com
SLS Hotel at Beverly Hills
July 15-17. Find "405 staycation" packages that range from a room package for $405 (regularly $500+) that includes one night accommodation, breakfast for two at Tres, complementary parking and cookies for your trip home after your stay; to calming spa packages at the Ciel Spa to rid you of your stress. SLS Hotel at Beverly Hills, 465 South La Cienega Blvd., L.A., 310.247.0400. www.slshotels.com
Locanda del Lago
July 15-17. Third Street Promenade's northern Italian eatery—invites stranded Westsiders to ease the pain of the 405 Freeway closure with a special $4.05 Stuzzichini (Italian small plates) menu and a selection of themed cocktails. Locanda del Lago, 231 Arizona Ave., Santa Monica, 310.451.3525. www.lagosantamonica.com
Xino
July 16. 405 or 4 fo' 5? This modern Chinese eatery is offering a variety of dishes fo' $5 a pop. Crab Rangoon, Chili Glazed Pork Spare Riblets, Seafood Spinach, Shrimp, and Mushroom Dumplings or Crispy Chili Calamari are just a few of the samplings. Xino, 395 Santa Monica Place Suite 308, Santa Monica, 310.755.6220. www.sinorestaurant.com
Drago Santa Monica
July 15-17. Drago is offering 20% off the entire bill (excluding tax and gratuity) with mention of the code "Car-mageddon" when placing your reservation. Drago Santa Monica, 2628 Wilshire Blvd, Santa Monica, 310.828.1585. www.celestinodrago.com
Raphael
Raphaels shares their Car-mageddon Creations: Chilled Karma tequila with a salty lime foam served with bitter orange sangrita, and Nolet Gin with muddled cucumbers and house made lemoncello. Raphael, 11616 Ventura Blvd, Studio City, 818.505.3337. raphaelonventura.com
CAFE del REY
The Mediterranean-inspired seaside dining destination will be offering 5% off the guests' bills for every 5 miles driven, up to 25%. Locals who live closer than 5 miles need not feel snubbed, as the restaurant will provide a special treat (with proof of I.D.). Cafe del Rey, 4451 Admiralty Way Marina del Rey, 310.823.6395. www.cafedelreymarina.com
Wilshire
July 16-18. Dine on a four-course "405 Sig Alert" dinner for $40.05 per person. Dish choices include a miso black cod with tamarind glaze, braised short rib with glazed cipollini onion, truffled half chicken with sweet onion potato puree, and panko-crusted tofu. Wilshire, 2454 Wilshire Blvd, Santa Monica, 310.586.1707. www.wilshirerestaurant.com
Drago Centro
Chill out downtown and enjoy chef Ian Gresik's 4 fo'5 (4 samples for $5) gelato sampler, featuring unique flavors such as salted caramel and tomato gelato. Drago Centro, 525 S Flower St. Suite 120, downtown, 213.228.8998. www.dragocentro.com
Yujean Kang's
July 16-18. Chef Yujean Kang is celebrating Car-mageddon by offering his special $20 "Sunday" sino supper all weekend long. Yujean Kang's, 67 North Raymond Avenue, Pasadena, 626.585.0855. www.yujeankangs.com
Vertical Wine Bistro
Vertical will be offering 4 for $5 beer and wine flights. Beers hail from Morretti, Italy: "Hitachino Rice Ale": Ibaraki, Japan: Rice Beer; "Barbar": Quenast, Belgium: Honey Ale; "Aecht Schlenkerla Rauchbier Marzen": Bamberg, Germany: Smokebeer. And wines from South America: 2009 Filus Torrontes Argentina; 2009 Terra Noble Cabernet Sauvignon Chili; 2008 La Flor Malbec, Argentina; 2008 Santa Carolina: Carmenere, Chili. Vertical Wine Bistro, 70 North Raymond Avenue, Pasadena, 626.795.3999. www.verticalwinebistro.com