Bo Nuage Brings Cloud Cakes to Los Angeles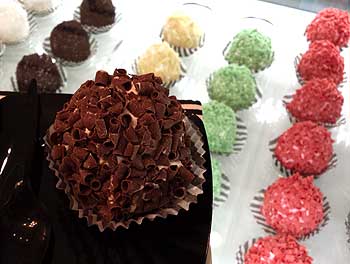 Indulge in Cloud Cakes, Los Angeles' Latest Sweet Sensation at Bo Nuage on Melrose Ave. Find out for yourself why dessert just may be the best thing to do in LA!
There's a new Parisian patisserie in town and this one—from chef Pascal and his wife Audrey Achcar—offers heavenly "nuage" cakes—a sweet and addictive configuration of whipped cream sandwiched between two layers of meringue, covered in whipped cream and shaved white chocolate. Savor 15 favors—think dark chocolate, vanilla, salted caramel, coffee and more—of the bite-sized mini cakes, which are all also around 250 calories. Cakes are $6 per pice and elegantly packaged in 1, 2, 4, and 6 to a box, making for stylish gifting and easy transport. For occasions requiring larger cakes, the patisserie also offers nuage cakes in 6 and 9-inch sizes.
The 120 square-foot boutique is outfitted in chic Parisian design with a minimalistic black and white color scheme with rose gold accents throughout the store. Los Angeles-based designer Jessica Marx of J. Marx Atelier conceived the space that fits in perfectly with it's location along the stylish stretch of Melrose Ave.
You can also get your caffeine fix with the outpost's house blend of Stumptown coffee, in addition to a selection of teas and other beverage to-go.
8010 Melrose Ave., L.A., 310.880.2065. bonuage.com