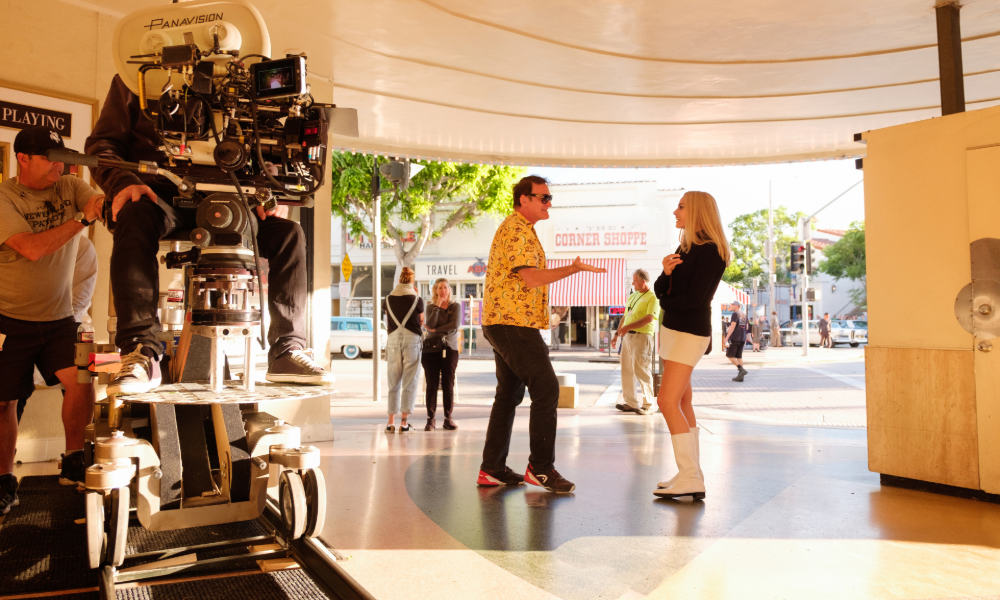 By Andrea Richards
For a few days last summer, folks driving down Hollywood Boulevard inadvertently found themselves in a time machine of sorts as landmarks such as Larry Edmunds Bookshop and the Musso & Frank Grill suddenly looked different—the signage had changed, and a new, vintage-looking mural emerged behind the famed steakhouse. Soon enough, what was happening became evident: Film production trucks rolled in, and that section of the boulevard was briefly shut down. While it's not uncommon for film premieres to close Hollywood Boulevard for lavish opening parties, few films are actually shot there anymore—it's just too expensive and difficult. This had to be something special; soon, the internet exploded with the news that director Quentin Tarantino was shooting his new film in his hometown.
The result, which opens in wide release July 26, is the much-anticipated Once Upon a Time… in Hollywood, starring Brad Pitt, Leonardo DiCaprio and Margot Robbie. Touted as the director's love letter to Los Angeles, the film's locations are a visual feast of iconic L.A. places, all decked out in Aquarian-age garb. To recreate 1960s L.A., the talented production team consulted a plethora of archival materials, including period films and TV shows. Then, led by production designer Barbara Ling and location manager Rick Schuler, they worked movie magic, reconstructing old buildings and signs, changing facades, replacing light fixtures and stoplights, and redressing basically everything— windows, park benches, bus stops, phone booths.
"It took an enormous amount of elements to make a believable period film," says Ling, crediting the graphics department, led by Tina Charad, with re-creating period ads that helped to solidify the era. The entire built environment was their canvas, including vehicles (they even found the original Oscar Mayer Wienermobile). As Schuler explains, "With the cooperation of the city, the permitting office, Caltrans and the California Highway Patrol, we were able to secure a window of time during the day that saw over a hundred-period automobiles and trucks travel in both directions on the 101 Freeway. … I'd say more than anything else, the sight of this really pulled me back in time. … At a recent showing of the movie, Quentin had to dissuade some viewers of the fact that the scene was not the result of visual effects."
While the majority of the film's sets are meticulous re-creations of sites that are no longer existent (Pandora's Box, the 3-acre Spahn Ranch), some of the film's locations are real places that remain relatively close to how they looked a half-century ago. Of course, these still had to undergo re-dressing, but for the most part, these restaurants, theaters and homes still exist as portholes into the past. You can visit these seven iconic Los Angeles locations in person after seeing them on the big screen this month.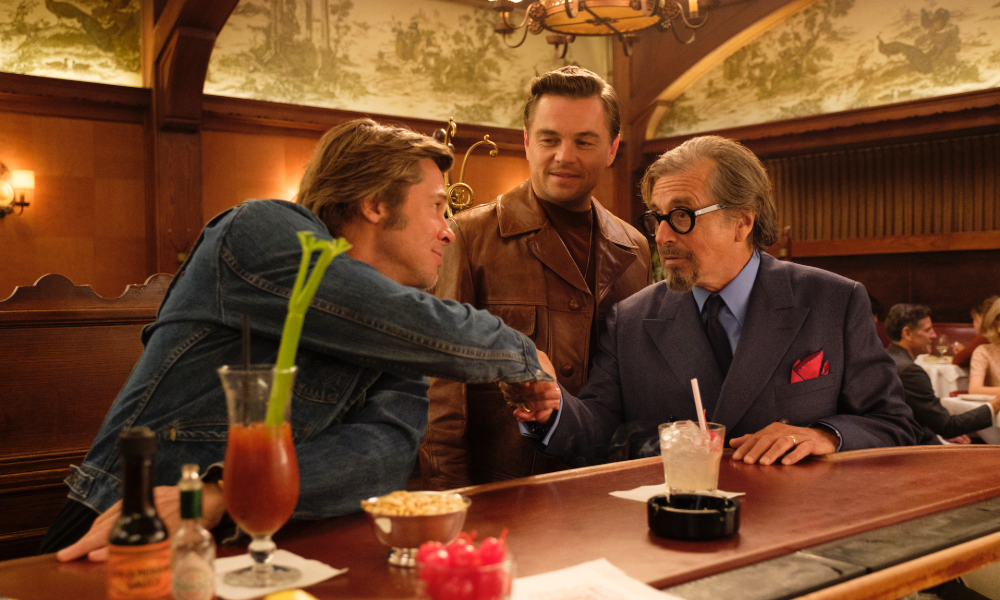 The Aquarius Theatre
While most recently this building served as Nickelodeon's production studios, it has a long and juicy history as an entertainment venue. Built in 1938 as the Earl Carroll Theatre, a swanky supper club frequented by golden-age film stars, it progressed through several incarnations as a music venue to become the groovy Aquarius Theatre in 1969. Of course, the incredible zodiac-inspired mural painted by the Fool collective was re-created for the film in all its acid-dream glory. (6230 Sunset Blvd., Hollywood)
The Bruin Theatre
This beautiful Streamline Moderne movie palace was built in 1937 and sits directly across the street from another historic cinema, the Fox Theatre, both located in the heart of Westwood Village. The theaters are now operated by Regency Theatres and have long histories as venues for fabulous film premieres. It appears from released film stills that Margot Robbie, playing Sharon Tate, has a scene here. (948 Broxton Ave., Westwood. 310.208.5576)
Casa Vega
When this Mexican restaurant opened in 1956, it quickly became a favorite among movie stars living in the tony Valley suburb of Sherman Oaks. It remains a popular mainstay today, with its original interior (red-leather booths, vintage paneling) largely intact, plus there's a fabulous neon sign outside. (13301 Ventura Blvd., Sherman Oaks)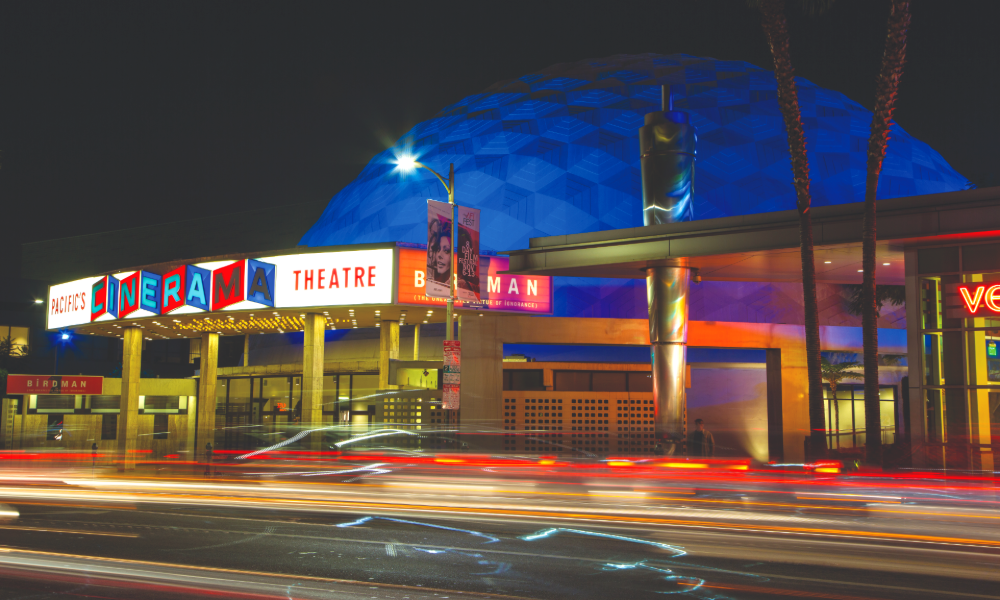 Cinerama Dome
Hollywood's midcentury cathedral to large-gauge cinema, built in 1963, is, thankfully, still in use. For a scene in the film, the dome was made over with period-appropriate cars, costumes and advertisements, including the marquee, which touted the 1969 disaster film Krakatoa, East of Java. Naturally, the dome is the ideal spot in Los Angeles to see Once Upon a Time… in Hollywood. (6360 Sunset Blvd., Hollywood. 323.615.2550)
El Coyote Mexican Cafe
We all know that the Manson murders somehow figure in the plot of the film (it was referred to by the press as Tarantino's "Manson movie" for a long while), so it makes sense that this landmark restaurant makes an appearance— it's long been famous for being the place Sharon Tate and her three friends from Cielo Drive ate their last meal. Opened in 1931, El Coyote moved to this location in 1951, and today is conveniently located just down the street from the New Beverly Cinema, the revival house owned by Tarantino.(7312 Beverly Blvd., West Hollywood. 323.939.2255)
The Musso & Frank Grill
The famed bar at Hollywood's oldest restaurant (since 1919) is a fitting backdrop for an exchange between DiCaprio and Pitt, who play a TV star and his stunt double in the film. The characters' relationship is modeled in part on the real-life friendship of Burt Reynolds and his longtime stuntman, Hal Needham. At Musso's, don't miss the martini, which is served with a sidecar. (6667 Hollywood Blvd., Hollywood. 323.467.7788)
The Playboy Mansion
According to location manager Rick Schuler, shooting in Hugh Hefner's former home was a favorite for him because it was such a challenge to make happen. New owner Daren Metropoulos was in the midst of an extensive restoration of the property, but Schuler set up a meeting between he and Tarantino that set the deal in motion. Eventually, three nights of filming with more than 200 extras took place at the legendary hookup spot—we'll have to wait and see if the grotto makes the cut. (10236 Charing Cross Road, Beverly Hills)
(Photos: Production stills by Andrew Cooper – © 2019 CTMG, Inc. All Rights Reserved. Cinerama Dome courtesy L.A. Tourism & Convention Board)