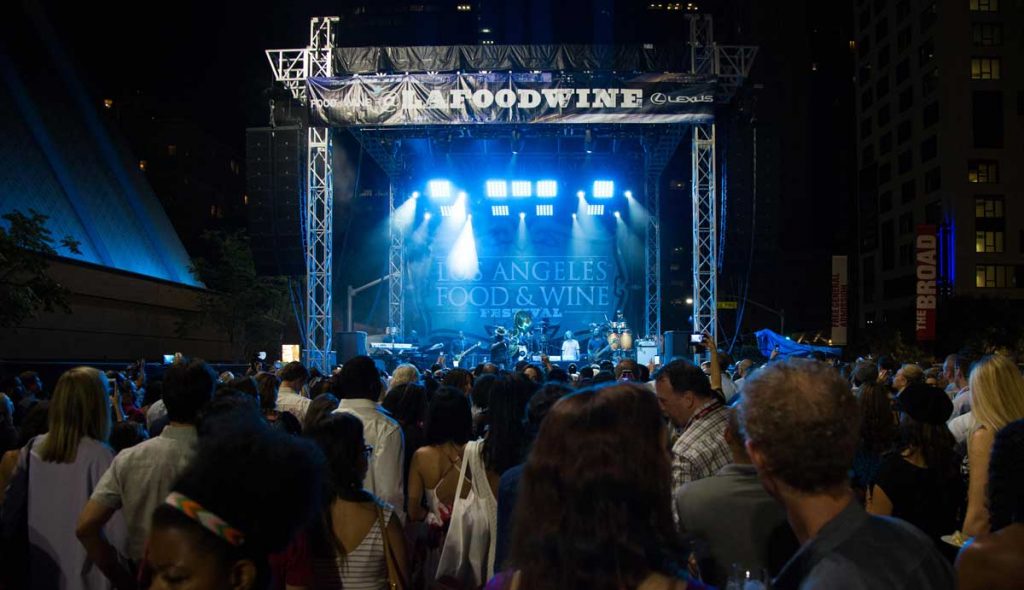 Los Angeles Food & Wine features top chef talent in a variety of eating events Aug. 25-28.
By Christina Xenos
Los Angeles Food & Wine features an impressive who's who of culinary talent including celebrity chefs and local favorites. When you think about food festivals, small bites from endless restaurants and chefs might be the first thing that comes to mind. We'll take you beyond the simple bite and tell you why Los Angeles Food & Wine is so much more.
Los Angeles Food & Wine Power Lunch Series
Now in its sixth year Los Angeles Food & Wine offers an unmatched lineup of tastings, cooking demos, live music and exclusive chef-collaboration meals at top dining destinations across the city. The festival is headquartered in the heart of downtown LA, and main events take place on Grand Avenue in front of Walt Disney Concert Hall. One of the top reasons to check out Los Angeles Food & Wine this year is the lineup of talent spotlighted through 10 lunch events during Friday's power lunch series. Feast on menus from exciting chef collaborations and even get sneak peek at upcoming Los Angeles restaurant concepts.
Simbal Lunch with Shawn Pham & Jessica Largey
Chef Jessica Largey's (James Beard "Rising Star Chef" 2015) highly anticipated restaurant Simone is due to open in downtown's arts district in early 2017. Get a taste of her food when she partners with Chef Shawn Pham at his beloved Little Tokyo restaurant Simbal for a Southeast Asian-influenced lunch. The duo tag team on menu highlights like beef with roasted maitake mushrooms, pole beans, nori jam and shallot miso (Largey); and grilled duck breast marinated in fermented tofu, smoked pee wee potatoes with garlic dashi vinaigrette and pickled hon shimegi mushrooms (Pham). $125/pp. Noon-2:30 p.m.
Rose Café Lunch with Jason Neroni, Evan Funke, Francis Derby & Nyesha Arrington   
This lunch aptly located at Rose Cafe in Venice, features four of the Westside's most heavy-hitting chefs: Nyesha Arrington (Leona), Francis Derby (The Cannibal), Jason Neroni (The Rose) and Evan Funke (soon-to-open Felix). The four chefs will collaborate on the menu the features their distinct culinary points of view—think smoked 60-day dry-aged short rib with watermelon, mint and peanut (Derby). You will also get to have a taste of what Funke is working up for his forthcoming Abbot Kinney Blvd. restaurant, Felix. $125/pp. Noon-2:30 p.m.
Otium Lunch with Timothy Hollingsworth, Jon Shook & Jeremy Fox
This unique lunch blends contemporary art from The Broad Museum with cuisine from Timothy Hollingsworth (Otium), Jon Shook (Animal) and Jeremy Fox (Rustic Canyon). In additional to a collaborative menu from the much-praised chefs, you also get to work up an appetite with a tour The Broad from 11 a.m.-noon, that is included with the lunch. $175/pp. 11 a.m.-2:30 p.m.
More Los Angeles Food & Wine Highlights
If you can't make it to one of Friday's lunches, the festival is full of other tasting events.
Amazon Presents Eat the World with Emeril Lagasse
The festival opens on Aug. 25 with an evening hosted by Emeril Lagasse. Stroll and taste culinary bites from some of the best chefs in Los Angeles and beyond like Angelo Auriana (Officine Brera), Ryan Denicola (Chi Spacca) and Walter Manzke (Republique and Petty Cash).
Grand Avenue Night Market hosted by Jet Tila and Brian Malarkey
This year's Grand Avenue Night market on Aug. 26 is hosted by Jet Tila and Brian Malarkey and will spotlight the street foods from the markets, carts, street stalls, and mom-and-pop joints that span the alleyways, city streets, and corners of every vibrant country from Taipei to Kuala Lumpur including Chefs Elizabeth Falkner, Jeffrey Lunak (Sumo Dog), Tin Vuong (Little Sister), Andrew Gruel (Slapfish), and Kevin Nashan (Sidney Street Café), among many others. $125/pp, $175/pp VIP. 7-10 p.m.
LIVE on Grand Avenue with Tyler Florence
A performance from American hip hop trio De La Soul shares the spotlight with cuisine from Timothy Hollingsworth (Otium), Jason Dady (Jason Dady Restaurant Group), and Stephen Kalt (Spartina) on Aug. 27. $175/pp, $250/pp VIP.
Lexus Grand Tastings
Block out Saturday and Sunday afternoons for tasting events at Santa Monica's Barker Hangar. The events offer more than 200 wines from prestigious wineries and food tastings from top culinary talent from around the country.
For more information on the Los Angeles Food & Wine festival visit, lafw.com