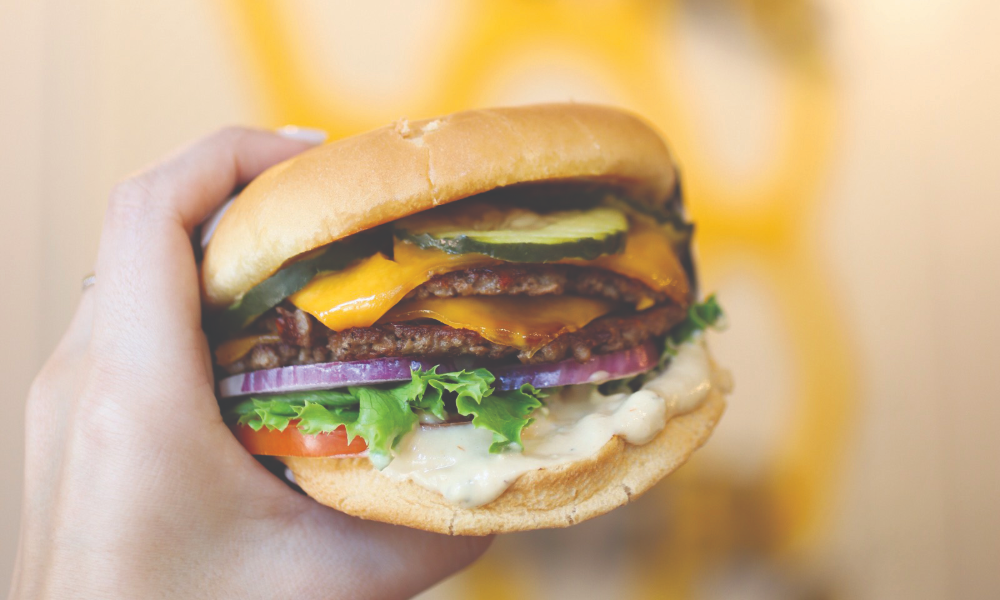 Edited by Roger Grody.
With creativity and glamour embedded in the city's DNA, it's no surprise the Los Angeles dining scene offers a wealth of avant-garde restaurants where sophisticated techniques are applied to exotic ingredients from around the globe. The results showcase L.A.'s diversity in the hands of gifted chefs—but sometimes, especially when summertime arrives, nothing sounds better than a slab of baby back ribs or a sloppy burger with a beer. We can't help but crave the simple, relatable foods first experienced in our own backyards. Fortunately, L.A. has no shortage of establishments suited to celebrating the season with familiar comfort foods of humble origins. Some of those eateries apply trendy flourishes to classic concepts, while others are so steadfastly traditional (and satisfying), some people may be surprised they're even in L.A.
BURGER CAPITAL
While the burger may not have been invented here, L.A. is where it rose to prominence, and the legendary In-N-Out Burger helped shape our drive-thru society. Now, a whole new generation of burgers is taking center stage. From food trucks to prestigious restaurants, local chefs are constantly trying to perfect this quintessential American sandwich.
Burger master Shawn Nee grew his burgeoning operation from his own backyard, eventually progressing from Instagrammable pop-up appearances to a permanent structure in Silver Lake, where his cult has followed him. Now, the line is out the door at Nee's Burgers Never Say Die, where twin patties are smashed and caramelized on the griddle, layered with American cheese, pickles and hit with a little mustard, ketchup and onions for a simple winning formula. Out of the backyard for good, BNSD is ready for its first summer rush as a bona fide restaurant.
For something more upscale, consider le "Big Mec," a formidable cheeseburger offered at chef Ludo Lefebvre's Petit Trois bistro in Hollywood and Sherman Oaks. A playful but sophisticated riff on the famous fast-food item, it features a patty—nicely seared but never overcooked—topped with artisan-quality American cheese on a brioche bun. Sensual and sloppy, this Big Mac for Francophiles is slathered in a silky Bordelaise sauce.
Many burger connoisseurs look no farther than Father's Office, where chef/owner Sang Yoon turns out what has been called the best burger in America. Topped with Maytag blue and Gruyère cheeses, arugula and a compote of onions and applewood-smoked bacon, the "Office Burger" is justifiably legendary, often paired with fries served in a miniature frying basket with garlicky aioli. But take note: The gastropub adheres to a strict "no substitutions" rule.
Not all burgers are an unhealthy indulgence, and the demand for products like the "Impossible Burger" is a testament to the evolution of American cuisine. Brand-new to Los Feliz is Honeybee Burger, a sweet little stand offering a menu of plant-based burgers topped with housemade onion jam, pickles and tangy sauce. Also available are guiltless shakes and vegan "frots" (a combination of fries and Tater Tots) fried in rice-bran oil.
One of the best vegan burgers can be found at Monty's Good Burger, an unpretentious storefront (with a cool neon sign) steps from the Wilshire/Western Metro station in Koreatown. Monty's vegan burger, which earned a following at the Coachella music festival, is a 100 percent plant-based patty with vegan cheese, pickles and grilled onions on a potato bun from Thousand Palms' Bosch Bakery. Oddly enough, Monty's inherited this K-town space from Sumo Dog (now in Santa Monica), which is known for inventive Japanese-inspired hot dogs and burgers laced with wasabi relish, pickled daikon and togarashi cheese.
DOGS RUNNING WILD
The iconic Pink's Hot Dogs—fans have been lining up since 1939—is still considered by many to be the reigning dog purveyor in town. Its huge selection, including intricate concoctions named after celebrities, still attracts a crowd, but Pink's is hardly the only game in town. One notable upstart is Japadog, a Vancouver import that blends Japanese elements with American traditions. The results are the "Terimayo" dog slathered with teriyaki, mayo and seaweed, and the "Tonkatsu," a deep-fried pork cutlet topped with a Japanese barbecue sauce and cabbage. You can find the Japadog stand at the Santa Monica Pier, or look for its roving truck.
For many, summer is all about consuming Dodger Dogs while cheering on the Blue Crew. But those catching an L.A. Sparks WNBA game or a concert at Staples Center this summer should check out Dave's Doghouse, operated by Michelin-starred chef Josiah Citrin. The sausages are made back East, and while the dog topped with mac and cheese is a fan favorite, consider the Reuben for the robust flavors of a deli. Dave's has expanded to arenas across the country, and a freestanding Doghouse is coming to Main Street in Santa Monica.
Out in the Valley is mainstay Cupid's Hot Dogs, established in 1946 and currently operated by the third generation of the founding Walsh family. This landmark's menu is short and sweet—its all-beef dogs are not burdened with a thousand gimmicky or exotic ingredients— but its chili sauce has a reputation that extends beyond the Valley. Cupid's still feels like the kind of drive-in eatery that defined the San Fernando Valley's post-war suburban lifestyle, and classic cars still pull up to celebrate the nostalgia of this all-American eatery.
MOVE OVER, MEMPHIS
L.A. may not be Memphis, Kansas City or Austin, but many of the city's chefs are still serving up delicious barbecue without being beholden to any particular style.
Smorgasburg, the Brooklyn-born street fair that sets up every Sunday at Row DTLA in the Arts District, has become a major event for barbecue aficionados. Included among a handful of 'cue specialists on hand is Moo's Craft Barbecue, operated by Andrew Muñoz and wife Michelle, a local couple who graduated from their East L.A. backyard to this high-profile event where they have earned a cult-like following.
Moo's presents a simple border-inspired menu of Texas-style brisket, pork ribs, verde sausages and beef ribs with Tex-Mex sides like esquites and tequila-lime coleslaw. After a long stint in a giant smoker, the super-tender brisket emerges with a pronounced bark and visible smoke ring beneath it. There is always a line at Moo's, and the Muñozes are reportedly looking for a brick-and-mortar location.
At Hollywood's APL Restaurant, famous for its oversized tomahawk steaks and short rib feasts, chef/owner Adam Perry Lang has introduced the lunchtime APL BBQ menu to satisfy diners' summertime cravings. Barbecue is one of Lang's personal passions, and prior to fine-dining stints at New York's Le Cirque and Daniel, he operated a barbecue joint in Midtown Manhattan. Lang's smokehouse offerings at APL include brisket, pulled pork, pork ribs, massive Saturday-only beef ribs and addictive burnt ends.
APL's "Serious Sandwich," an homage to the chef's own cookbook, Serious BBQ, is a pit-roasted monster featuring more than a pound of dry-aged prime rib, shaved thin and layered into grilled bread with pickles, sweet onions and freshly grated horseradish. That sandwich commands some serious coin ($50), but most of the APL BBQ menu is very accessibly priced.
Lang has also stepped into the hot-dog scene, with all-beef dogs topped with prime beef chili (incorporating New Mexico Hatch chilies) and cheddar cheese. Apparently intent on cornering the entire collection of summertime favorites, the chef now offers an $18 burger in APL's dining room. The beef
is aged for an incredible 150-plus days and is complemented by American cheese, onion, pickles and mustard aioli on a potato bun.
Israeli immigrant Burt Bakman, whose Trudy's Underground Barbecue developed an enthusiastic following at pop-up events around town, has found a home on a fashionable stretch of 3rd Street, a couple doors from the Little Door. Not as romantic as its neighbor, but plenty stylish for a rib joint, is Bakman's new enterprise called Slab. Like the Muñozes, Bakman started Trudy's in his own backyard, so having four walls and modern amenities is a welcome opportunity.
Texas-style brisket is the main event at Slab, but nobody should discount Bakman's pulled pork, beef or spare ribs, served with a mix of side dishes that range from Southern-style collard greens and mac and cheese to Frito pie, a classic Tex-Mex favorite. Guests finish with banana pudding or red velvet cake at this in-the-know Mid-City spot.
Studio City's Barrel & Ashes brought L.A. trendiness to old-school barbecue when it debuted in 2014, and the buzz continues with a lively contemporary setting and approachable menu. Not married to a particular region or style, Texas, Memphis, the Carolinas, St. Louis and Kansas City are all represented on a menu that respects tradition but presents its own unique personality. Meats at Barrel & Ashes are slow-smoked over California red oak and finished over an open flame of white oak.
In addition to brisket, pulled pork, baby back ribs and Santa Maria-style tri-tip, Barrel & Ashes offers the self-proclaimed "Best Damn Chik'n Sandwich Y'Ever Had," stuffed with pimento cheese (aka "Carolina caviar"), jalapeños and slaw. Sides include fried pickles and mac and cheese, plus cornmeal hoe cakes arriving in a cast-iron skillet. Another attraction at B&A is the most encyclopedic whiskey selection one is likely to find at a barbecue joint.
Given its geographic reach—with restaurants from Philadelphia to San Francisco, as well as locations in Venice and a new outpost in Echo Park—Baby Blues BBQ caters to a diverse clientele. The decor in the two SoCal restaurants reveals a passion for both pork and music—particularly the blues. Mounted longhorns remind folks that beyond pulled pork and Memphis-style long-bone ribs, brisket and Texas-sized beef ribs are also house specialties. Both local eateries are hard to miss, thanks to their L.A.-centric-mural-laden facades that welcome hungry diners inside.
Photos: Honeybee Burger by Sydney Yorkshire. Slab by Dylan + Jeni.