Preview the Golden Globe Awards Star-Worthy Menu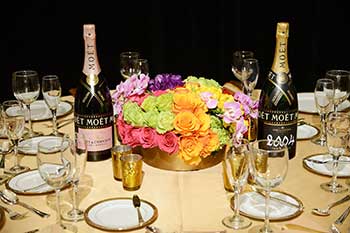 See what's on the menu at the 72nd annual Golden Globe Awards.
By Christina Xenos
Hollywood's highest profile dinner party takes place Sunday night when 1,300 celebrities converge in The Beverly Hilton's International Ballroom at the 72nd annual Golden Globe Awards.
Sharing the spotlight with the A-list talent are menus from Executive Chef Troy N. Thompson and Executive Pastry Chef Thomas Henzi.
"I take great pride in creating this menu for the Golden Globe Awards that's as extraordinary as the awards ceremony itself," said Chef Thompson.
The three-course menu includes a modern Waldorf salad with lemon emulsion dressing (Chef Thompson also wanted to pay homage to the forthcoming Waldorf Astoria Hotel that will be built on the property). The salad will be followed by a duo of roasted onion-marinated filet Mignon and slow-baked Arctic char with potato croquette, heirloom cherries and tomato fondue, topped with a black Tuscan kale chip. Vegetarians can enjoy saffron cannelloni topped with California vegetables and the Chef Thompson's team will also accommodate vegan and gluten free diets upon request. Following dinner Chef Henzi's dessert trio moves into the spotlight with cassis lemon cheesecake, chocolate alliance salted caramel and hazelnut dacquoise.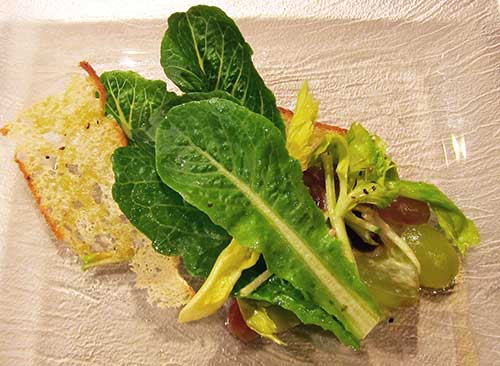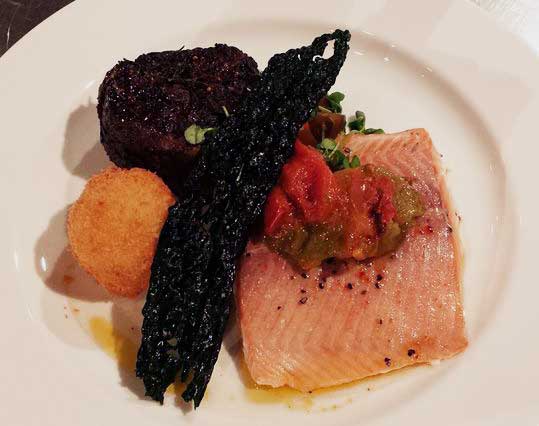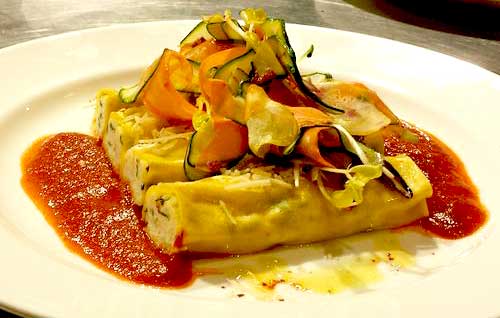 But wait, there's more. What's a star-studded dinner party without a luxury caviar bar? Situated directly adjacent to the ballroom, Petrossian will serve up a private caviar tasting bar nestled in a stylish lounge, also featuring fine chocolates and Champagne. Between award presentations, fellow nominees and winners will be able to mingle and enjoy over 10 kilos of Petrossian Royal Transmontanus caviar, presented on ice and surrounded by a five-foot ice sculpture.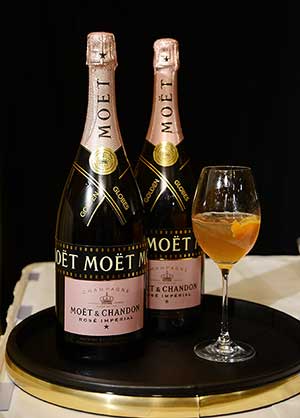 And no five-star meal can go on unpaired. As the official champagne of the Golden Globes, Moët & Chandon will serve up 1,500 Moët Impérial minis on the red carpet, 400 magnums of Moët & Chandon Grand Vintage 2004 and Moët Impérial Rosé at tables during the ceremony and 500 Moët cocktails at the bars throughout the evening. The official cocktail is the Moët Sunset Starlet, a citrusy and spicy, made from a blend of Lillet, dry Curacao, orange bitters, and topped with Rosé Impérial.
Are you hosting a Golden Globes party? Why not toast with one of your very own?
·         3/4 ounce Lillet
·         1/2 ounce Dry Curacao
·         3/4 tsp honey
·         1/4 ounce lemon juice
·         2 dash orange bitters
·         Spritz of fresh clementine + twist
·         Moët & Chandon Rosé Impérial
Directions:
Combine Lillet, Dry Curacao, honey, lemon juice and orange bitters in a cocktail shaker. Shake vigorously. Pour over ice into a white wine glass, and top with Moët & Chandon Rosé Impérial. Garnish with a Clementine twist.