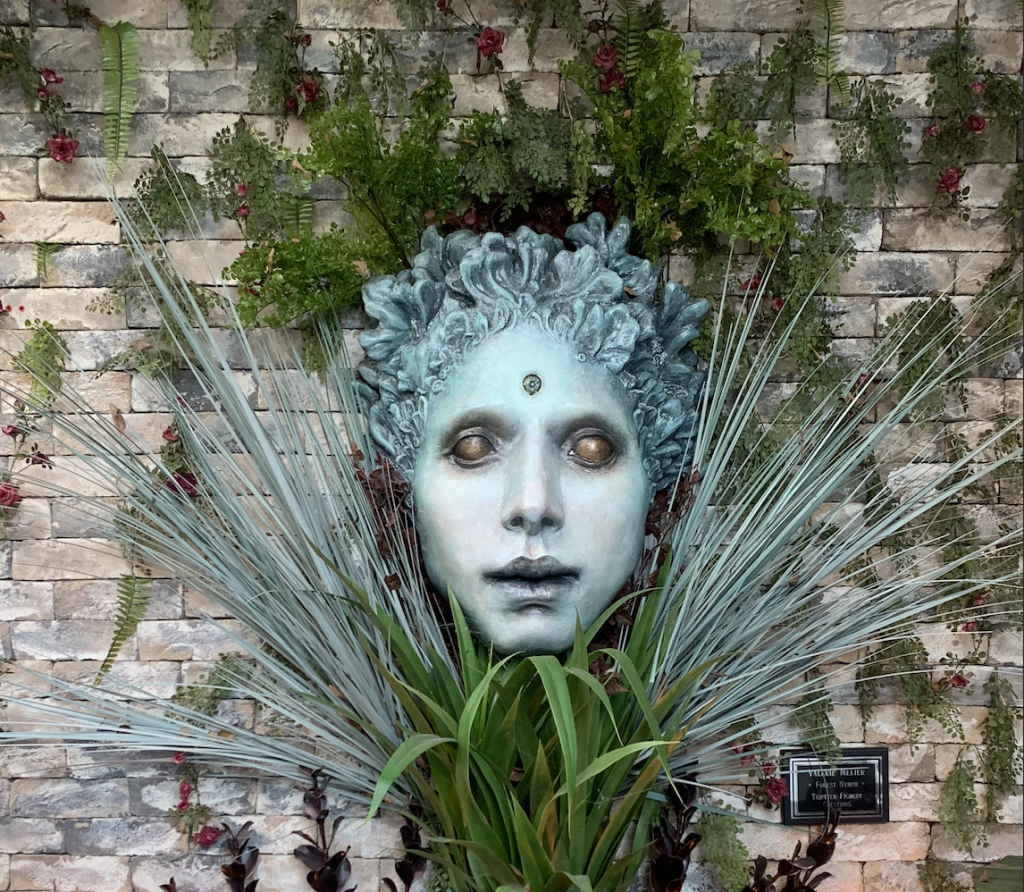 A Secret Garden Dining Oasis
New York's vegan restaurant Avant Garden Bistro has opened a new location at the popular Melrose avenue street. This location is perfect as Melrose is known for its modern day shopping scene with unique eateries for Angelinos and tourists to enjoy. Besides Melrose Umbrella Co., the location is discovered upon an alley way and when you enter, the walls are covered in vines and greenery. Right ahead, you are greeted with a warm welcome and beneath a dimly lit tree branch chandelier, the outdoor garden imbues a lot of mystical charm, as if it came out of a fairytale. In fact, the whole garden is surrounded by Forest Nymph statues and colorful plants, which elevates the dining experience in a magical way. Guests can enjoy a thoughtful fine dining scene with a great buzzy bar scene to go along with it.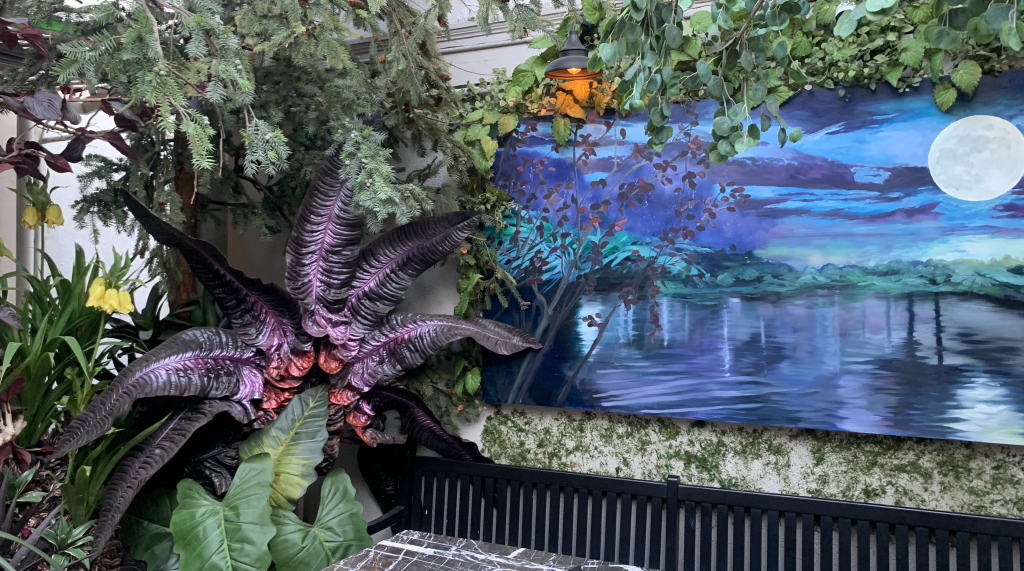 James Beard-nominated restaurateur, co-founder of Death & Co. Bars in New York, and owner of Cadence, Ravi DeRossi is the owner for this restaurant. The executive chef is L.A native Sarah Stearns, who is in charge for seeing the menu that offers a variety of vegan and plant-based dishes.
What to Order
With a vegan restaurant the toughest challenge is the ability to nail a combination of flavors w most of the L.A population tends to want everything with meat. Avant Garden Bistro showcased a mastery behind their dishes' flavors. Focusing on texture and flavor combinations, Avant Garden invites every type of eater out there.
I ordered a variety of dishes and focused on certain flavor combinations on what makes each dish stand out. I started off with some red wine, a 2017 Domaine Santa Duc 'Les Vieilles Vignes' Côtes Du Rhône, a balanced red wine with a lot of earthy and dark fruit aromas. For starters, I went with their signature Avacado, a crispy sushi rice with miso glaze, shishito peppers, and a gigantic avacado. It was a nice crispy and savory combination that made the avacado and miso glaze a star of their own show.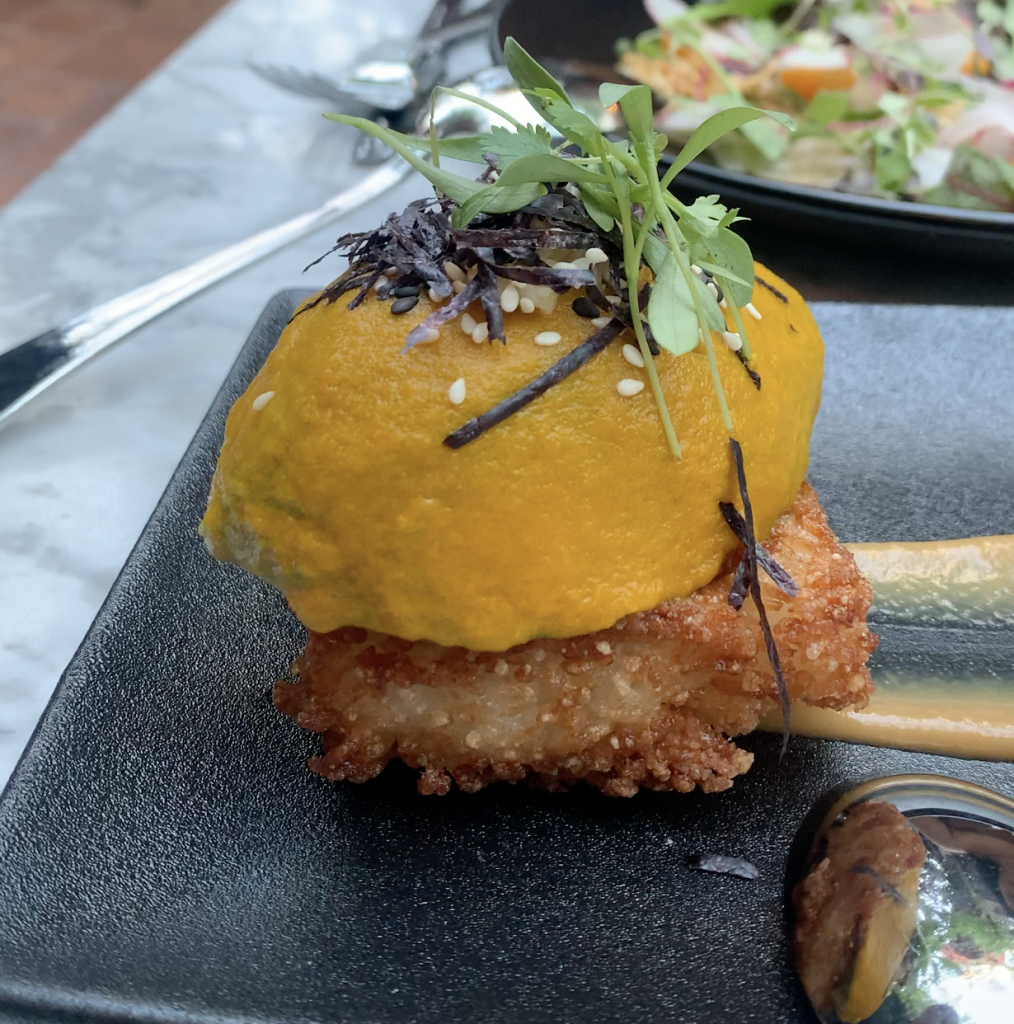 Then up came the the artichoke truffle toast, it had pickled onions, spinach artichoke puree, black truffle, and chopped up jicama. The flavors were balanced and textures complimented one another upon freshly baked bread. The artichoke chips gave the puree its accent and the jicama gave each bite that solid crunch, it made me think that I was eating meat for a second.
The other toast we had was the eggplant toast, a sweet and savory toast with a spicy kick. The apricot and the the miso sauce gave this dish a range of flavors, giving the eggplant a star of its own show.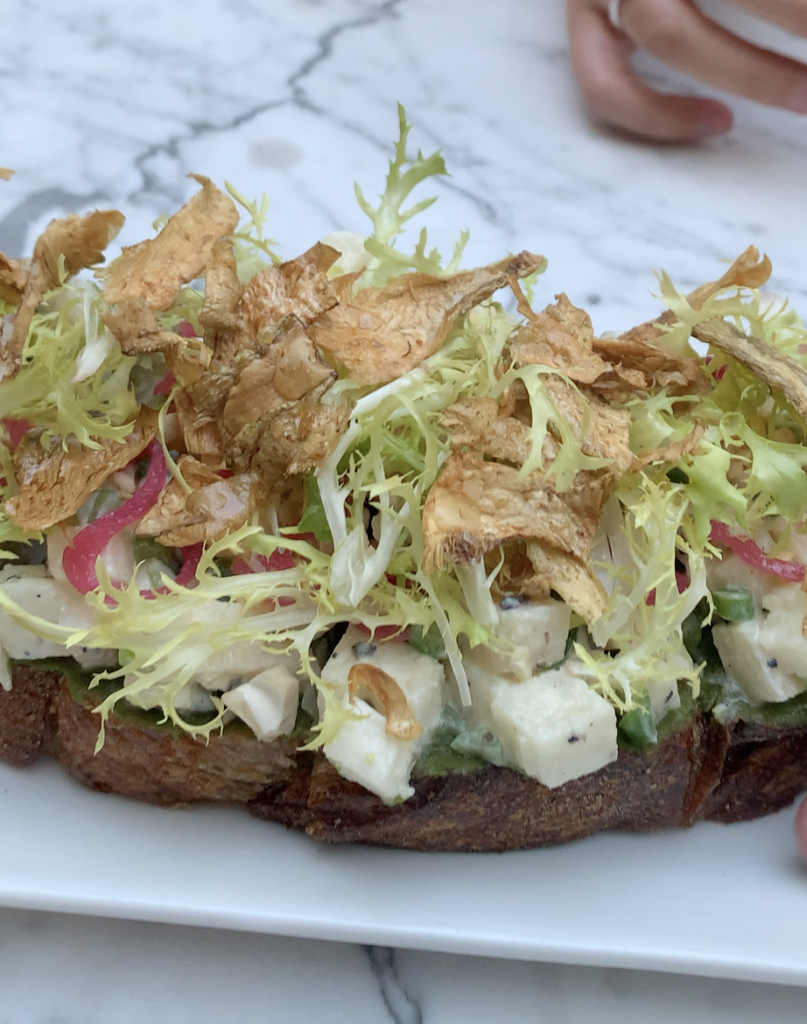 Next we transitioned to their scorched cauliflower dish with fried capers and Calabrian chili. This one was one of my favorites, for each bite was a sweet and savory experience. The cauliflower paired well with its sauce and the capers brought out a lot of earthy flavors from the overall dish. Any vegan or non-vegan would enjoy this dish's composition of flavors.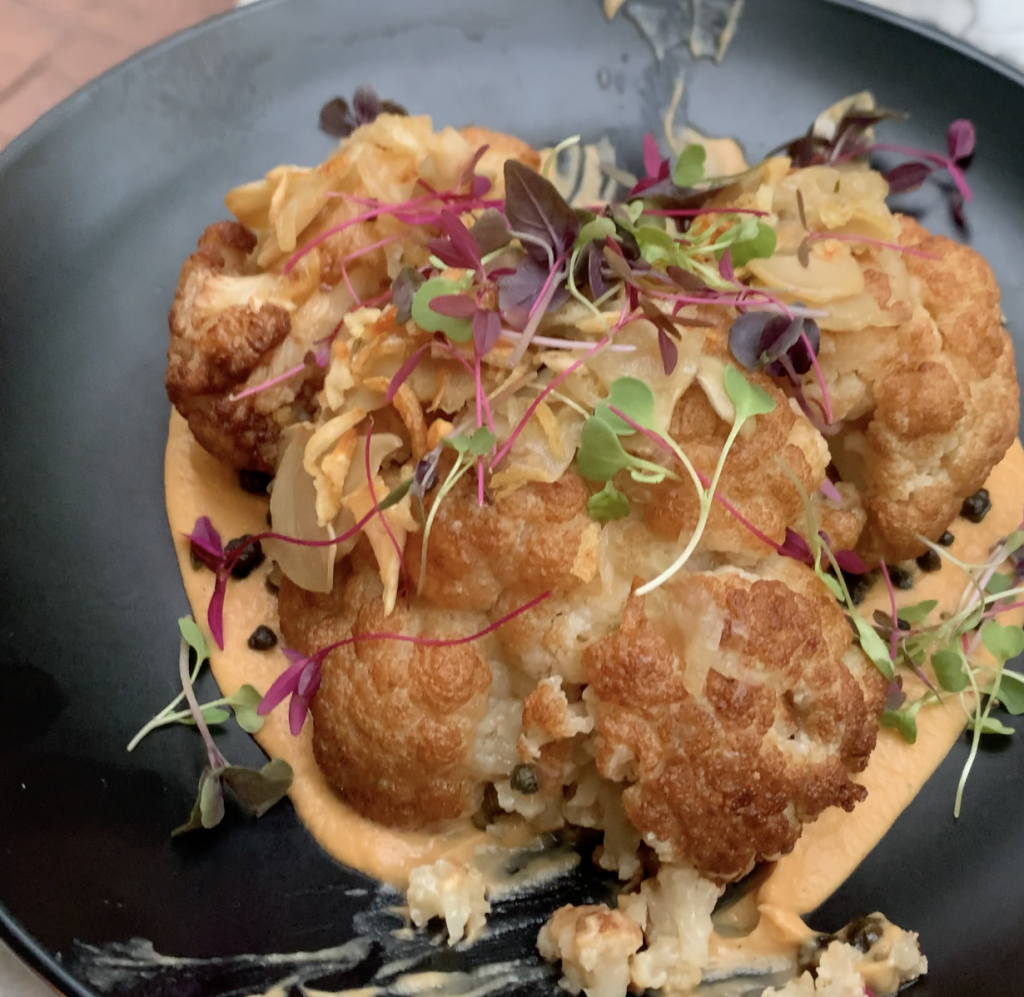 Last but not least, many of the servers spoke highly of the roasted carrot with spring onion soubise, blood sorrel, and taro chips. This dish gave a lot of texture and flavor adventures, each component of the dish was important to its entirety. Earthy and nutty paired with a crunchy profile, from the pistachios and of course, the most important center piece, the carrot. This vegetable's flavor was enhanced with the pistachio chermula and all the ingredients surrounding it, making the carrot the star of the dish.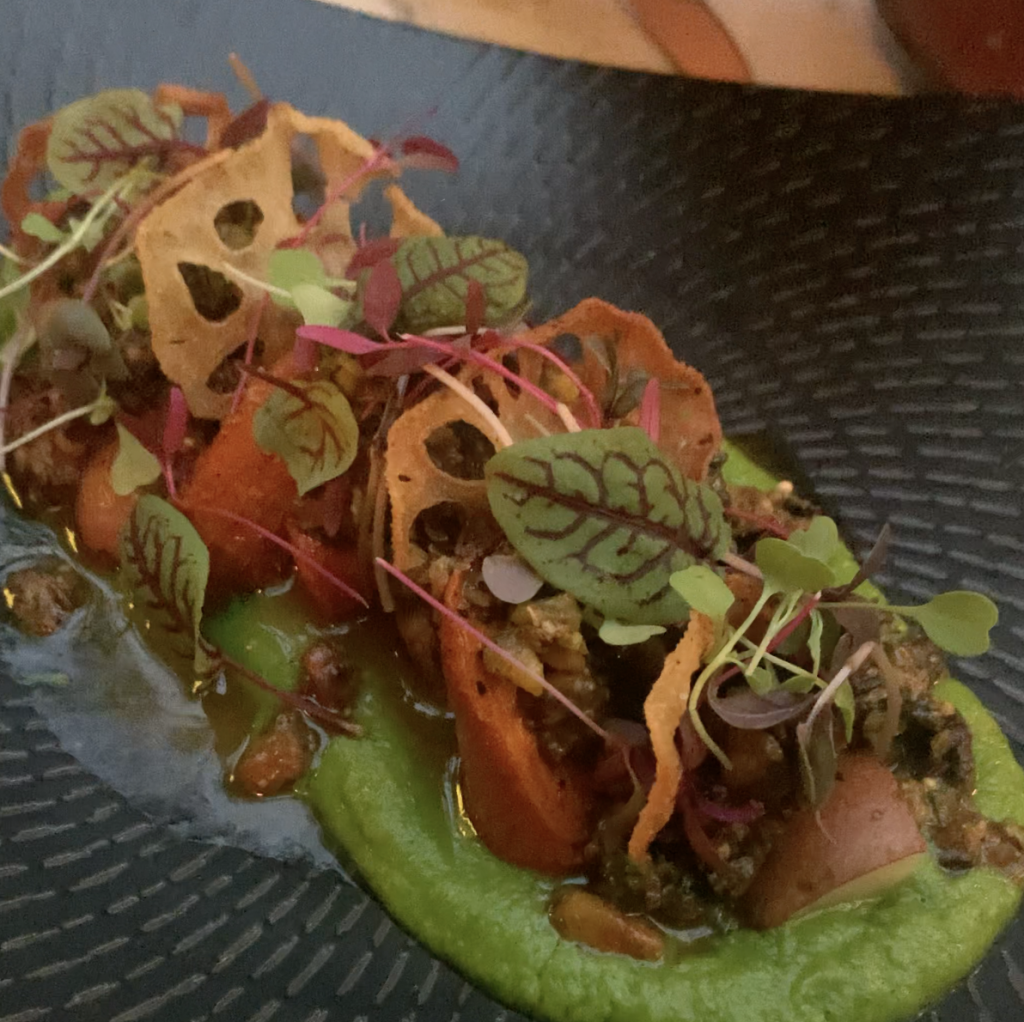 Overall, the restaurant gave a great experience. Executive Chef Sarah Stearns really puts a lot of empathy and creativity behind the process of crafting the menu. She said her love of vegetables was key to making the vegetable dishes delicious to eat.
The garden area is itself has a secret garden-like feel and the inside dining area is just as charming. This is a great location for exploring and enjoying date nights. Just a fun place to go to with excellent vegan choices that are inviting for everyone.

Check out avantgardenbistro.com
7469 Melrose Ave
Los Angeles, CA 90046
(323) 433-4141
Pictures courtesy of Lorenzo Dela Rama