Vege Out in Venice with Amanda Chantal Bacon
Discover where to unwind in Venice with Moon Juice owner, Amanda Chantal Bacon.
Adapted from Welcome to the Neighborhood in Where Los Angeles magazine by Marina Chetner
The high priestess of natural living embodies the L.A. wellness ethos beautifully. Amanda Chantal Bacon is the owner of three Moon Juice shops (in Silver Lake, Venice and at Ace Hotel Downtown L.A.), which stock cold-pressed organic elixirs, raw-sprouted snacks, "beauty dusts" and alchemical tonics made from medicinal-grade ingredients including reishi, pearl and goji. She recently collaborated with Gwyneth Paltrow on the actress' website, GOOP; has landed a two-book deal with editor Pamela Krauss of Penguin Random House; and can always be counted on for uplifting advice via Moon Juice's Instagram and Facebook feeds. This hard-working mom to 3-year-old son Rohan knows all of the best spots to refresh and unwind in Venice.
Eating in Venice
Honestly, I only eat at Moon Juice, Gjelina Take Away and Gjusta; Shima (310.314.0882) for dinner; and Kippy's! ice cream. I love Gjelina Take Away and Gjusta bakery for their bounty of farmers market veggie sides and cortados with almond milk. Gjusta is also the perfect abode for a cloudy Venice day. Shima has a kombu and mushroom broth that's insane. … And Kippy's! ice cream has my all-time favorite vegan ice cream—fresh-pressed coconut cream that is fermented into a perfect tangy yogurt. Kippy, the owner, makes a special batch for me with stevia instead of the honey … divine.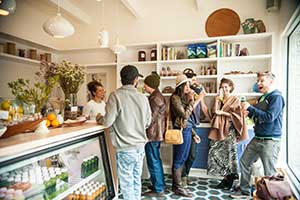 Things To Do in Venice
The Rustic Canyon Recreation Center is perfect for a picnic, and Annenberg Community Beach House at Santa Monica beach—a short drive or bike ride from Venice—is great if you have kids. It has restrooms, a pool and playground, as well as a wooden boardwalk that makes pushing a stroller to the beach a snap. I also like just hanging out in Venice: taking a bike ride to the beach, strolling the walk streets and checking out Abbot Kinney [Boulevard] and Rose Avenue, where I'll swing by Moon Juice for an afternoon pick-me-up.
Yoga and Wellness in Venice
Akasha Center has a great concierge service for acupuncture, massage and energy work—they will send a practitioner to your home or office. There's nothing that gets you looking more beautiful than deep breath in the body, and I choose RA MA Yoga Institute on Lincoln [Boulevard] for this practice. RA MA is simply the best of the best, with the best. … I have to say that my primping spots fall much more into the holistic approach of green juice, sunshine, divine skin potions, home massage and peace of mind.
Shopping in Venice
I love Heist for luxury cozy everyday wear, Mona Moore for highly curated shoes and bags, LFrank Jewelry by Liseanne Frankfurt for the most beautiful hand-worked gold and Tortoise General Store for Japanese everyday objects as art. Visit General Store on Lincoln for gifts.