Grand Central Market Reborn
After nearly a century, downtown's Grand Central Market makes its mark as L.A.'s intersection of cuisine and culture.
by Rebecca Pardess
In the early 1900s, downtown Los Angeles resembled a turn-of-the-century film set. Gas lamps lit the way for Model Ts and pedestrians amid the clang and clamor of cable cars. The city's wealthiest families lived and did business in ornate, Victorian buildings topped with domes and spires. It's all quite hard to imagine when gazing up at today's monolithic skyline. But while glimmering skyscrapers represent L.A.'s status as one of the nation's biggest cities, a few relics stand astutely in their shadows. One may be more relevant and dynamic than ever: Grand Central Market.
The vibrant, indoor-outdoor food hall opened its doors in 1917 and hasn't shuttered since. Positioned on the first floor of the 1896-built Homer Laughlin Building, a marketplace of fishmongers, butchers, bakers and florists supplied the city during its heyday, in the exact space that now houses a counter called Eggslut, which offers, among other things, a coddled egg in a mason jar for $9.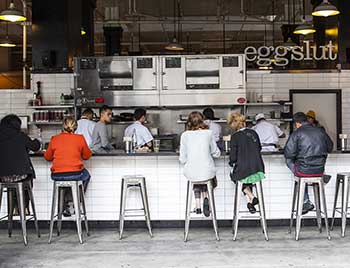 In its almost 100 years, Grand Central Market has remained still, yet not stagnant, among the city's aggressive phases of development, almost lending itself as a model of downtown's fluctuating cultural landscape. What began as a food village for the well-to-do families of Bunker Hill morphed into a working-class grocery when post-World War II suburbanization saw the upper-class community, and its most-supported businesses, head to the hills. The well-kept Victorian homes of Bunker Hill became a housing hub for low-income families. The ornate buildings were flattened into bleak parking lots. But even with these drastic economic and social changes, the community needed fresh produce.
Decades later, in 1984, a developer named Ira Yellin invested in Grand Central Market, citing an interest in the historical preservation and revitalization of downtown. This spurred the market's 30-year evolution into what visitors can experience today—a pulsating food arcade gathering Angelenos of all cultures and socioeconomic classes under a single roof.
Entering the market for the first time can be exciting and perhaps overwhelming. The smell of pupusas cooking on griddles, kebabs sizzling and pig snouts braising fills the air, while mariachi music flows from speakers. With hours from 8 am to 6 pm Sunday through Wednesday, and extended until 9 pm Thursday through Saturday, the market bustles at all business hours. Venture over during the lunch rush and a line at every counter is guaranteed, while a seat at a table is not. The place fills up fast.
What to choose? A single visit to the market could never provide a complete scope of its offerings. The culinary choices are unmatched anywhere else in the city. Neither a Sbarro nor a Panda Express can be found in this food court but, rather, family-owned eateries serving traditional ethnic cuisines, mingling with new-age bistros offering the latest and greatest in gastronomy. Depending on your budget, hunger level and taste for adventure, there is something to satisfy every craving. A recommended plan of attack for 21-and-over visitors: Grab a draft beer from one of the handful of vendors who offer it, and take a lap or two through the aisles before landing.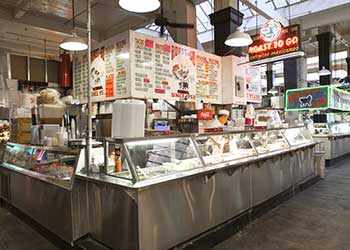 Peppered throughout the market, alongside new favorites such as the Oyster Gourmet, McConnell's Fine Ice Cream and Wexler's Deli, are the legacy vendors who've served their authentic and affordable cuisines since the floors were covered in sawdust. It's easy to discern between the veterans and newcomers by the style of their signage and the number of dents covering their stainless- steel counters.
Sarita's Pupuseria has been cooking and stuffing its fat, crispy corn tortillas for the past 16 years. At less than $5 for a pupusa bigger than a human face, along with a scoop of pickled cabbage salad, it offers a deal of a meal and a mouthful of savory comfort with every bite. Walk a few feet over and find Kabab & More, a Persian kitchen offering whole lamb shanks, kebabs and various stews in the vicinity of $10, all served with rice, pita bread and a "sweetie" or "honey" if you're lucky.
If it's tacos you're craving, you've struck gold. Try any of the several Mexican vendors who have been serving their spins on the SoCal favorite for years. Las Morelianas specializes in Michoacan-style carnitas, while Ana Maria's and Tacos Tumbras a Tomas turn out no-nonsense tacos, burritos and tortas. One of the longest-operating stalls in the market, Roast to Go, has been serving the same Mexican street food since 1952.
Roast to Go's owner, who prefers to go by the single name of "Sunny," has overseen the stall for the last 11 years, only the second proprietor since its inception 62 years ago. "We have the best tacos and burritos because of the variety," Sunny says. "It's the same menu and same employees since the beginning." Beef tongue, brains, goat, braised pig snout and blood sausage are among the many proteins available to fill your taco or burrito. If heat isn't your preference, be sure to let them know, as these antojitos come standard with a kicking tomatillo salsa.
Regulars flock to these counters for cheap, filling eats. Martin Olekszyk, a business analyst who's lived across the street for three years, heads to the market three to four times a week. "My favorite place from the classic side is China Cafe. It's Chinese food for Mexican tastes; they give limes with their chow mein! The counter is always packed with people drinking beer and eating," he says.
Since moving to the neighborhood right in the midst of the revitalization, Olekszyk has witnessed its effects. "There are lots more people around the area; it is very lively. From the working-class Mexicans doing their shopping on Broadway to hipsters, it's an interesting mix. You can tell there are a lot of people who drove out from Greater L.A. to check out Grand Central Market since they heard about it through social media. Now it's not just for us locals or workers in the area like it used to be."
With the market's influx of new vendors that began in April 2013 has come a bit of controversy. While the higher-end offerings may yield a larger volume of clientele, they've also changed an institution that locals knew and loved for decades, and a number of businesses have closed up shop. "The sad part is these places close unceremoniously. One day they are there, next day they are gone," Olekszyk says.
Some locals speculate that the new, high-end vendors are pushing out the long-running businesses. However, some of the merchants welcome the change. Chiles Secos, another family-owned, legacy vendor in the market, supplies the neighborhood with staple Mexican spices, including its best-selling mole paste. Claudia Armendariz, granddaughter of the original owner, says Chiles Secos fully supports the other vendors in the market. "We frequently direct our customers to other stalls that best suit their needs," she says. "I have made it a personal mission to try at least one thing from every stand. Recently, Olio Pizzeria used some of our mole for a limited-edition pizza."
"This is just my opinion based on what I have witnessed, and certainly shouldn't be taken as the only truth," says Armendariz. "The vendors that have gone out of business have gone out of business for the same reasons anyone goes out of business, not because they were forced out. Most of the newer vendors that have joined the community have actually filled stalls that were previously empty for quite some time, so it's not like the market is kicking out old vendors to make room for new ones. I think that's a misconception about the Grand Central Market."
Roast to Go owner Sunny says she enjoys the higher volume of visitors. "More people, more money. It's longer hours, but we enjoy the business." One particular instance of scrutiny was the shuttering of long-standing butcher Economy Meats, which was eventually replaced with Belcampo Meat Co., a butcher and restaurant offering sustainably and humanely raised meats at considerably higher prices. "Economy Meats was gone a while before we got there," says manager and head butcher Jered Standing. Regardless of Economy Meats' reason for moving on, Belcampo's entrance to Grand Central Market may be one of its most significant symbols of change. Today, customers can purchase organic, grass-fed meat to prepare at home, or tuck into a delectable pulled-lamb-belly sandwich—when it's available. "The reason we have the restaurant is to make sure to not have any waste. If I sold all my lamb, there's no reason for me to make sandwiches. If my inventory were driven by a menu, it would create a lot of waste. It's unsustainable," says Standing.
This outlook is a fresh addition to a place that for generations just sold the basics but now offers cutting-edge products: kombucha teas from Better Booch, fresh juices from Press Brothers Juicery and hop-infused, carbonated iced tea from G&B Coffee, to name a few.
The dance between old and new, basic and progressive, is at the heart of the Grand Central Market experience. This isn't the only revitalization it's seen in nearly a century, and it won't be the last. When folding into your chivo burrito or platter of oysters, take a moment to acknowledge that you're dining in the belly of a nearly century-old, living, breathing beast.
This article originally appeared at "Isn't It Grand" in Where GuestBook Los Angeles.