Frank Lloyd Wright's Hollyhock House Unveiled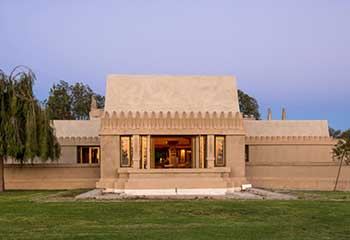 After a three-year renovation the Hollyhock House, a Frank Lloyd Wright architectural masterpiece, opens to the public.
By Christina Xenos
For the last three years you may have snapped a selfie or sipped wine at various events in the shadow of the Hollyhock House at Barnsdall Park, but that's as far as you could go. The iconic feat of architecture designed by Frank Lloyd Wright has been undergoing a massive three-year nip-tuck, and now it's finally time for its show-stopping reveal.
Starting at 4 p.m. on Feb. 13, join Mayor Eric Garcetti and Councilmember Mitch O'Farrell to mark the grand event with a ribbon cutting. Following the ceremony the house will be open—admission free—for self-guided tours for 24 hours straight (how's that for the ultimate Valentine's Day outing).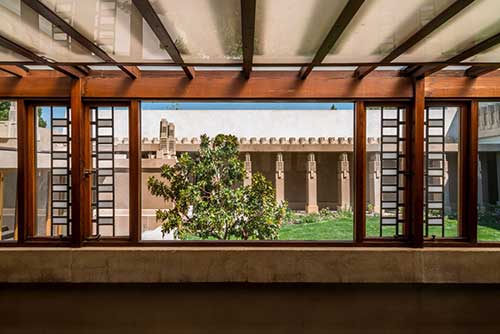 The Hollyhock House is a National Historic Landmark, and marked Frank Lloyd Wright's first stab at architecture in Los Angeles. In 1919, oil heiress Aline Barnsdall commissioned Wright to build a theater where she could produce avant-garde plays. Soon after, the project morphed into a performing arts complex that included her residence. Construction on the project ended in 1921 when Barnsdall fired Wright, citing costs as the primary reason for the contract's termination.
Barnsdall deeded the land now known as Barnsdall Park and its Frank Lloyd Wright designed structures to the City of Los Angeles in 1927. Since then, the house has served various purposes including as a headquarters of the California Art Club, and as a public museum. It was among the first structures to be designated as a historic-cultural monument by the Los Angeles Cultural Heritage Commission in 1963. In 2007 it became a National Historic Landmark.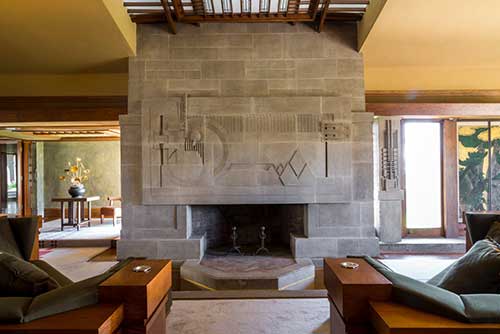 The recent restoration gives you the opportunity to see and experience much of the house's original aesthetic. Floors, windows, doors, decorative molding and paint colors have been recreated with utmost attention to detail. The house is named after Barnsdall's favorite flower, the Hollyhock, which is incorporated throughout the design of the home.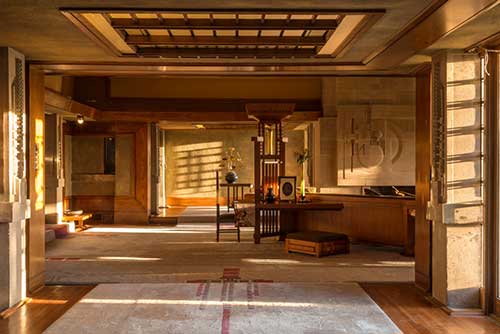 After the 24-hour grand opening, Hollyhock House will feature self-guided "Walk Wright In" tours Thursdays through Sundays from 11 a.m. to 4 p.m. for a fee of $7 for adults, $3 for students and seniors with identification, and $3 for children under 12 when accompanied by a paying adult. 4800 Hollywood Blvd., L.A., 323.913.4031. barnsdall.org