3 Ways to Tour the Los Angeles Art Scene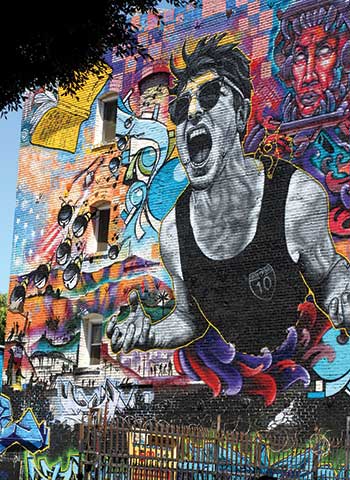 From Los Angeles artist studio and street art tours to expeditions to L.A. museums and galleries, check out the best ways to experience the Los Angeles Art Scene.
Los Angeles has long incubated world-class artists, and today enjoys international prominence, attracting blue-chip talent, collectors and culture enthusiasts to its arts institutions and gallery districts. Navigate the burgeoning scene with help from guides who draw back the curtain on exciting local studios, street art, galleries and museums.
Discover why the LA art scene keeps the pulse of what's happening now!
Downtown Los Angeles Artist Studio and Street Art Tours
If you're keen to experience the Los Angeles art scene from the ground up, head to downtown's Arts District, centered roughly around the intersection of East 3rd and Rose streets. Here, former industrial buildings are filled with restaurants and artist lofts, and are covered in vibrant murals loosely classified as "street art" (some sanctioned, some not). While a recent influx of creative businesses makes this a fascinating (if still slightly gritty) district to explore, to the passerby, access to working studios can be limited, and the graffiti can be inscrutable.
Enter Los Angeles Art Tours, the brainchild of Kevin Flint, a professional artist whose studio is located in the Brewery Arts Complex on the northeastern outskirts of downtown. Flint's impromptu tours of the Brewery led to his development of a full-fledged company in 2007 that, Flint says, walks you "right into real working environments where you smell the paint, meet the artists and get a glimpse rarely seen by outsiders." Among its offerings are tours of studios in the Brewery and in the Santa Fe Art Colony, south of the Arts District.
But it's the Downtown L.A. Graffiti/Mural tour, led by a fixture of L.A.'s graffiti scene in the 1980s, Hector "Shandu" Calderon, that sheds light on a genre growing in broad popularity as well as critical awareness. For two hours on Saturdays, Calderon leads groups of up to 15 people through the Arts District, sharing details about L.A.'s past and present street art scene, deciphering the script and symbolism of the murals and pointing out works by local graffiti crews and widely known street artists including Shepard Fairey (creator of the Barack Obama "Hope" poster). En route, you'll pass the Container Yard (800 E. 4th St., instagram.com/thecontainer yard), a creative space whose walls serve as a street art canvas. After this tour, you'll never look at graffiti the same way again.
Los Angeles Art Museum Tours
It's an exciting time for the Los Angeles museum world, with new contemporary art museum the Broad rising on Grand Avenue, MOCA buoyed by a healthy endowment and new direction, and LACMA continuing its transformation … and that's merely the top of the list.
Where to start exploring? That question is music to the ears of Clare Kunny, former manager of public education and teaching at the J. Paul Getty Museum and founding director of Art Muse Los Angeles, which specializes in small, private and completely customizable museum and gallery tours. Kunny and her fellow "muses" are art historians, artists, scholars and educators, many of them hailing from L.A.'s most prestigious museums, and all of them eager to share their insider knowledge, whether hosting collectors, connoisseurs or the simply curious. Considering the noteworthy shows across L.A. this fall, one ripe area for exploration, suggests Kunny, is L.A.'s thriving photo scene. At the Getty Center (1200 Getty Center Drive, L.A., 310.440.7330), a tour could go in-depth in the one-gallery exhibition In Focus: Tokyo, which features images by four Japanese photographers that capture contemporary slices of the metropolis. Or, Kunny could craft a multistop itinerary that starts at the Hammer Museum (10899 Wilshire Blvd., L.A., 310.443.7000). The proposed tour continues at the Pasadena Museum of California Art (490 E. Union St., Pasadena, 626.568.3665). There, Heinecken's students Ellen Brooks and Jo Ann Callis carry on his legacy in Burning Down the House, which also includes works by Eileen Cowin. The beauty of Art Muse L.A.'s team is, because of the breadth and depth of their expertise, wherever they lead, art enlightenment follows.
Los Angeles Gallery Tours
The Los Angeles gallery scene has exploded in recent years, with buzzy new galleries such as Night Gallery and the Mistake Room in downtown's industrial district and Papillion in Leimert Park pioneering neighborhoods off the beaten art track, and blue-chip galleries including Regen Projects in Hollywood and Gagosian Gallery in Beverly Hills drawing increasingly high-profile talent.
Helping to make sense of the sprawling scene is Bill Kleiman, director of Los Angeles Art Gallery Tours. A graduate of L.A.'s Otis/Parsons (now Otis College of Art and Design) MFA program, Kleiman has more than 25 years of experience as a professional artist. In addition to his bona fides and insider access, Kleiman's snobbery-free attitude lends his tours wide appeal. You can customize your tour with Kleiman based on interest, location or discipline, or you can opt to visit preselected neighborhoods, such as Chinatown and downtown or Santa Monica and Venice. A top choice is the Culver City Arts District, focused along La Cienega and Washington boulevards. Considered by many contemporary art aficionados to be the best gallery-hopping 'hood in L.A., the district is home to nearly 40 galleries, all in easy walking distance to one another.
On a Culver City art gallery tour with Kleiman, you're likely to visit Blum & Poe (2727 S. La Cienega Blvd., 310.836.2062), the powerhouse gallery credited with establishing Culver City as an arts destination (and launching Takashi Murakami's U.S. career), as well as Susanne Vielmetter Los Angeles Projects (6006 Washington Blvd., 310.837.2117) and Cherry and Martin (2712 S. La Cienega Blvd., 310.559.0100), another Kleiman favorite.
While the constant rotation of exhibitions means the artwork varies from tour to tour, Kleiman says his approach remains the same. "I grab the spirit of the moment and share that narrative," he says, adding, "Artwork is completely about communication and the conversation, verbal or nonverbal, that it inspires." Be ready to share your opinion—and in Kleiman's infectious enthusiasm.