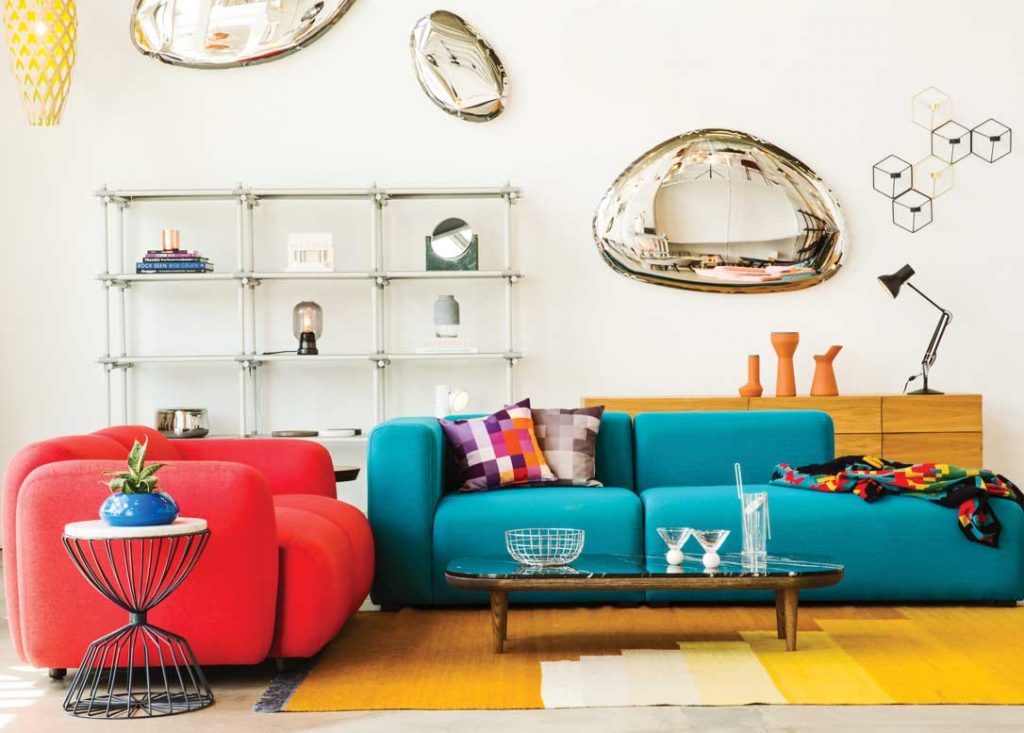 A+R offers intriguing home furnishings that are sold nowhere else in Los Angeles.
By Roger Grody
A+R, as eclectic as Los Angeles itself, is on an inviting stretch of La Brea Avenue loaded with sophisticated home furnishings showrooms, funky fashion boutiques and a couple of good places to dine. Whether one leaves with a quirky key chain or a showy midcentury-modern sofa, A+R's broad range of styles, provenances and price points makes it particularly appealing.
The spirit behind the decade-old store is a couple who enjoy scouring the globe for intriguing items that are sold nowhere else in the city. The "A" is British expat Andy Griffith, a former documentary film editor; the "R" is Rose Apodaca, a fashion journalist and author. "We wanted to do something together after we met and found a 200-square-foot space in Silver Lake to fill with all of the exciting design we'd discovered in our travels," says Apodaca. They quickly ran out of space.
Inside the glass-door entrance of the La Brea Avenue store, which opened in 2012, is a spacious minimalist showroom with modern furniture spread across polished concrete floors, modern art and fabrics on whitewashed walls, and contemporary lighting hanging from 16-foot ceilings. Designers from every continent are represented, but the couple are eager to find more merchandise from Africa and South America. "In our previous careers, we were both always looking for new talent. We're known for taking chances on new, emerging designers," Apodaca says.
From Souda, a Brooklyn-based lighting studio, is a minimalist pendant lamp ($525-$725) with spun-metal shade and a polished central stem. It adds interest to a space whether standing alone or clustered for dramatic effect; though it's available in several materials, the copper finish is particularly striking.
Barcelona-based lighting studio Marset creates creased ceramic shades for its Pleat Box pendants, a collaboration with master ceramicist Xavier Mañosa. The shade's interior surface is available in a glittering gold that creates a stunning effect when illuminated. Other lighting fixtures feature the work of British designers Tom Dixon and Lee Broom as well as Venezuelan-born, San Francisco-based Pablo Pardo.
Stockholm-based designer Luca Nichetto's Cloud lounge chair ($3,970) reflects elements of Scandinavian design as well as modernist traditions from his native Italy. Comfy seat cushions supported by austere steel legs create the illusion of floating in air; it's also available in a sofa format. More utilitarian is the Visu lounge chair from Danish firm Muuto, finished in oak veneer or an assortment
of bold colors.
From Seattle-based Urbancase comes a con-temporary tabletop/storage cube called the Edge ($550),designed by Darin Montgomery, the company's minimalist founder, and fellow Seattle designer Trey Jones. More engaging than a built-in, this sustainable walnut piece features clever details such as a leather-trimmed electrical-cord hole. From the same designers comes a handcrafted Mad Men-esque walnut bar/cabinet ($3,300) whose sliding panel hides glassware and liquor.
A+R carries a wide range of mostly colorful, modern products for the kitchen and table, such as designer Dixon's French press coffee pitcher ($190) with high-gloss copper finish and art deco inspirations. Designed by José Joaquim Ribeiro and crafted by artisans in Portugal is matte gold-plated stainless steel flatware, while cloth napkins from weR2 feature the intensely colored compositions of artist Kate Shepherd.
Among the most endearing and approachable objets d'art available at A+R are mobiles ($20-32) from Swiss designers Brigitta and Benedikt Martig-Imhof. Constructed of laser-cut translucent paper and jewelry silk, they're produced by Tät-Tat, which employs physically and mentally challenged craftspeople in workshops throughout Switzerland and Germany.
A+R also carries colorful teapots from the Netherlands, boxes from Nepal and an architectural model of Hollywood's Capitol Records Building from the U.K. Whatever is not visible on
the floor is available online.
Symbolizing the wanderlust that inspires A+R's owners is an elegantly modern globe ($170) from Danish designer Kristoffer Zeuthen featuring natural-toned bamboo land masses contrasted against white oceans.
171 South La Brea Ave., L.A., 800.913.0071 x2. aplusrstore.com