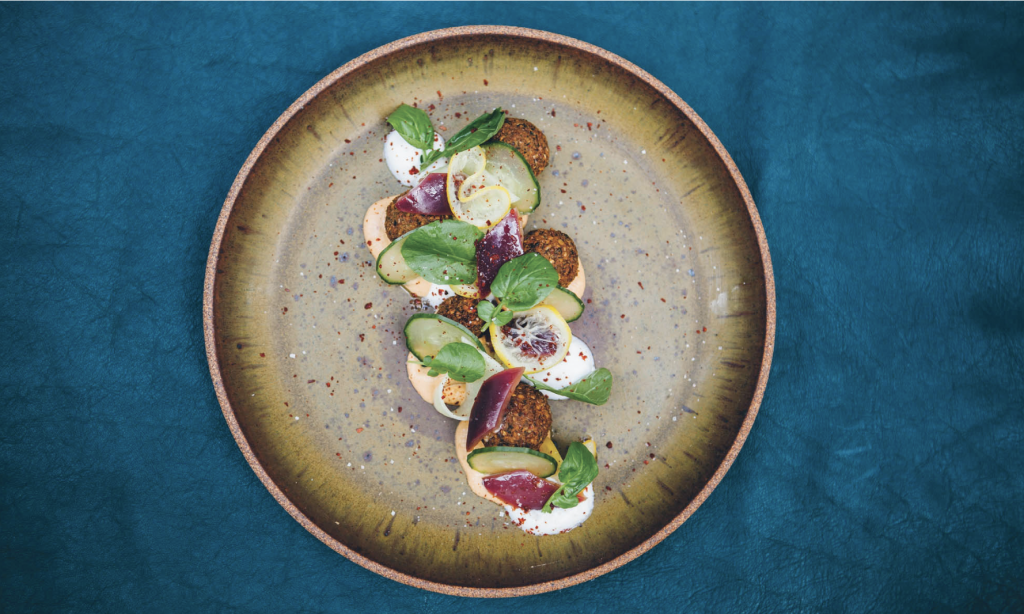 L.A. is filled with architectural treasures; pairing design pinnacles with a landmark meal nearby enhances one's appreciation.
By Roger Grody
Los Angeles, a city that epitomizes the creative spirit, is where masters such as Frank Lloyd Wright and Richard Neutra revolutionized residential design. Art Deco masterpieces line its streets. Its cultural centers, bastions of arts and performing arts, display bold aesthetics. Here's a guide to the best—paired with the best dining nearby.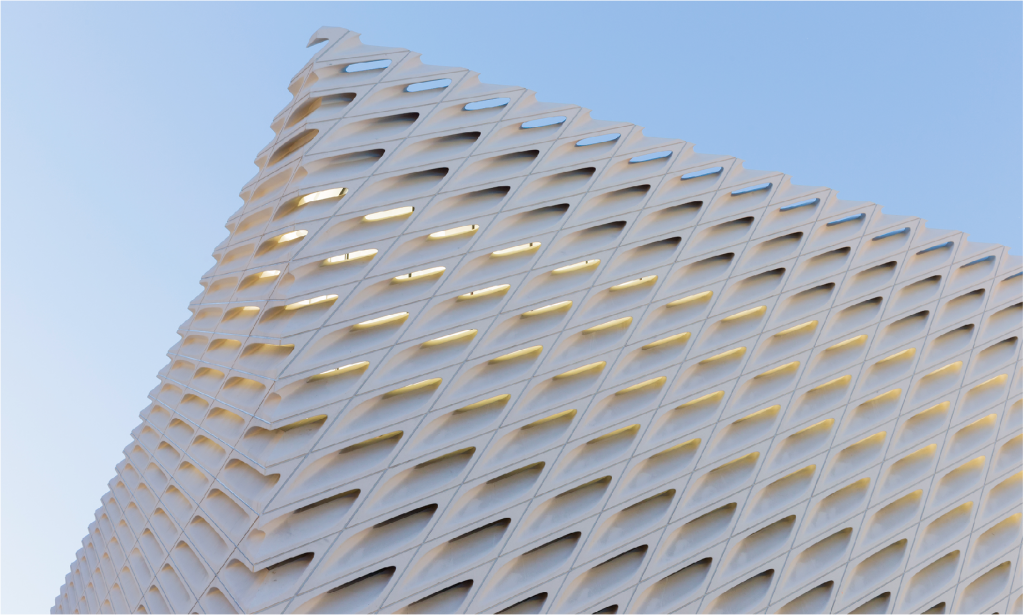 DOWNTOWN
Walt Disney Concert Hall and the Broad
Architect Frank Gehry's curvaceous Walt Disney Concert Hall and the Broad, the contemporary-art museum designed by Diller Scofidio + Renfro, sit side by side on Grand Avenue downtown. Until its recent demise, diners luxuriated at Patina, the restaurant ensconced in Disney Hall; locals may grieve, but Otium, on the grounds of the Broad, pairs ideally with both buildings, which are spectacular even when shuttered.
Otium chef/owner Timothy Hollingsworth's culinary artistry so perfectly complements the collection of contemporary paintings and sculpture at the Broad that the restaurant seems an extension of the museum. Begin with caviar, toro tartare or chicken-liver mousse, move on to scallops with creamed romaine and truffles or a massive tomahawk chop to share; end with a honey-lemon tart. Otium, 222 S. Hope St., downtown, 213.935.8500, otiumla.com
St. Vibiana's, Los Angeles City Hall, Grand Central Market and the Bradbury Building
St. Vibiana's—the city's original cathedral, built in 1876, significantly damaged by an earthquake in 1994, now an events center—is one of the few remaining buildings from L.A.'s early period. Its former rectory houses Redbird, directed by lauded L.A. chef Neal Fraser. Redbird, 114 E. 2nd St., downtown, 213.788.1191, redbird.la
Neoclassical Los Angeles City Hall, among the region's most recognizable landmarks, is visible from one of its private dining spaces; there are several alfresco dining areas. Weekend brunch offers ricotta-blueberry pancakes, duck confit chilaquiles and lobster rolls. Dinner brings black-truffle agnolotti and squab with green Thai curry.
Grand Central Market—in the Beaux Arts-style Homer Laughlin Building designed in 1896, the first building west of Chicago to use concrete floors—has been the beating heart of downtown since 1917. With the renaissance in recent years of the central city, it's even more of a draw.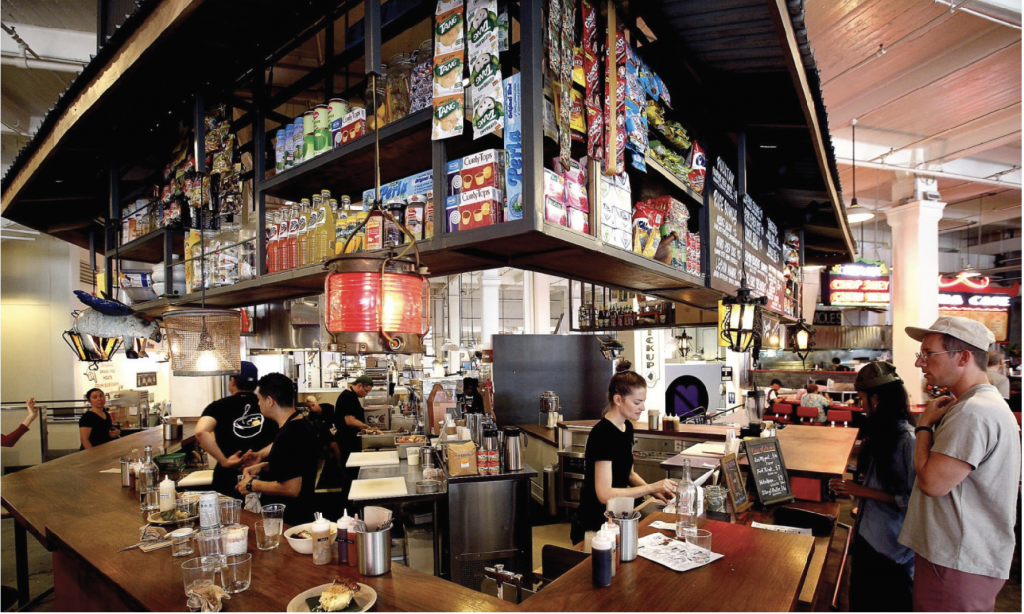 In addition to butchers, fish-mongers and produce stands, there are now wonderfully intriguing casual-dining options, including two founded by fine-dining veterans. Chef Micah Wexler has an impressive resume but cooks from the heart at his unpretentious Wexler's Deli, offering Jewish deli specialties. At Sari Sari Store, chef/owner Margarita Manzke—who also runs L.A.'s high-end République with chef-husband Walter Manzke—delightedly shows off her native Filipino cuisine, represented by an egg-topped chicken adobo rice bowl and refreshing halo-halo dessert. Wexler's Deli, Grand Central Market, 317 S. Broadway, downtown, 213.620.0633, wexlersdeli.com. Sari Sari Store, Grand Central Market, 317 S. Broadway, downtown, 323.320.4020, sarisaristorela.shop
Across the street is the 1893 Bradbury Building, a Romanesque structure with extensive film credits including Blade Runner and 500 Days of Summer.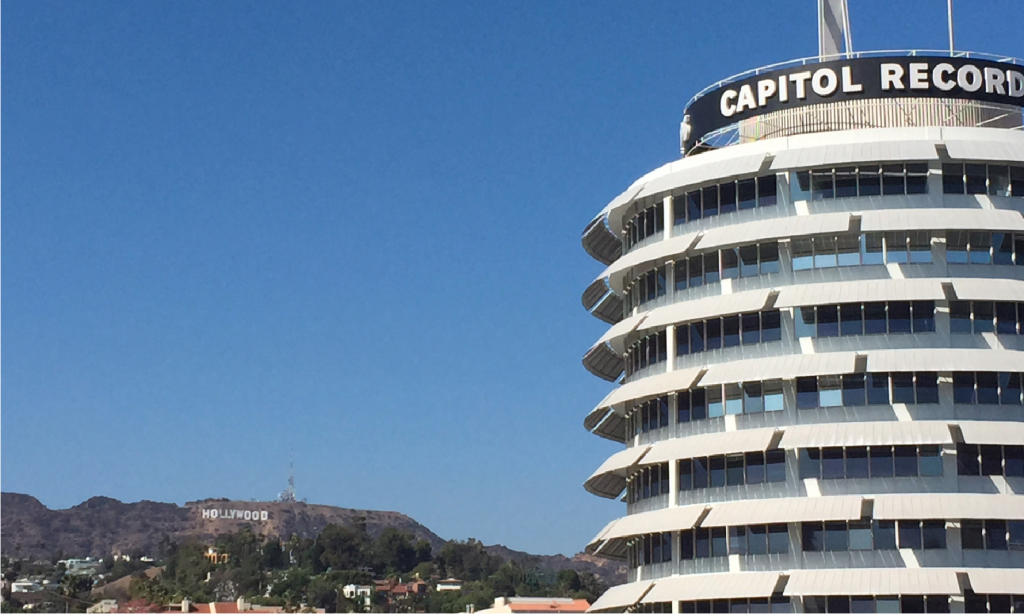 HOLLYWOOD
Capitol Records, the Hollywood Roosevelt and Wattles Mansion
The Googie-style Capitol Records Building, designed by architect Welton Becket and opened in 1956, is one of the most iconic landmarks in L.A., a cylindrical tower that has become a visual metaphor for Hollywood.
Also oozing vintage Hollywood ambiance is the Hollywood Roosevelt, a Spanish Colonial Revival-style hotel built in 1926 whose history rivals that of Capitol Records. The first Academy Awards ceremony was held here, and the hotel's swimming pool, immortalized in a painting by artist David Hockney, is an L.A. classic.
25 Degrees, an upscale burger bar inside the hotel worthy of the historic setting, is ideal for a casual meal, indoors or on the patio. Renowned chef/restaurateur Nancy Silverton is scheduled to open an Italian steakhouse, The Barish, at the Roosevelt. For Michelin-starred Italian cuisine, head south on Highland Avenue to Silverton's Osteria Mozza. 25 Degrees, The Hollywood Roosevelt, 7000 Hollywood Blvd., Hollywood, 323.785.7244, thehollywoodroosevelt.com. The Barish, The Hollywood Roosevelt, 7000 Hollywood Blvd., Hollywood, 323.856.1970, thehollywoodroosevelt.com. Osteria Mozza, 6602 Melrose Ave., L.A., 323.297.0100, osteriamozza.com
One of Hollywood's first tourist attractions is now a little-known landmark in the Hollywood hills. Built in 1907, the Wattles Mansion is a Mission Revival residence set amid a Japanese garden, an Italian rose garden, a formal Spanish garden and a palm court.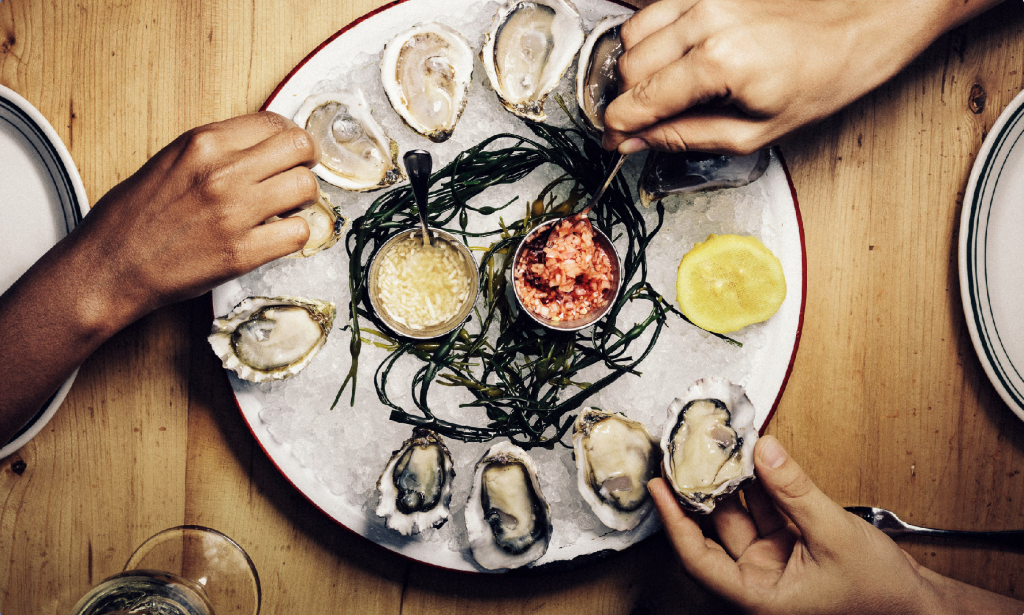 After taking in the glamorous estate, head to Connie and Ted's, a venture of seafood master Michael Cimarusti. This is the place in L.A. for fried clams, lobster roll or Portuguese fish stew in a colorful, contemporary setting. It's a loving, unpretentious hommage to the celebrity chef's New England grandparents and a casual counterpoint to his Michelin-two-starred fine-dining establishment Providence. Connie and Ted's, 8171 Santa Monica Blvd., West Hollywood, 323.848.2722, connieandteds.com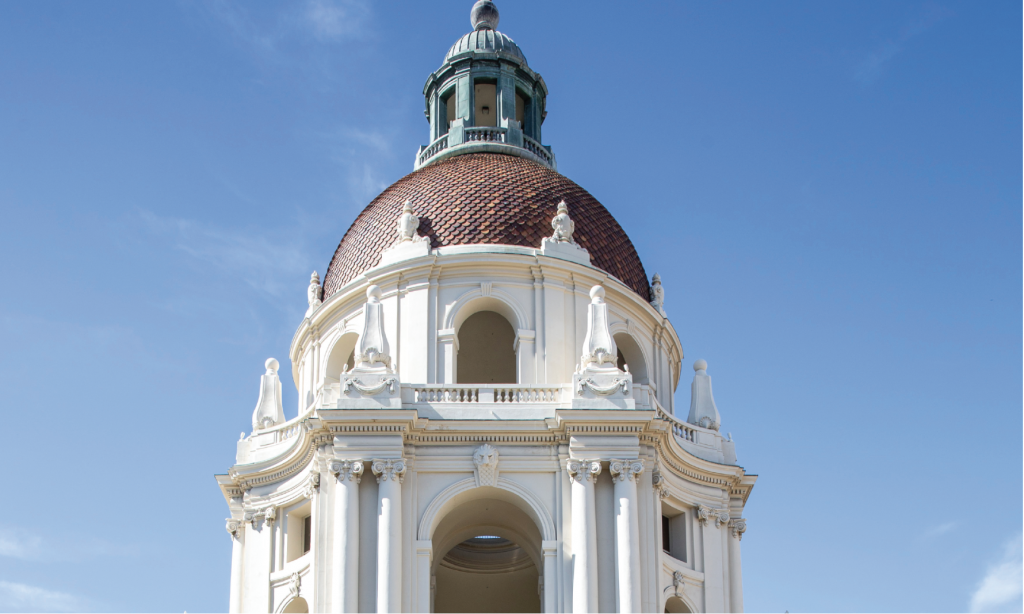 PASADENA
Pasadena City Hall, Gamble House and Macy's
Domed Pasadena City Hall is a Beaux-Arts masterpiece that is elegantly illuminated at night; fans of the TV show Parks and Recreation will recognize it as the Pawnee, Indiana, City Hall. The Crown City in fact offers a wealth of historic architecture including Greene & Greene's Gamble House—designed in the American Arts and Crafts style, built in 1908—and the Stream-line Moderne-style Macy's on Lake Avenue by Capitol Records architect Becket.
Steps from the department store is the The Arbour, where chef/owner Ian Gresik offers sophisticated but approachable dishes such as a spicy beef chili presented with a beef-fat candle that melts seductively into the dish, seared albacore with soy hollandaise, and pepper-crusted chicken with a refined onion cream sauce. The Arbour, 527 S. Lake Ave., Pasadena, 626.396.4925, thearbourpasadena.com
SANTA MONICA
The Clock Tower and the Telephone Building
The architectural style Art Deco conveyed modernity, ideally suited to the creative coastal metropolis of L.A. The Clock Tower Building is probably the finest example of the genre in the beach town of Santa Monica. An ideal dining opportunity nearby is Rustic Canyon, a Michelin-starred restaurant from prolific restaurateurs Josh Loeb and Zoe Nathan with chef Jeremy Fox. Rustic Canyon, 1119 Wilshire Blvd., Santa Monica, 310.393.7050, rusticcanyonrestaurant.com
Fox and executive chef Andy Doubrava showcase local artisanal ingredients while reinventing familiar concepts. Start with a quinoa salad with beets, berries and pistachio "soil," continue with a formidable pork chop with elderberries, herbs and smoked trout roe, then finish with a sweet-corn ice cream sandwich.
Another well-preserved Art Deco structure in Santa Monica is the Telephone Building; it houses Rustic Canyon's sibling restaurant Cassia, a place where French technique is applied to Southeast Asian themes. Cassia, 1314 7th St., Santa Monica, 310.393.6699, cassiala.com
Photo credits from top: Sierra Prescott, courtesy Hufton + Crow33, shutterstock.com, Kirk McCoy, Nicole Franzen, Suzanne Ennis, courtesy Connie and Ted's, and Dale Berman