A Local Perspective on Los Angeles
Six personalities behind the best things to do in Los Angeles tell what they do, why they do it here and where you might meet them.
<<prev 6 of 6 beginning>>
Candace Nelson, Founder Sprinkles Cupcakes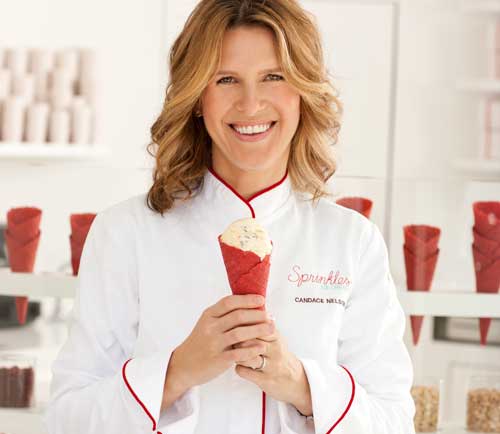 When Beverly Hills desserts diva Candace Nelson sets up shop, Angelenos (sugar) rush to sample her sweet treats. Patrons have lined up around the block at Sprinkles Cupcakes since it opened in 2005 (there are now nine other locations in the U.S.), and the recent launch of its so-called Cupcake ATM made national news. Sprinkles Ice Cream just opened next door to the Beverly Hills cupcake shop. Nelson, a judge on the Food Network's Cupcake Wars and a former investment banker, says, "Dessert should be a daily indulgence."
Career Highlight
About nine months after opening, we received a call from The Oprah Winfrey Show asking if we could provide cupcakes for the studio audience the following morning. Oprah had received our cupcakes from Barbra Streisand and wanted to feature them! Needless to say, we said, "Yes!"
Why Los Angeles
Los Angeles is a city that fosters innovation and welcomes new ideas. Sprinkles was the world's first cupcake-only bakery. Since then, we have launched the world's first Cupcake ATM, the world's first cupcake truck—the Sprinklesmobile—and our brand new ice cream shop! Angelenos have welcomed every one of our sweet innovations.
Typical Day
When I'm on the set of Food Network's Cupcake Wars serving as a judge, I am on set all day tasting cupcake creations by bakers from all over the country. However, most days are spent managing the marketing and PR for Sprinkles, partnering with celebs on new charitable cupcakes and creating new flavors for Sprinkles cupcakes and ice cream.
Los Angeles Moment
We have a policy at Sprinkles that customers must show their ID when paying with credit card. I remember seeing our cashier ask a man to produce his ID for cupcakes. The store fell silent and all eyes turned to the customer—Keanu Reeves. He was very gracious!
Favorite Los Angeles Places
Curve on Robertson is my favorite boutique in the city. I have been shopping here for a decade and it never disappoints. The staff is amazing and the racks are always stocked and perfectly edited with edgy yet wearable pieces. Sugarfish—the sushi at chef Nozawa's sushi concept is completely addictive. The combination of warm, loosely packed rice and fresh melt-in-your mouth fish keeps me crossing the 405 to their Brentwood location on a regular basis.
Must-See Los Angeles
The Hollywood Bowl is a completely magical place. It doesn't matter who or what is onstage.
Off-Time Hobby
The contemporary art scene in L.A. is incredible. I am fortunate to sit on the board of LAXART, which is a nonprofit organization right at the epicenter of the contemporary arts scene in L.A.
Details
Curve 154 N. Robertson Blvd., L.A., 310.360.8008
Hollywood Bowl 2301 N. Highland Ave., Hollywood, 323.850.2000
LAXART 2640 La Cienega Blvd., L.A., 310.559.0166
Sprinkles Cupcakes 9635 S. Santa Monica Blvd., Beverly Hills, 310.274.8765
Sprinkles Ice Cream 9631 S. Santa Monica Blvd., Beverly Hills, 310.274.7890 Sprinklesmobile twitter.com/sprinklesmobile
Sugarfish 11640 San Vicente Blvd., Brentwood, 310.820.4477