A Local Perspective on Los Angeles
Six personalities behind the best things to do in Los Angeles tell what they do, why they do it here and where you might meet them.
John Terzian, Founder/Principal H.Wood.Group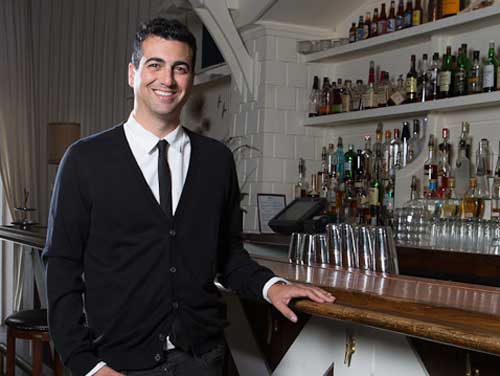 "This career allows me to look at a space as a blank canvas and turn it into a work of art for people to gather and enjoy themselves," says John Terzian. Indeed, as owner and operator of the tastemaking H.Wood.Group, Terzian has whipped up such superstylish and popular nightspots as the new Bootsy Bellows in West Hollywood and Shorebar in Santa Monica. Terzian says he loves offering "a way for people to escape their everyday life and destress for a few hours." His own favorite escapes in L.A. include junk-food eateries, vintage markets and fine art institutions.
Career Highlight
Recently, I cemented my presence on the Westside by taking over a dive bar in Santa Monica, and with the right design and event programming turned it into a craft cocktail mixology spot called Shorebar.
Why Los Angeles
My family and close friends are the most important thing in the world to me. They are the base of my career, so I would not be in this position today without them. Almost all of them live in L.A.
Typical Day
I'm up by 8 am handling all of the business side, usually with my partners Brian and Adam. By mid-afternoon I'm in meetings recapping the positives and negatives of the previous week of business. By late afternoon I am meeting predominantly with people geared toward the marketing and branding of the business. Then have either a dinner or event to attend, and then by 9 pm I am at one of the venues overseeing it.
Los Angeles Moment
There were times very, very early on when I had one of the most successful clubs in L.A., but could barely afford to go to lunch or dinner. I would be invited to elaborate dinners and would keep having to make excuses about why I could not attend. It was just a very ironic period in time.
Favorite Los Angeles Places
I spend most days, and often dinners, at Chateau Marmont, as it is the best place to dine alfresco with friends. My other favorite eating places are Apple Pan, Henry's Tacos and Hunan Cafe in West Hollywood. I shop maybe once a year, and when I do it's at Varvatos, Barneys or vintage shops. Other favorite spots include the Fairfax High flea market.
Must-See Los Angeles
The Getty Villa offers a cultural overview of the architecture, sculptures and theaters of ancient Greece and Rome.
Off-Time Hobby
I tend to visit art galleries, enjoy scenic views by the beach and stay active by playing basketball.
Details
The Apple Pan 10801 W. Pico Blvd., West L.A., 310.475.3585
Barneys New York 9570 Wilshire Blvd., Beverly Hills, 310.276.4400
Bootsy Bellows 9229 W. Sunset Blvd., West Hollywood, 310.274.7500
Chateau Marmont 8221 W. Sunset Blvd., West Hollywood, 323.656.1010
Getty Villa 17985 Pacific Coast Hwy., Pacific Palisades, 310.440.7300
Henry's Tacos 11401 Moorpark St., Studio City, 818.769.0343
Hunan Cafe 7986 Sunset Blvd., L.A., 323.822.1208
John Varvatos 8800 Melrose Ave., West Hollywood, 310.859.2791; more locations, johnvarvatos.com
Melrose Trading Post (Fairfax High School) 7850 Melrose Ave., L.A., 323.655.7679
Shorebar 112 W. Channel Road, Santa Monica, 310.429.1851