A Local Perspective on Los Angeles
Six personalities behind the best things to do in Los Angeles tell what they do, why they do it here and where you might meet them.
By Katie McCarthy; Photos by Dale Berman
1 of 6 next>>
Michael Ritchie, Artistic director/CEO, Center Theatre Group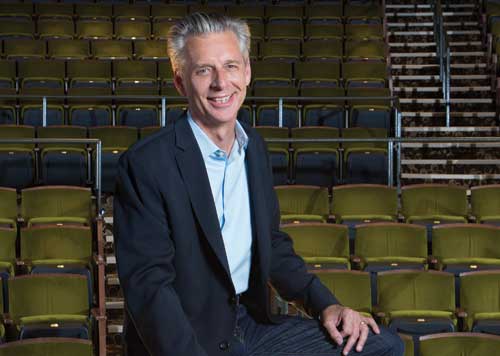 "Honestly, the people," answers Michael Ritchie, CEO and artistic director of one of the nation's most prominent theaters, of why he was drawn to the world of the stage. "Theater people are a tribe, with history, customs, language and purpose, all of which struck a visceral chord with me." The creative and business head of the Ahmanson Theatre and Mark Taper Forum downtown, as well as Kirk Douglas Theatre in Culver City, has worked for more than seven years to import blockbuster productions to L.A. as well as launch world premieres. After a day overseeing a new play or musical, the Massachusetts native might look for under-the-radar restaurants, including one with an unusual soundtrack.
Career Highlights
I have been lucky enough to have worked consistently, in a field that lacks consistency, for the past 40 years. I have worked at dozens of theaters, on hundreds of productions, with thousands of people. Every experience has been unique, but constantly entertaining. I have even—or maybe especially!—loved the shows that have failed.
Why Los Angeles?
Los Angeles is the entertainment capital of the world. There is an incredible energy to this city, driven in large part by the great human creative energy that exists here—for film, television, music, visual arts and theater.
Typical Day
Most days start with reading a play and answering emails. After that, I head to the office, where it can be any combination of meetings on advertising, fundraising lunches, casting sessions, conversations with actors or directors about potential or upcoming projects. There are design meetings, budgets to plan and manage, rehearsals to attend. We work with a lot of partners, either other institutional theaters across the country or with commercial producers from Broadway. Lots of emails and phone calls, casual meetings. At night there are shows to attend or donor events.
Los Angeles Moment
I still remember my first trip to Los Angeles, with my wife. She and her family were quite close with actor Roddy McDowall. Roddy invited us over for dinner; he regularly hosted 10 to 12 people from all walks of life. I ended up seated between Maureen O'Hara and Dennis Hopper, who between them had worked on some of the most interesting films of the last 40 years. I am sure that I did little more than mutter an occasional phrase or two, because I was spellbound by listening to the stories, remembrances and gossip that those two exchanged.
Favorite Los Angeles Places
I have made a real effort to find the smaller, out-of-the-way restaurants. I love the coffee shop at the Police Athletic Club. The firing range is next door and your meal is punctuated with the sound of gunshots! Carnival in the Valley has great Lebanese food. Polka in Eagle Rock has an outstanding kielbasa platter. The Apple Pan for the best burger in town, Roscoe's House of Chicken and Waffles—there is an endless list of joints that are worth visiting.
Must-See Los Angeles
I am lucky enough to live within walking distance of Griffith Park, an amazing oasis in a city this size, and one that offers some of the most beautiful walks and views I have ever seen.
Off-Time Hobby
Rollerblading. I'm kidding.
Details
Ahmanson Theatre/Mark Taper Forum 135 N. Grand Ave., downtown, 213.628.2772
The Apple Pan 10801 W. Pico Blvd., West L.A., 310.475.3585
Carnival Restaurant 4356 Woodman Ave., Sherman Oaks, 818.784.3469
Griffith Park 4730 Crystal Springs Drive, L.A., 323.913.4688
Kirk Douglas Theatre 9820 Washington Blvd., Culver City, 213.628.2772
Los Angeles Police Revolver & Athletic Club Cafe 1880 Academy Drive, Elysian Park, 323.221.5222
Polka Polish Restaurant 4112 Verdugo Road, Eagle Rock, 323.255.7887 Roscoe's House of Chicken and Waffles 1514 N. Gower St., Hollywood, 323.466.7453