A Celebration of Tacos in Los Angeles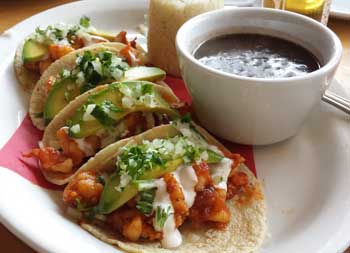 Los Angeles' beloved taco now has a national holiday in its honor. Here's were to pig out on tacos on National Taco Day, Oct. 4 and beyond.
By Christina Xenos
If Los Angeles had an official food it would surely be the taco. From loncheras slinging lengua and carnitas seemingly on every other street corner to the birth of the kalbi taco and modern food truck experience with Kogi. It is to this food that we pay homage on Oct. 4, National Taco Day.
Trucks aside, a little over a decade ago chef Jimmy Shaw saw a derth in the LA taco scene. He wanted a place where he could take a date to enjoy tacos at the culinary level that he could find in his native Mexico City—and impress her enough with the experience to get a second date (at least). Out of that need, Shaw launched the first Loteria Grill at the Farmers Market.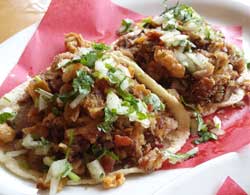 The stand mainly focused on tacos but has grown to offer other fare like chicarron de queso (griddle-toasted Oaxaca and Jack cheese), mahi mahi al chipotle and braised beef tongue, stewed in a tomatillo sauce. It's also grown into four additional locations that span from Hollywood to Studio City, to Santa Monica. Still, when you eat at Loteria Grill, it's the tacos that always bring you back.
A few of our favorite tacos there include the Tres Cochintos—Three Little Pigs—tacos that come as a mix of juicy pork carnitas, crispy bacon with salsa morita, topped with pork rind chips; Camaron al Ajillo, pan-seared shrimp with garlic and a hint of Guajillo and Serrano chile, avocado and cilantro crema, topped with pico de gallo; and Pollo Asado de Mojo Chile Ancho, grilled chile Ancho-marinated chicken with caramelized onions, fresh guacamole and crispy chicken chicarron.
Check out where else you can take a date out for tacos in Los Angees for National Taco Day and beyond:
National Taco Day Specials
Petty Cash
Think seasonal, local ingredients meets refined technique meets traditional street food in dishes such as a ceviche bar, pig ear nachos with crema poblana and soft egg, and "The Kraken"—a grilled octopus taco with charred chile de arbol and peanuts. In celebration of National Taco Day, on Oct. 4 Petty Cash will be offering one taco of your choice paired with a Modena beer on draft for a special $8.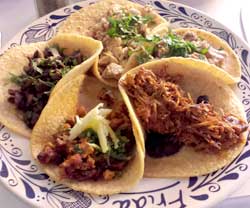 Frida and Frida Tacos
The Taco Tasting is a must on Frida's lunch menu at its Westwood, Beverly Hills and Glendale outposts. Sample your choice of five tacos: beef, chicken, carnitas, pastor or cochinita pibil. In honor of National Taco Day, Frida Tacos will offer 2 for 1 tacos at the Melrose, Westside Pavilion and Brentwood locations on Oct. 4. Guests can choose from a number of different tacos, including soft tacos with a choice of meat topped with onion and cilantro (for those wanting a low carb option, guests can request lettuce cups) and crispy tacos with a choice of meat and beans topped with lettuce, cheese and sour cream.
Casa Vega
Casa Vega has no shortage of tacos, but some of the most fun options are tightly rolled, compact bursts of fried taco flavor. Beef taquitos with guacamole, and Taquitos de Juan—crispy flour chicken flautas with creamy salsa roja. Normally $9.75 and $10.95, respectively, both taquitos are half-off on Oct. 4.
The Hudson
Tacos are always on the menu at The Hudson and on Oct. 4, you can grab a pate of the short rib, jicama and fish tacos for $15.
The Oaks Gourmet
On Oct. 4, Stop by taco night for 6″ tacos on corn tortillas that come in varieties like spicy Peruvian chicken, slow roasted masala lamb and chickpeas, jerk spiced roasted shrimp and more. Two for $9, three for $12.
Tacos Around Los Angeles
Cinco
While the Oaxacan cantina y cocina has been wooing Westchester locals with its serious mole and extensive list of craft beers on tap, its newly unveiled Mahi Fish Tacos (2 for $10) have already garnered a cult following. The tender white fish is sautéed in tomato water and served on corn tortillas with cabbage mango slaw and habanero crema fresca for that extra kick to take this taco over-the-top. Equally ambitious? The Tacos Borrachos (2 for $10), featuring IPA-battered shrimp with cabbage, pineapple, pico de gallo and chipotle salsa.
Tinga
Boasting outposts on La Brea Ave. and in Santa Monica, the taqueria signature tacos, in addition to vegan and vegetarian options. The three bars in Tinga boast mescals, tequilas, frozen margaritas, spiked horchatas and more.
Malo and Mas Malo
The cornerstone of both restaurants are ground beef (available with vegetarian beef as well) and pickle tacos, which are addictive after the first bite. If you'd rather opt for more traditional favor combinations like chicken "carnitas" soft tacos, pork rib soft tacos and grilled fresh fish soft tacos.
Fishing With Dynamite
It's not all oysters and seafood towers at Chef David LeFevre's new Manhattan Beach hotspot, just steps away from the shore. For the ultimate Cali experience, try the Mahi Mahi Fish Tacos ($11) on house-made tortillas served up with guacamole, salsa verde, cilantro and a squeeze of lime, which find their perfect pairing in Strand's 24th Street Pale Ale on tap.
Ebanos Crossing
Downtown Los Angeles' newest cocktail-dining experience features goat tacos braised in Mediterranean spices, and garnished with yogurt slaw and rosemary oil: a perfect complement to the progressive rum, mezcal, tequila, and whiskey-driven liquor program.
Border Grill
Chefs Mary Sue Milliken and Susan Feniger combine their unabashed love for Mexico's market vendors, home cooks and taco stands. The result: bold, fresh and innovative Mexican cuisine. Dine on tacos that range from lamb adobo; to chipotle shrimp to al pastor.
Sushi Roku
"Roku Style" albacore tacos fuse Latin American and Japanese cuisines, wrapping chunks of albacore tuna in crispy wonton wrappers before topping them with creamy guacamole and a tangy Asian salsa.
Tortilla Republic
Think on the lighter side of things with Tortilla Republic's tacos de jicama, featuring thinly sliced jicama "tortillas" with shrimp, chipotle mayo, cilantro, red onion, avocado, and roasted corn salsa; or the sweet potato hibiscus flower tacos with jicama, beets, queso fresco, sweet potato, hibiscus vinaigrette, and cilantro, with an option to be served "skinny style" on butter lettuce wrap.
Paiche
The Paiche Lettuce Wrap features the namesake Amazonian fish anticucho miso-marinated and grilled with crispy sweet potato.
M Café
Macrobiotic cuisine enthusiasts love the Tokyo TJ Tacos, featuring soy- and sake-marinated black cod or tofu in warm, sprouted corn tortillas with avocado, daikon sprouts, pickled onions, shredded cabbage, and yuzu mayo, served with choice of pinto or black beans, crispy corn chips and lime.
Bibigo
Korean BBQ is a LA staple, and has deliciously joined the taco trend. Bibigo's Green Taco wraps bulgogi in Boston lettuce, and tops it with pickled daikon slices, pickled pepper, cilantro, and fresh tomato salsa dressing.
Simmzy's
Stop by Manhattan Beach and Long Beach's favorite gastropub for the extensive craft beer selections on tap, and stay for the sleeper hit on the menu – the Grilled Fish Tacos (2 for $10.75) that top fresh wild-caught Oregon Rock Cod with avocado, charred tomato salsa, lime, pickled radish, fried fresno chili rings, and spiced sour cream.
M.A.K.E.
For a raw, living foods spin on the classic Vietnamese sandwich, check out Matthew Kenney's Banh Mi Taco, with maitake mushrooms, guacamole, chipotle crème, carrot, and radish.