4th Of July Events In Los Angeles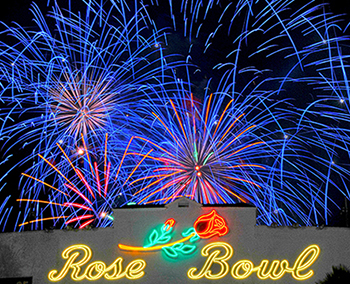 Looking for the best Los Angeles things to do to celebrate Independence Day? We've lined up the best Los Angeles 4th of July events, dining, drinks and more.
Edited by Christina Xenos
3RD OF JULY
Thirsty Crow, Bigfoot Lodge, and Bigfoot West ring in the holiday a night early with 3rd of July festivities, inviting you to be the first to cheers to Independence Day. The bars will offer $5 Sazeracs, the drink most widely recognized as the oldest known American cocktailand live music from Davey Allen (at Bigfoot Lodge) and a DJ (at Thirsty Crow).
4TH OF JULY
Grand Park 4th of July Block Party
July 4. A rooftop fireworks display lights up downtown L.A. and this year's block party celebration expands from Temple to Second Streets. Find live music on two stages, headlined by Phantogram, and Semi Precious Weapons. Pack a picnic (alcohol is not permitted) or opt for onsite food vendors. Fireworks start at 9 p.m. sharp. Entrances at 200 N. Grand Ave., 221 N. Hill St., 221 N. Broadway and 227 N. Spring St., downtown, 213.972.8080. grandparkla.org
AmericaFest
July 4. One of the biggest and brightest fireworks displays in Southern California, choreographed and produced by Pyrospectaculars by Souza, can be found at Rose Bowl Stadium in Pasadena. Food and entertainment offerings—like live motorcycle stunts and a special performance by Liverpool Legends, the Ultimate Beatles Experience—precede the explosive finale. 12.–9:30 p.m. $13+, under 8 free. Parking $25. 1001 Rose Bowl Drive, Pasadena, 800.745.3000. rosebowlstadium.com
Hollywood Bowl July 4th Fireworks Spectacular
July. 2-4. At the Hollywood Bowl's annual great American extravaganza, Steve Martin and the Steep Canyon Rangers along with Edie Brickell join the Los Angeles Philharmonic for a night of patriotic music and spectacular fireworks. Hollywood Bowl, 2301 N. Highland Ave., Hollywood, 323.850.2000. HollywoodBowl.com
CAAM
July 4. Celebrate America's birthday "CAAM Style" with a special live program. CAAM's outdoor plaza stage provides the perfect lead into Exposition Park's annual fireworks display. Free. Museum opens at 11 a.m.; special live performances 6-8 p.m.; Exposition Park fireworks 9 p.m. 600 State Drive, Exposition Park, 213.744.7432. caamuseum.org
Redondo Beach Fireworks
July 4. See a wide variety of fireworks synced to patriotic music broadcast. Events throughout the day include paddle board races, live music, children's parade and more. Seaside Lagoon, 200 Portofino Way, Redondo Beach. redondofireworks.com
Queen Mary
July 4. Choose your favorite era of Independence to salute or stroll from decade to decade with the entire ship as your playground. Listen to live music, learn your favorite American jig, and lounge all day enjoying family-friendly activities. With a giant fireworks extravaganza. Noon-11 p.m. Queen Mary, 1126 Queens Highway in Long Beach, 800.437.2934. queenmary.com
Marina Del Rey
July 4. Arrive early and get a prime spot for Marina Del Reys seaside fireworks extravaganza, synchronized to music on KXLU 88.9 FM. The 20 minute show of movement and color, bursts into an explosive skyline display, mirrored by the water below. Fireworks are launched from a floating barge located in the waters of the main channel between Fisherman's Village and the Breakwater. Popular viewing locations include: Fisherman's Village (13737 Fiji Way), Burton Chace Park (13650 Mindanao Way) and (Mother's) Beach (4135 Admiralty Way). 9 p.m. visitmarinadelrey.com
Cafe del Rey
July 4. Grab a prime spot to watch the Marina del Rey fireworks and dine on a special all-American feast from executive chef Chuck Abair. Highlights on the evening's coastal-inspired meal include dishes like watermelon gazpacho, chilled squid salad, BBQ short ribs and more. Fireworks begin at 8:45. Reservations required, open seating available in the bar and lounge area. $60/pp for 5 p.m. seating, $80/pp for the 7:45 seating. 4451 Admiralty Way, Marina del Rey, 310.823.6395. CAFEdelREYmarina.com
Four Seasons Hotel Westlake Village
July 4. Make the most out of the long weekend and set up a special staycation at Four Seasons Hotel Westlake Village. The destination's location offers stellar views of Westlake Village's first 4th of July fireworks show and if you want to take your viewing experience to the next level, you can book one of their special "fireworks suites." The family friendly property also celebrates the holiday with a "dive-in" movie screening of The Lego Movie at the indoor pool. Four Seasons Executive Chef Alex La Motte has created a menu of bites including freshly grilled sliders, housemade sausages, chicken tacos, and warm pretzels.  Full bar and frozen treats for the whole family will be available as well. Hotel guests only. Dive-in movie 7 p.m., fireworks 9 p.m. 2 Dole Drive, Westlake Village, 818.575.3000. fourseasons.com/westlakevillage
Four Seasons Hotel Los Angeles at Beverly Hills
July 4-5. Celebrate throughout the weekend with a special poolside clam bake at Cabana Restaurant. Indulge in  a large net of seafood with clams and shrimp, served with red potatoes and corn, and an iceberg wedge salad with blue cheese, bacon and tomatoes, and house made corn bread ($29/pp). Individual American pies in several flavors will also be available for $7 each. Four Seasons Hotel Los Angeles at Beverly Hills, 300 S Doheny Dr., L.A., 310.273.2222. fourseasons.com/losangeles
Angel City Brewery's 'Merica Fest
July 4. Stop by the downtown brewery for a backyard-style party, complete with lawn games (think cornhole, ping pong, ladder toss), apple pies from Pie Hole, firecracker pops from Si Paletas, food trucks, beer, including the newly released Limited Tart Cherry Imperial Wheat and Lo-Lo Loquat Wheat and live music. Artists from Art Share LA, a downtown non-profit that offers living and working space for local artists, will be creating artwork live during the event. A percentage of the outdoor beer garden's sales will go back to Art Share. 216 South Alameda St., downtown, 213.622.1261. AngelCityBrewery.com
Terranea Resort
July 4. Celebrate America at the Palos Verdes seaside destination with food and drink specials available during happy hour at Nelson's (2-5 p.m.). Terranea's Unplugged Acoustic Series featuring Clayton Joseph Scott on the Sunset Bluff attached to Nelson's, complete with their "5 Ocean Market" menu and local beers, Catalina Kitchen's extensive Seafood Buffet (5pm-10pm), and live music in the Lobby Bar (7-9 p.m.). 100 Terranea Way, Rancho Palos Verdes, 310.265.2800. terranea.com
Independence Day Weekend Celebration at Battleship IOWA
July 4-6. Climb aboard and tour the battleship to grab a bite at their all-American BBQ. While you're there, check out the vintage military vehicles on display, get your face painted or try and conquer the challenging obstacle course and more. Pre-Sale tickets available until July 3rd. $7-$15. 250 S. Harbor Blvd, San Pedro, 877.446.9261. tickets.labattleship.com
Whiskey Red's
July 4. The seaside dining spot celebrates the 4th with a Red, White and Booze bash that features live music from Jack of Hearts, DJ, classic BBQ, complementary dessert bar and a great vantage point for viewing the Marina del Rey fireworks. Come early for $3 beer and $5 Fireball Shots from 5-8 p.m. 13813 Fiji Way, Marina del Rey, 310.823.4522. shanghairedsrestaurant.com
Justice Urban Tavern
July 4. Enjoy a beer garden, brats & BBQ before and after the celebration at Grand Park, from 2-10 p.m. 120 S Los Angeles St., downtown, 213.253.9235. justicela.com
Hotel Erwin
July 4. Stop by the Venice Beach hotspot for classic burgers, hot dogs and more. The hotel's rooftop situates you for prime fireworks viewing, but space fills up fast so make your reservations now. 1697 Pacific Ave. Venice, 424.214.1062. hotelerwin.com
Little Dom's
July 4. Celebrate over a special Red, White & Blue Sangria complete with Cana white rum, strawberries, blueberries, raspberries and pineapple. 2128 Hillhurst Ave., L.A., 323.661.0055. littledoms.com
Horse Thief BBQ
July 4. Downtown's destination for central Texas BBQ inside Grand Central Market turns one and is hosting a special 4th of July anniversary celebration. Stop by until 10 p.m. to enjoy the full menu and newly opened beer and wine bar. 324 S Hill St., downtown. horsethiefbbq.com
Firefly
July 4. Stop by the dreamy Studio City restaurant for a backyard BBQ on their outdoor patio. Dine on a three-course menu, along with tropical cocktails and boat drinks. Highlights of the menu include beer battered prawns; Honey Boo Boo burger with whipped honey butter, fiscalini cheddar, and applewood smoked bacon; and root beer floats. $35/pp, excluding beverages. 4 p.m.-midnight. 11720 Ventura Blvd, Studio City, 818.762.1833. fireflystudiocity.com
STK
July 4-6. Stop by the stylish steakhouse to sip on the festive Blaze of Glory cocktail. The drink is crafted with Absolut Elyx, cranberry Red Bull and served in a pop rock-rimmed glass. 6 p.m.-2 a.m. 755 N La Cienega Blvd., L.A., 310.659.3535. togrp.com
Coffee Bean & Tea Leaf
Through July 4. Stock up on limited edition Sweet Liberty cookies for your holiday get-together. These festive red, white and blue cookies are available for pre-order and in stores at participating locations for $2.25 each or six for $12. While you are there, try one of the brand's new refreshing summer beverages including the Mud Pie and Caramel Brownie Ice Blended drinks and iced coffees. See website for locations. coffeebean.com
Sky Party at Sky Space
July 4. See the Los Angeles skies light up from the 71st floor of the tallest building west of the Mississippi. The family friendly holiday celebration includes DJ tunes, hot dogs and non-alcoholic beverages. 7-11 p.m. $20 adults, $10 children. 633 W. Fifth St., downtown. Tickets
Van Ness Recreation Center
July 4. Celebrate the 4th with an hour-long fireworks celebration and jazz concert with music by Barbara Morrison, and Karen Briggs with Jazz in Pink. Noon-10 p.m., fireworks begin at dusk. 5247 Overdale Dr., L.A. bernardparks.com