4th Of July Events In Los Angeles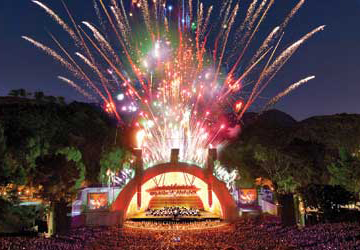 Looking for the best Los Angeles things to do to celebrate Independence Day? We've lined up the best Los Angeles 4th of July events, dining, drinks and more.
FIREWORKS
Grand Park 4th of July Block Party
July 4. Projections and pyrotechnics light up Grand Park for their first ever 4th of July block party. Also find live music, artists, a selection of food trucks at this even hosted by KCRW DJ Anthony Valadez. Picnicking encouraged; no alcohol. Music, 3 p.m.; light show, 9 p.m.. Free. Entrances at 200 N. Grand Ave., 221 N. Hill St., 221 N. Broadway and 227 N. Spring St., downtown, 213.972.8080. grandparkla.org
AmericaFest
July 4. One of the biggest and brightest fireworks displays in Southern California, choreographed and produced by Pyrospectaculars, can be found at Rose Bowl Stadium in Pasadena. Food and entertainment offerings—like Live TNT motorcycle stunts and a special performance by Mariachi Divas & Kenny G—precede the explosive finale. 10 a.m.–9:30 p.m. $13, under 8 free. Parking $20. 1001 Rose Bowl Drive, Pasadena, 800.745.3000. rosebowlstadium.com
Hollywood Bowl July 4th Fireworks Spectacular
July. 2-4. At the Hollywood Bowl's annual great American extravaganza, singer, songwriter, and actor Josh Groban joins the Los Angeles Philharmonic for a night of patriotic music and spectacular fireworks. Hollywood Bowl, 2301 N. Highland Ave., Hollywood, 323.850.2000. HollywoodBowl.com
CAAM
July 4. Celebrate America's birthday "CAAM Style" with a special live program. CAAM's outdoor plaza stage provides the perfect lead into Exposition Park's annual fireworks display. Free. Museum opens at 11 a.m.; special live performances 6-8 p.m.; Exposition Park fireworks 9 p.m. 600 State Drive, Exposition Park, 213.744.7432. caamuseum.org
Exposition Park
July 4. For the 11th consecutive year, the Fourth of July Fireworks Extravaganza comes to Exposition Park. Entertainment commences around noon on Christmas Tree Lane. Fireworks show begins at 9 p.m. and is a full 60 minutes worth of entertainment. Exposition Park, 700 Exposition Park Drive, 213.744.7458. expositionpark.org
Redondo Beach
July 4. See a wide variety of fireworks synced to patriotic music broadcast. Events throughout the day include paddle board races, live music, children's parade and more. Seaside Lagoon, 200 Portofino Way, Redondo Beach. redondofireworks.com
SLS Hotel
July 4. Spend the day poolside at the exclusive Altitude pool at the SLS Hotel. The party features a live dj, cocktails and more. Make reservations: altitudepool@sbe.com. If you feel like hitting the spa, find specials on Ciel's Sparkle & Shine package (blow out, mani/pedi, champagne), Ciel massage with complementary add-on and an hour-long Ultimate Cleanse Facial (includes EVE LOM skincare mini gift bag to take home). 465 South La Cienega Blvd., L.A., 310.247.0400. slsbeverlyhills.com
Queen Mary
July 4. Celebrate Independence day in style, arrive early and spend the day touring, dining and shopping on the Queen Mary. Listen to live music, enjoy family-friendly entertainment and get front and center to their giant fireworks extravaganza. Queen Mary, 1126 Queens Highway in Long Beach, 800.437.2934. queenmary.com
Marina Del Rey
July 4. Arrive early and get a prime spot for Marina Del Reys seaside fireworks extravaganza, synchronized to music on KXLU 88.9 FM. The 20 minute show of movement and color, bursts into an explosive skyline display, mirrored by the water below. Fireworks are launched from a floating barge located in the waters of the main channel between Fisherman's Village and the Breakwater. Popular viewing locations include: Fisherman's Village (13737 Fiji Way), Burton Chace Park (13650 Mindanao Way) and (Mother's) Beach (4135 Admiralty Way). 9 p.m. visitmarinadelrey.com
America's Greatest Game Shows Live on Stage
July 4. Bob Eubanks from the Newlywed Game and Card Sharks hosts a new daily game show series at Madame Tussauds Hollywood featuring a 75 minute live show with nine different games involving 42 contestants on stage who all will win prizes. Everybody in the audience has an equal chance to be a contestant. Two shows daily at 1 and 4 p.m. 6933 Hollywood Blvd., Hollywood. Americasgreatestgamesshows.com
SHOPPING
4th of July Super Sale Weekend at Ontario Mills
July 4-7. Spend the long weekend shopping at the largest outlet and value retail shopping destination in California. Ontario Mills' 4th of July Super Sale Weekend features sales at Polo Ralph Lauren Factory Store, Tommy Hilfiger Company Store, Saks Fifth Avenue OFF 5TH, DKNY Company Store, G by Guess, Kenneth Cole Company Store and Gap Outlet. You can also enter to win  one of four $400 gift cards for shopping at Ontario Mills. One Mills Circle, Ontario, 909.484.8300. ontariomills.com
ElseWHERE
Della Pool Party at the Saguaro in Palm Springs
July 4-6. The long weekend is perfect for a road trip so why not hit Della's "Weekend at the Saguaro"? Expect live music from bands such as Midnight Therapy and Random Citizens, a delicious barbecue with Iron Chef Jose Garces, fireworks, and synchronized swimming. 1800 E Palm Canyon Dr, Palm Springs. More Info.
EAT | DRINK
Skybar
July 4. Celebrate the 4th in style poolside at Skybar with an all-day BBQ. Find selections from the grill such as kosher all beef hot dogs, cheeseburgers, mojito chicken skewers and more. Compliment that with cocktails from the bar and tunes from a special guest DJ. 11 a.m.-5 p.m. Mondrian Los Angeles, 8440 Sunset Blvd., West Hollywood, 323.848.6025. mondrianhotel.com
The Hudson
July 4-7. Beginning on the 4th and extending through the holiday weekend, stop by The Hudson for special BBQ offerings. For $14 choose between Jidori BBQ chickend or BBQ short ribs served with smoked bacon baked beans, butter grilled corn on the cob and farmers market watermelon. Also find $8 specials on sweet tea vodka lemonades. 1114 N Crescent Heights Blvd., West Hollywood, 323.654.6686. thehudsonla.com
Napa Valley Grille
July 4. Celebrate our nation's independence with an extended patriotic happy hour featuring rustic small plates and cocktails (starting at $4) alongside all-day specials, such as: $0.50 chicken wings, $2 Pabst Blue Ribbon, "The Firecracker" cocktail ($4) – a layered red, white and blue cocktail reminiscent of the childhood summertime favorite, the Bomb Pop popsicle. Happy hour is 3 p.m. until close, the restaurant opens at 11:30 a.m. 1100 Glendon Ave., Westwood, 310.824.3322. napavalleygrille.com
Mohawk Bend
July 4-7. All weekend long, find vegan and non-vegan BBQ specials, a Bloody Mary flight, and a Red White & Brew Beer Flight, among other delicious treats including a recovery breakfast on July 5. 2141 W. Sunset Blvd., L.A., 213.483.2337. mohawk.la
Zengo Santa Monica
July 4. Start your holiday with a Fourth-inspired fete offering a pre-fireworks bottomless brunch from 11:30 am-4 p.m. To get the patriotic party started, a DJ will be spinning from noon-3 p.m. Brunch dishes include steak Benedict with poached egg and kimchee; kaffir chilequiles with salsa verde, crema, poached egg, and more. Bottomless brunch is $35/pp, including unlimited brunch cocktails; kids 10 and under $10. Twp-hour time limit per table. 395 Santa Monica Pl., Santa Monica, 310.899.1000. richardsandoval.com
Cafe del Rey
July 4. Dine seaside wile gazing out at the Marina del Rey fireworks on a Americana-inspired three-course prix-fixe menu that features highlights of BBQ or buffalo chicken wings, spinach and baby greens salad, BB! beef short ribs, chicken or salmon and more. $40/pp. 4451 Admiralty Way, Marina Del Rey, 310.823.6395. cafedelreymarina.com
Susan Feniger's STREET
July 5. Dine on an all-you-can-eat hangover brunch where you can choose all the dishes you want from STREET's brunch menu, including Kaya toast bites, tamale Benedicts, and macadamia nut French toast bites with coconut syrup and grilled pineapple. Bottomless brunch is $25/pp, with the option to add bottomless sparkling cocktails for $15. Noon-2 p.m. 742 N Highland Ave., L.A., 323.203.0500. eatatstreet.com
Tony's Darts Away
July 4. In honor of 7/4 Tony's Darts Away will be featuring a "Red Hot & Brew" Sausage and beer special (vegan or non-vegan) for $7.40, and a variety of other food and beer specials for $4. 1710 W. Magnolia Blvd., Burbank, 818.253.1710. tonysda.com
Superba Snack Bar
July 4. Stop by for a special BBQ featuring fare like grilled watermelon salad, pulled bacon with apple slaw on brioche, Memphis style pork ribs as well as country brisket, corn on the cob and potato salad. 11:30 a.m.-9 p.m. 533 Rose Ave., Venice, 310.399.6400. superbasnackbar.com
Tortilla Republic
July 4-7. Stop by the modern Mexican restaurant for extended brunch from July 4-7 and the Freedom-rita cocktail on the 4th. 616 N. Robertson Blvd., West Hollywood, 310.657.9888. tortillarepublic.com
Lazy Dog Restaurant & Bar
July 4. Celebrate the holiday by dining on the restaurant's 10th Anniversary menu specials that will be available until Sept. 12, including their Lazy Dog Anniversary Belgian Blonde Ale. Menu highlights include Hawaiian sticky ribs, umami fries and Asian slaw, naughty Maggie margarita and more. 3525 West Carson St., Torrance, 310.921.6080. lazydogrestaurants.com
Golden Road Brewing
July 4-7. Stock up for your own BBQ with limited edition mixed case of all their canned brew. The $50 mixed case features a four-pack of Hefeweizen, Point the Way IPA, Cabrillo Kolsch, Get Up Offa that Brown, Wolf Among Weeds IPA, Heal the Bay IPA. Available July 4-7 at the Pub at Golden Road. 5410 West San Fernando Rd., L.A., 213.373.4677. goldenroad.la