3Dog Cantina Serves Mexican Food, Drinks in Hollywood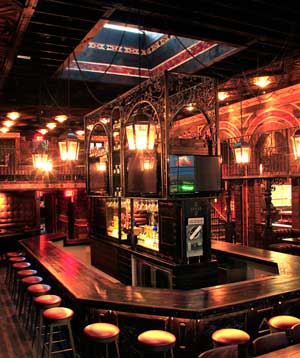 A slice of Mexico City lands on the burgeoning Cahuenga Corridor in Hollywood with 3Dog Cantina. The newest property from Curtis Nysmith (SmithHouse Tap & Grill, Blue Boar), offers fresh Mexican cuisine and specialty cocktails in an impressive, expansive setting.
By Christina Xenos
Straight from the underground Chicago dining scene, chef Efrain Cuevas offers an authentic Mexican menu that plays heavy on family traditions. Cuevas covers all his bases in terms of tacos, enchaladas, signature fajitas and burritos, while also traveling further with house specialties like grilled pork shank and grilled duck breast. Cuevas aims to represent each region in Mexico, and all items are made in house with a contemporary twist. Start with guacamole, mixed at your table, and follow it up with a ceviche selection or a round of oysters. Get them both in Cuevas' oysters con ceviche: a combination of freshly shucked oysters topped with seasonal fish marinated in lime juice salsa cruda, avocado and pickled onions. Also on the seaside, the cocktel colima combines steamed blue shrimp and bay scallops with salsa cruda, cucumber, mango and jicama and serves the mixture with cilantro crackers. Cuevas also serves a variety of moles. You'll find the traditional mole poblano, but not to be overlooked is his signature mole rojo served with the birria en poblano (polano chilis stuffed with slow cooked goat meat).
But you can't really have an authentic Mexican restaurant without discussing drinks. 3Dog offers a plentiful selection of them. Stand outs are the spicy mango margarita and a slection of custom cocktails that includes the burro negro (Jameson, blackberries, fresh basil and ginger beer) and la moda vieja (an anjeo old fashioned with don julio, brown sugar, vanilla syrup, grapefruit and orange bitters). If you're really celebrating, frozen margaritas, pina coladas, house margaritas and the Bentley margarita can come "mucho-sized" (24 oz.), while the latter two can also be ordered by the pitcher. You can check out what we ordered in the photos below: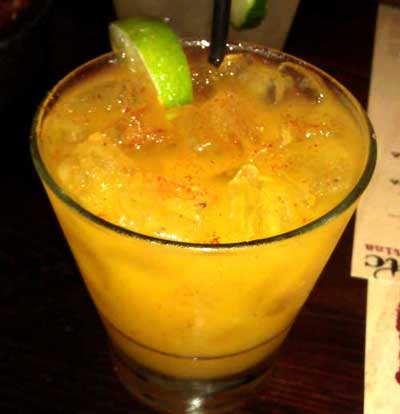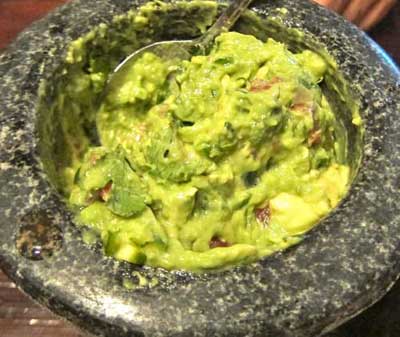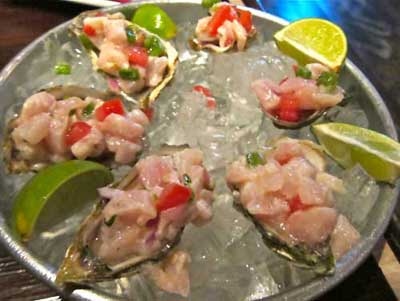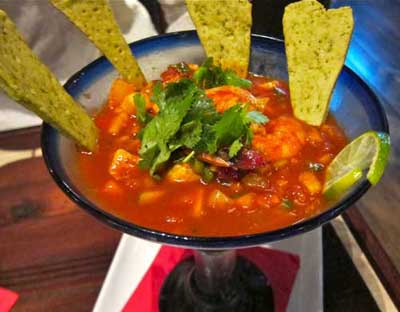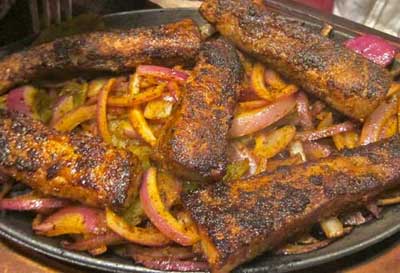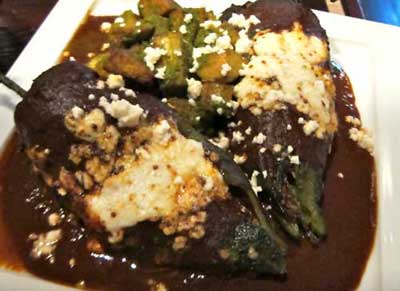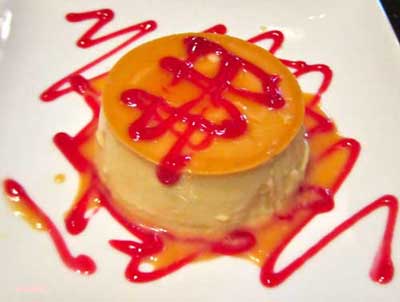 A closer look at seating in the bar area reveals beer taps at selected tables, in perfect view of any game that might be on TV. The two-story space features a lofted balcony overlooking the bar that would lend itself for private parties or just having a birds-eye view of the scene below. And to throw homage to its name, dogs are welcome in the cozy back bar/patio area.
Other highlights include weekday happy hour from 3-7 p.m., in addition to Sunday brunch with bottomless mimosas.
Lunch, dinner, late night daily; weekday happy hour; brunch Sundays. 1615 N. Cahuenga Blvd., L.A. 3DogCantina.com