10 Los Angeles Fashion Designers Who Forever Changed Our Closets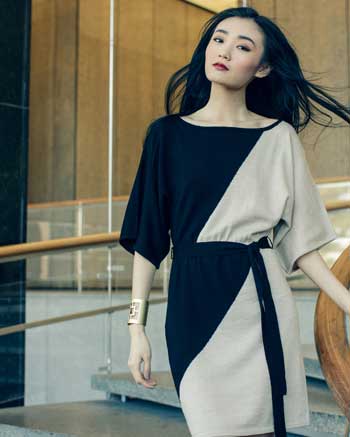 Los Angeles is home to creatives, celebrities and the affluent, and offers an enviable lifestyle to boot. Therefore, it's only natural that it draws the world's top design talent.
From couture to contemporary sportswear, bridal design to bespoke footwear, L.A.'s sartorial contributions are as varied as they are fabulous. Here are 10 designers, in no particular order, who have influenced modern L.A. style, plus where you can find their fashions.
By Katie McCarthy
TRINA TURK
Trina Turk, who splits her time between Los Angeles and Palm Springs, applies bright colors and bold graphic prints to her designs with a liberal hand. Turk's eponymous contemporary line for women, her menswear brand Mr. Turk and home décor line exude the sunny SoCal lifestyle with their punchy glamour. The unabashed femininity of Turk's womenswear is echoed in her Kelly Wearstler-designed L.A. flagship boutique; awash in blush tones and lit by bubblelike pendant lamps, the interior creates "the feeling of being inside a glass of pink Champagne."
Bloomingdale's Beverly Center, 8500 Beverly Blvd., L.A., 310.360.2700 Nordstrom The Grove, 189 The Grove Drive, L.A., 323.930.2230; more locations. Trina Turk 8008 W. 3rd St., L.A., 323.651.1382
RODARTE
Rodarte, designed by sisters Kate and Laura Mulleavy out of their mother's house in Pasadena, is probably L.A.'s biggest high-fashion success story. Their couturelike artistry gets major industry props (they have multiple nominations and awards from the Council of Fashion Designers of America), and they've found mainstream success as well, collaborating with Target and Gap on diffusion lines. Rodarte's creations aren't for the timid (think ethereal-meets-'80s-punk), but someof the design duo's more wearable items have been donned by chic celebs such as Natalie Portman and Elle Fanning.
Barneys New York 9570 Wilshire Blvd., Beverly Hills, 310.276.4400 Elyse Walker 15306 Antioch St., Pacific Palisades, 310.230.8882 Opening Ceremony 451 N. La Cienega Blvd., West Hollywood, 310.652.1120
7 FOR ALL MANKIND
7 For All Mankind was one of the first premium denim lines to emerge in the early 2000s, and the brand's signature back-pocket flourish became hugely covetable among well-heeled Angelenos. The brand has expanded to include men's and women's ready-to-wear, footwear and accessories, and the signature denim is now sold in all manner of colors, prints and finishes: metallic faux leather, glossy imitation snakeskin and more.
Manhattan Denim 920 Manhattan Ave., Manhattan Beach, 310.798.5326 Saks Fifth Avenue 9600 Wilshire Blvd., Beverly Hills, 310.275.4211 7 For All Mankind Malibu Country Mart, 3825 Cross Creek Road, Malibu, 310.456.1203; more locations.
ESQUIVEL
L.A. may not necessarily be associated with fine fashion craftsmanship, but there are some designers committed to producing their wares with Old World techniques. One such traditionalist is the CFDA-nominated George Esquivel, whose handmade shoes grace the pages of fashion glossies and celebrity feet (Janelle Monáe is a favorite client). You can find ready-made pairs of his men's and women's footwear—oxfords, boots, sandals and more, bearing painted, burnished or woven details—at his West 3rd Street studio, but he's best known for his bespoke designs.
Douglas Fir 8311 W. 3rd St., L.A., 323.651.5445 Esquivel (by appointment only) 8309 W. 3rd St., L.A., 714.670.2200
MONIQUE LHUILLIER
Fashion Institute of Design and Merchandising grad Monique Lhuillier got the idea to design a bridal collection when she encountered a lack of fashion-forward options in the search for her own wedding gown. Now she's one of the most coveted names in bridal, eveningwear and ready-to-wear, and she continues to produce most of her designs downtown. Romance, modern glamour and subtle sexiness are her signatures, and her flagship boutique is a Melrose Place institution.
Barneys New York 9570 Wilshire Blvd., Beverly Hills, 310.276.4400 Monique Lhuillier 8485 Melrose Place, L.A., 323.655.1088 Neiman Marcus 9700 Wilshire Blvd., Beverly Hills, 310.550.5900
SKAIST TAYLOR
Gela Nash-Taylor and Pamela Skaist-Levy started a revolution when they popularized the upscale track suit via their first fashion line, Juicy Couture, but they've since moved onto a more sophisticated endeavour, Skaist Taylor. They describe Skaist Taylor's aesthetic as "California eccentric," but the line is far more approachable than that off-putting tagline would indicate—think leather leggings, plunge-neck gowns and fur-collar coats designed with an edgy, urban minimalist in mind.
Neiman Marcus 6550 Topanga Canyon Blvd., Canoga Park, 818.316.7000 Nordstrom The Grove, 189 The Grove Drive, L.A., 323.930.2230; more locations. Switch 238 S. Beverly Drive, Beverly Hills, 310.860.1650
RACHEL ZOE
Rachel Zoe's fashion line is only a few years old, but the celebrity stylist/reality star/author/entrepreneur is already a certifiable fashion icon. Long before cameras followed her every move on Bravo's The Rachel Zoe Project, she cultivated her signature brand of bohemian glamour dressing clients such as Anne Hathaway and Cameron Diaz. Hollywood continues to follow her sartorial lead, and now she has a style empire to prove it.
Bloomingdale's Santa Monica Place, 395 Santa Monica Place, Santa Monica, 310.985.6400; more locations. Kitson 8687 Melrose Ave., West Hollywood, 310.855.9635 Rona 13021 Ventura Blvd., Studio City, 818.205.9682
JAMES PERSE
No one can pull off looking chic in jeans and a T-shirt quite like an Angeleno, especially since James Perse came along. Born to a design dynasty (his father owns the ultra-upscale boutique Maxfield), Perse has perfected easy basics for the SoCal lifestyle. A simple white cotton shirt can cost nearly $100, but Perse devotees think that these well-cut, slouchy tees are worth the price tag.
James Perse Brentwood Country Mart, 225 26th St., Santa Monica, 310.656.2800; more locations. Stacey Todd 13025 Ventura Blvd., Studio City, 818.981.7567 Theodore 336 N. Camden Drive, Beverly Hills, 310.276.0663
BAND OF OUTSIDERS
Scott Sternberg's much-acclaimed label has garnered plenty of fans locally, from the big-name actors who star in his ad campaigns (Andrew Garfield, Marisa Tomei, Kirsten Dunst) to Eastside hipsters. His menswear is dapper, sharply tailored and with a vintage appeal—fitted blazers and trench coats, plaid button-downs and grandpa-style cardigans—but still somehow manages to look modern. The women's collection has a similarly preppy vibe, with a tomboyish edge.
Confederacy 4661 Hollywood Blvd., Hollywood, 323.913.3040 Fred Segal Finery 500 Broadway, Santa Monica, 310.917.5546
Opening Ceremony 451 N. La Cienega Blvd., West Hollywood, 310.652.1120
MAX AZRIA
Having founded BCBGMAXAZRIAGROUP nearly 25 years ago, Azria is one of L.A.'s major fashion moguls. He helms the youthful, affordable BCBGMAXAZRIA, sold in 570 eponymous boutiques; Max Azria Atelier couture; and Herve Leger by Max Azria, which kicked off the body-conscious clothing trend when Azria relaunched the French fashion house in 2007. If you like clothing with sex appeal, Azria makes it, at a variety of price points.
BCBGMAXAZRIA 8634 W. Sunset Blvd., West Hollywood, 310.360.0946; more locations. Herve Leger by Max Azria 439 N. Rodeo Drive, Beverly Hills, 310.275.2550