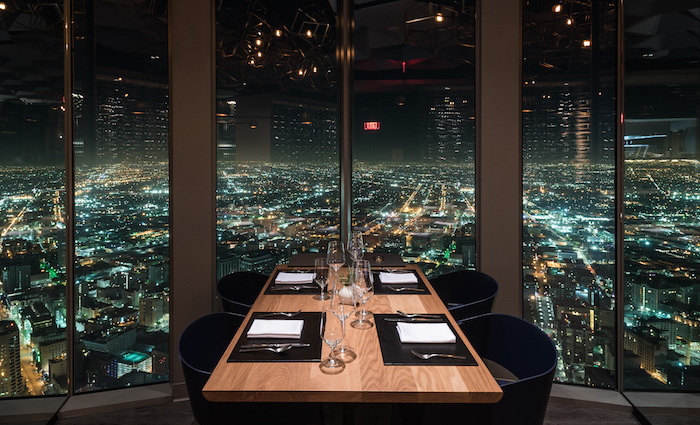 By Roger Grody, adapted from WHERE Los Angeles magazine December 2017 issue
With new downtown towers piercing the clouds and ocean vistas eternally alluring, ambitious local chefs are challenging established attitudes toward restaurants with a view.
In Los Angeles, as with most places in the world, restaurants with great views have rarely been known for delivering exceptional cuisine. But that is changing as quickly as the downtown skyline, where a pair of 71st-floor restaurants have re-energized high-rise dining. Serious view restaurants are popping up all over town, with memorable food now competing with views of the Hollywood Hills or Pacific Ocean.
Dining at the top of skyscrapers in San Francisco, Chicago and New York is relatively common, but that has never been a tradition in L.A. When Wolfgang Puck opened his modern Chinese WP24 halfway up the Ritz-Carlton, Los Angeles tower in 2010, it was the first time in decades that serious cuisine had ascended that high. The real breakthrough, though, came last year with the opening of 71Above atop the U.S. Bank Tower, which, until recently, was the tallest building in town.
71Above's modern design features a geometric honeycomb-like ceiling, contemporary lighting and curvilinear booths that face the windows (an advance deposit can guarantee a window table). There is a sense of formality here, but the setting is hardly the over-starched environment one might expect at these rarefied heights.
71Above offers a sophisticated prix-fixe format at relatively approachable prices: a two-course lunch menu at $35 and, at dinner, a three-course meal—there are a half-dozen choices for each course—priced at $75. Additional courses may be added to create a more elaborate (and filling) tasting menu.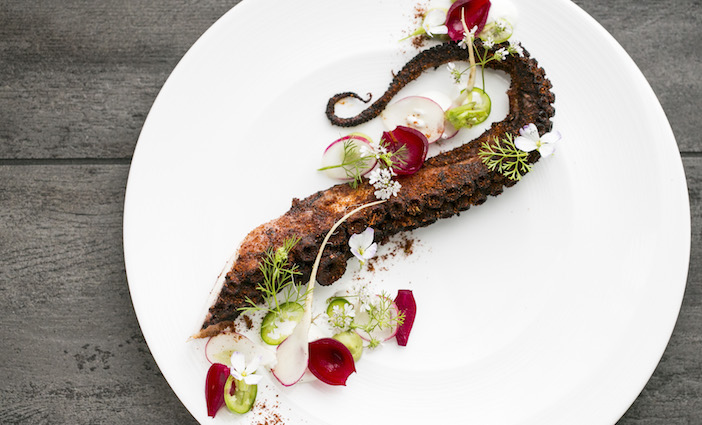 A meal from chef Vartan Abgaryan, who once worked at New York's legendary Lutèce, might begin with poached oysters presented with a light tarragon-Champagne cream, topped with uni and caviar, or a farm egg over crispy potatoes with chorizo. Those might be followed by a foie-gras terrine, an inventive pasta dish or octopus spiked with Korean gochujang. The third course could be caramelized sea scallops with chanterelles or a rib-eye with onion cream and mojo rojo.
The U.S. Bank Tower just lost its first-in-height ranking to the new Wilshire Grand Center, which, thanks to a formidable spire, is now the tallest building west of Chicago. It is also home to a new 889-room InterContinental hotel with several view restaurants, most notably La Boucherie, at almost 1,000 feet above street level. There, a French-influenced steakhouse menu and sophisticated decor compete for attention with stunning downtown views framed by floor-to-ceiling windows. (Even the restrooms offer unexpectedly dramatic views.)
A strong French accent permeates the appetizer page at La Boucherie, with dishes like stuffed frog legs, seared foie gras, ris de veau (sweetbreads) with chanterelles, and even veal kidneys, which are hard to find in Paris, let alone L.A. For entrées, dry-aged USDA prime beef takes center stage, along with game and fish. And for a nightcap—and perhaps an order of uni-topped deviled eggs or s'mores—check out Spire 73 two floors above, which is reportedly the highest open-air bar in the Western Hemisphere.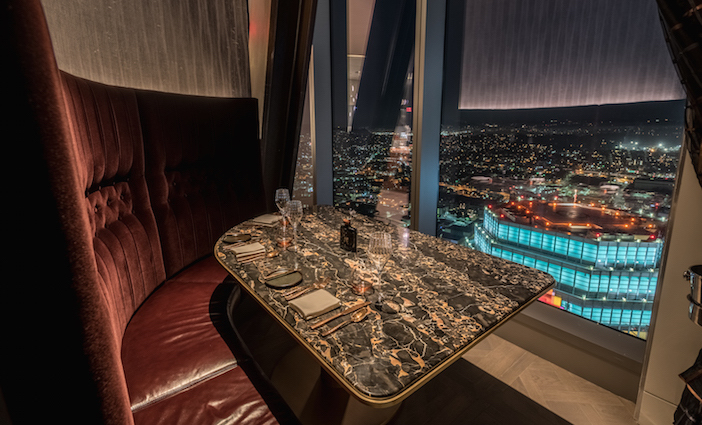 With his global portfolio of restaurants and galaxy of Michelin stars, Jean-Georges Vongerichten is one of the most sought-after chefs in the world. The New York-based chef/restaurateur recently arrived in Beverly Hills, introducing Jean-Georges Beverly Hills at the Waldorf Astoria, a sleek new hotel with interiors from Parisian designer Pierre-Yves Rochon. Those who crave views, however, ride the elevator to The Rooftop by JG, the chef's more casual alfresco venue.
The Rooftop's menu, which is heavy on shareable snacks and creative cocktails, offers eggplant fritters with honey and softened Manchego cheese, tuna tartare and madai (sea bream) sashimi. Larger plates range from lobster burgers to rigatoni with basil-pistachio pesto. The decor features rich jade-green accents that mirror the landscape beyond, while seating options include umbrella-laden tables, a long mosaic bar and cushy outdoor furniture along an expansive fireplace recessed into a living green wall. The nearly 270-degree views, dominated by serene hillsides, are magical.
For Angelenos of a certain age, the Chart House in Malibu was a reliable oceanfront dining spot—perfect for first dates and out-of-town relatives—but the view was always more memorable than the cuisine. Thankfully, the Chart House was taken over by Mastro's Ocean Club, which delivers the same Pacific views but serves far better (albeit pricier) food. Consider impressive platters from the raw bar and well-sourced fish, along with signature sides like lobster-studded mashed potatoes and Alaskan king crab black-truffle gnocchi.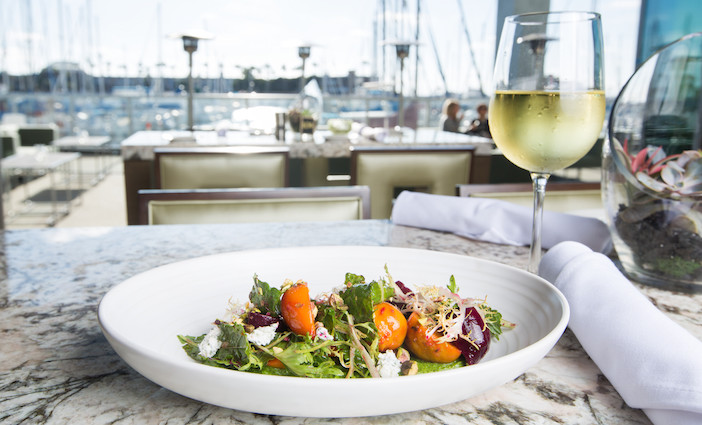 Relatively new to the South Bay is Sea Level Restaurant & Lounge, located at Shade Redondo Beach (a spinoff of chic Shade Hotel in downtown Manhattan Beach). The venue showcases soothing marina views that complement a menu featuring pork-belly baos and spicy tuna on crispy rice before moving on to deftly handled fish dishes such as pistachio-crusted cod or blackened salmon with parsnip puree and curried sweet-corn emulsion. Brunch is a true happening here, when seafood omelets, breakfast pizzas and fried chicken and waffles can be washed down with bloody marys or spiked lemonade.
Hidden in Terranea Resort, a romantic retreat perched on the picturesque Palos Verdes Peninsula, is Mar'sel, which offers spectacular views. But ocean vistas are not the only attractions at this lovely restaurant, where chef de cuisine Andrew Vaughan offers the daily catch of local fishermen with vegetables and herbs from the resort's own garden. The results include starters like scallops with black-truffle polenta and tomato sofrito, and New Orleans-style barbecued shrimp (Vaughan previously worked with Emeril Lagasse in the Big Easy), as well as entrées such as roasted salmon with boniato and tomato-lime-brown-butter sauce.
Set atop the hills 250 feet above Hollywood Boulevard, Yamashiro Hollywood provides
a memorable experience on several levels, not the least of which are stunning views of Hollywood, with the downtown skyline looming in the distance. Yamashiro means "mountain palace" in Japanese, and the property is an authentic replica of one near Kyoto, complete with an imported 600-year-old pagoda. The pan-Asian menu offers truffle-scented hamachi sashimi and duck-confit spring rolls followed by shoyu-glazed black cod or Sichuan rib-eye, while Pacific Rim cocktails enhance the mood and, by extension, the views.
Another quintessential L.A. panorama—offering a splendid perspective of the entire metro area, from the Santa Monica Mountains to the sea—is found at the Restaurant at the Getty Center. Sunsets that rival the masterpieces in the building's galleries set the backdrop for Saturday dinners.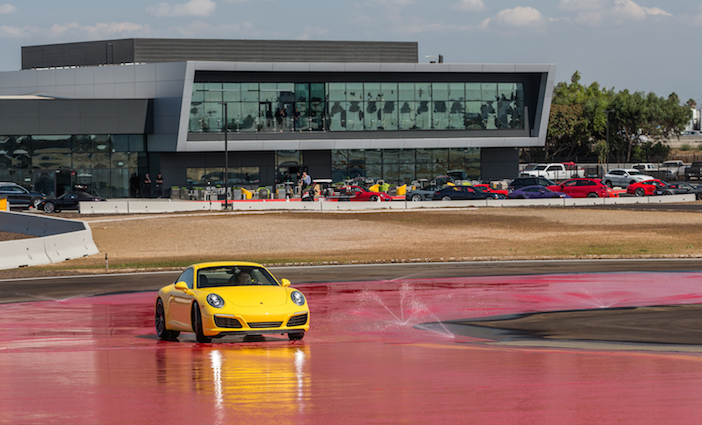 For less conventional views, consider Restaurant 917 at the Porsche Experience Center in Carson. After bread service that includes butter molded into miniature Porsche 911s, diners indulge in oysters shrouded in a liquid-nitrogen-generated cloud or Thai curried clams before tucking into a big burger or steak. The scenery includes a test track on which amateurs pay handsomely to take laps in a full-size 911 Turbo or other finely engineered Porsche products.
Finally, if you have fond childhood memories of looking skyward from the end of an airport runway—practically close enough to incoming aircraft to see the expressions on the pilots' faces—you will enjoy The Proud Bird. This recently overhauled restaurant, directly in the flight path of LAX, may never earn any Michelin stars, but the food-hall concept is pleasantly laid-back, with options like chicken and waffles, pizzas and smoked meats from Bludso's, one of the city's most revered names in barbecue. For those close-ups of approaching jumbo jets, be sure to grab a patio table.
The Rooftop by JG photo by Wonho Frank Lee.