10 Essential Los Angeles Art Walks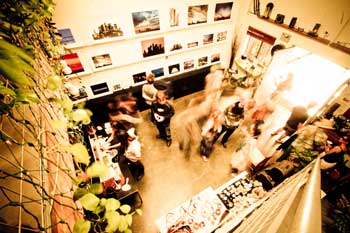 If you're looking for some of the best Los Angeles events, WHERE Los Angeles rounds up 10 art walks in October and beyond.
Adapted from Walk This Way by Suzanne Ennis in the October Issue of WHERE Los Angles Magazine
You say you're an arts lover? Don't just talk the talk—walk a walk! At organized art walks across Los Angeles County, galleries uncork bottles of bubbly, artists show off their creations and restaurants and shops stay open late to welcome visitors eager to check out original art and mingle with fellow enthusiasts. We round up 10 fun (and free!) art walks, gallery nights and other hip, arts-focused happenings.  Find out what's going on, and when!
San Pedro First Thursday Art Walk
➳Kicking off the month is the San Pedro First Thursday Art Walk (Oct. 3). The old downtown buzzes with live music, open studios, art shows and demonstrations, food trucks and entertainment, plus a one-hour guided art tour meeting at 6:30 pm at the San Pedro Chamber of Commerce at 7th and Mesa streets. More than 30 galleries and studios in this vibrant, creative community open their doors, and local restaurants and shops get into the spirit, staying open late and offering specials to coincide with the growing community event. For an extra dollop of charm, park for free at Ports O' Call Village and take the vintage Downtown Trolley to and from downtown.
When: First Thursday each month
(Oct. 3) from 6–9 pm
Where: Primarily from 4th to 7th streets, and from Pacific Avenue to Palos Verdes Street. Ports O' Call is located at Berth 76, Nagoya Way.
More info: 1stthursday.com, 310.832.7272
First Fridays Long Beach
➳The recently revitalized neighborhood of Bixby Knolls in Long Beach presents its monthly art-centric event First Fridays Long Beach (Oct. 4). Locals fill the arts venues hosting openings on these First Fridays and patronize dozens of local businesses along and around Atlantic Avenue, who partner with independent artists to exhibit their work. The event also features 10-plus local bands and entertainers, interactive events and extended shopping hours at unique boutiques such as Bella Cosa at the southern end of the strip, where you can pick up First Fridays maps and other event information. Local restaurants serve late into the night, and visitors can hop on the Big Red Bus for transportation from venue to venue.
When: First Friday each month
(Oct. 4), 6:30–9:30 pm
Where: Atlantic Avenue in Bixby Knolls, from East San Antonio Drive to East Bixby Road
More info: firstfridayslongbeach.com, 562.595.0081
Abbot Kinney First Fridays
➳Up the coast in free-spirited Venice, the scene at Abbot Kinney First Fridays (Oct. 4) is downright rollicking. Five years after its inception, the monthly event attracts more than 1,500 people from across the city to a roughly seven-block stretch lined with some of L.A.'s coolest boutiques and restaurants. When the crowds and food truck lines get too big to endure, find respite at one of the many fantastic local contemporary art galleries, such as C.A.V.E. Gallery near Westminster Avenue, that host receptions and new artist openings to coincide with the event. Parking can be challenging in this ultra-happening but fairly small 'hood, so arrive early or consider public transportation or a taxi.
When: First Friday each month (Oct. 4), 5–10 pm
Where: Abbot Kinney Boulevard in Venice between Venice and Brooks boulevards
More info: abbotkinney1stfridays.com
Downtown Los Angeles Art Walk
➳One of the area's best-known, biggest-budget art walks, which draws an estimated 25,000 visitors to downtown's Historic Core and Gallery Row every second Thursday of the month, takes place rain or shine. The self-guided Downtown Los Angeles Art Walk (Oct. 10) includes some 50 participating galleries, dozens of participating restaurants and other businesses, a million dollars of entertainment, live art demonstrations, an Art Walk Lounge and food trucks galore. This walk manages to be at once a huge block party and an event for the serious art collector given the breadth, quality and variety of the galleries in this burgeoning arts district.
When: Second Thursday each month (Oct. 10), about 6–10 pm (some galleries open midday)
Where: Primarily on Spring and Main streets between 2nd and 9th streets. Art Walk Lounge located at 634 S. Spring St.
More info: downtownartwalk.org, 213.617.4929
Pasadena ArtWalk in the Playhouse District
➳In Pasadena, the eighth annual Pasadena Art Weekend presents four art-themed events, including the Pasadena ArtWalk in the Playhouse District (Oct. 12). El Molino Boulevard transforms into a pop-up gallery, where some 30 artists display more than 3,000 original works in pottery, painting, photography and more. In addition to the juried show, attendees can also enjoy music from tango-jazz group Afrotango Ensemble, docent- and self-led architectural tours, art installations on nearby crosswalks and utility boxes on Colorado Avenue, and hands-on art activities. Another bonus: free museum admission at the Pacific Asia Museum on North Los Robles Avenue and reduced museum admission at Pasadena Museum of California Art on East Union Street.
When: Saturday, Oct. 12, 11 am–5 pm
Where: 25 S. El Molino Ave.
More info: playhousedistrict.org/artwalk, 626.744.0340
Pomona Art Walk
➳In the far east of the county, the first installment of the twice-monthly Pomona Art Walk (Oct. 12), on the second Saturday each month, hits the street. More than three dozen galleries on and around 2nd Street downtown, such as tattoo studio Ink'd Chronicles on 2nd and the American Museum of Ceramic Art on Garey Avenue, host openings or receptions to draw in an eclectic crowd. If you don't make it to all of the galleries and open studios on the second Saturday, complete your rounds at the neighborhood's smaller-scale Last Saturday art walk, which falls—you guessed it—on the last Saturday of the month (Oct. 26).
When: Second Saturday each
month (Oct. 12), 3–9 pm; last Saturday
each month (Oct. 26), 6–9 pm
Where: A roughly five-block area centered on 2nd and Main streets in the Pomona Arts Colony
More info: downtownpomona.org/events-calendar/art-walk, 909.469.1121
NELAart Second Saturday Gallery Night
➳The Northeast Los Angeles Arts Organization hosts its growing monthly art celebration, NELAart Second Saturday Gallery Night (Oct. 12). Across neighborhoods including Highland Park, Eagle Rock and Mount Washington, more than 50 participating artists, galleries and art organizations put on all manner of art shows, from dance performances and live music to gallery receptions and open studios (don't miss the Cypress Park "art tunnel" mural at Figueroa and Loreto streets). The car-averse can find plenty of artistic and culinary diversion on the walkable, super-hip stretch along York Avenue between Avenues 50 and 52 in Highland Park. For a unique "spin" on the night, join Flying Pigeon LA's free Spoke(n) Art Ride, a gallery-to-gallery bike tour.
When: Second Saturday each month
(Oct. 12), 7–10 pm (varies by gallery)
Where: Northeast Los Angeles, primarily along Eagle Rock and Colorado boulevards; North Figueroa Street between Cypress and Pasadena avenues and near Avenue 57; and York Avenue between avenues 50 and 52. Flying Pigeon LA is located at 3404 N. Figueroa St., Cypress Park
More info: nelaart.org, 323.387.9705
Long Beach 2nd Saturday Art Walk
➳Meanwhile, there's the Long Beach 2nd Saturday Art Walk (Oct. 12) in the city's happening East Village Arts District. This family-friendly event transforms Linden Avenue into a street fair featuring art installations and exhibits, vendors, live on-stage performances, a hands-on "Children Station" and a fashion show. Nearby, businesses extend hours and galleries host special receptions (October's slate includes openings at Hellada Art Center, Stone Rose Gallery and ArtExchange).Aspiring Picassos young and old can even submit an original work to the free, open-to-all Long Beach Masterpiece art contest, which awards a cash prize to one winner.
When: Second Saturday each month
(Oct. 12), 4–10 pm
Where: Elm to Atlantic avenues and 1st to
4th streets in the East Village Arts District
More info: artwalklb.com, 562.682.9735
Brewery ArtWalk
➳Spread across the 16-acre campus of a former Pabst Blue Ribbon Brewery in the Eastside neighborhood of Lincoln Heights, the Brewery is a residential art complex comprising live/work industrial–style lofts. At the twice-annual Brewery ArtWalk (Oct. 12–13), more than 100 artists working in a huge range of media showcase their work, and visitors get an inside glimpse of the artists' frequently awesome (and occasionally weird) living and working spaces. Expect to spend the whole day or even both days just exploring the studios, with breaks to fuel up at the centrally located beer garden and at the Brewery's on-site restaurant, Barbara's at the Brewery.
When: Oct. 12–13, 11 am–6 pm
Where: 200 N. Main St., downtown
More info: breweryartwalk.com, 323.638.9382
Beverly Hills Artshow
➳The biannual Beverly Hills Artshow (Oct. 19–20) sets up across four blocks of the historic Beverly Gardens Park. Some 240 exhibitors from near and far show their works, food trucks and a wine and beer garden sustain the crowd, and organizers and contributors present special exhibits and games that reflect the show's yearlong theme, Games and Puzzles in Art. Businesses and cultural venues get involved as well: The Paley Center for Media, for one, hosts an artist's reception on the museum's rooftop on Saturday evening. Put your art appreciation in motion by joining one of the Beverly Hills Conference and Visitors Bureau's art and cultural tours, which begin at 11 am, noon and 1 pm, and end at the art show.
When: Oct. 19–20, 10 am–5 pm
Where: Beverly Gardens Park on Santa Monica Boulevard from North Rodeo to Rexford drives
More info: beverlyhills.org/exploring/beverlyhills
Create Your Own Path
➳If you can't attend any of these artwalks and gallery nights, you're still in luck: Self-guided public-art and gallery walking-tour maps are available on the official websites of many of Los Angeles' artsiest neighborhoods, including Culver City, West Hollywood and Santa Monica. Between these DIY and organized walks and the other special art-focused events happening throughout the county, there are plenty of opportunities to take advantage of L.A.'s thriving art scenes and creative communities. You just have to take the first step.