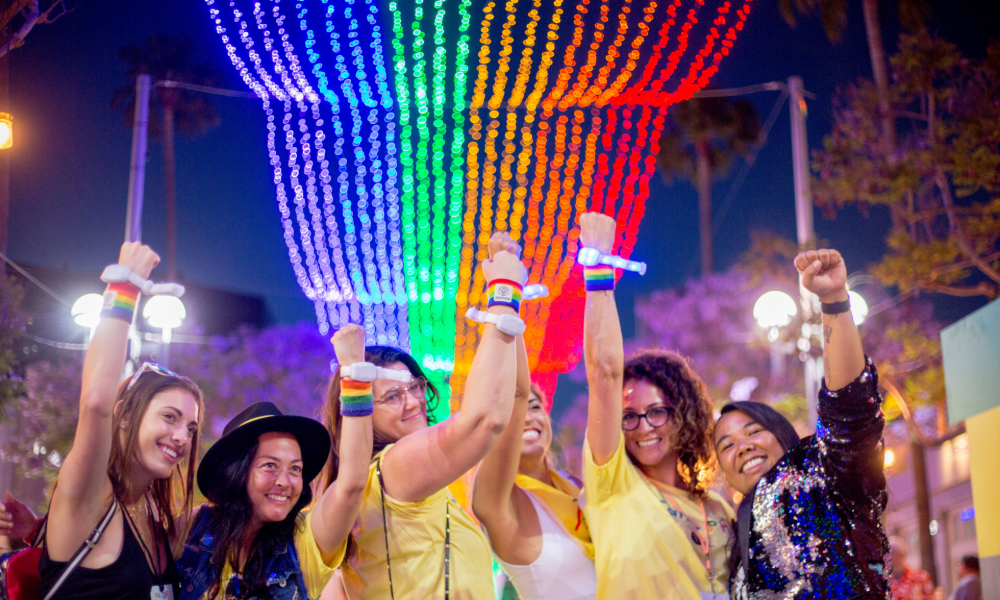 Mass meditation, an alien convention and creative ways to imbibe libations. Read about the most exciting events in L.A. this weekend so you don't miss out.
Edited by Alicia Luchak.
EVENTS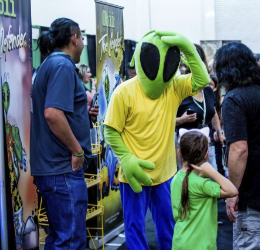 AlienCon
June 21 – 23. Dive into the great unknown at this smash-hit celebration of all things extraterrestrial. History Channel and Mischief Management put together a nonstop lineup of interviews, panels, meet & greets and more with stars and experts from  Ancient Aliens, Star Trek and International UFO Congress—to name a few. Also, check out the costume contest and marketplace full of exclusive merch. Whether you're a curious newcomer or a sci-fi fanatic, AlienCon is sure to be out of this world. Tickets start at $62. Visit website for schedule. Los Angeles Convention Center, 1201 S. Figueroa St., downtown. thealiencon.com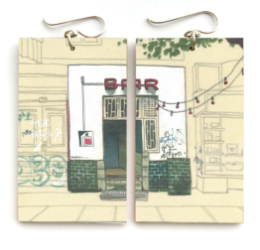 Beer Art Fair and Contest 
June 22 & 23. Beer Week comes to a close this weekend with a bang: a beer-related art fair and contest at Mikkeller beer hall. Admire—or shop for—an extensive array of unique pieces crafted by talented local artists. There's even a booth for free temporary tattoos. For those of you want to add some creativity to the mix with some of your own beer-themed pieces, sign up while you still can! Otherwise, relax and enjoy two days of brewery-buff bliss. 21 +. June 22 11 a.m.- June 23 6 p.m. 330 W. Olympic Blvd., downtown. mikkellerbar.com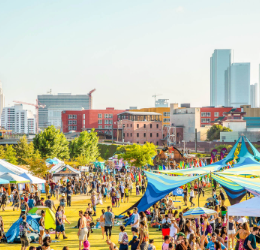 DisclosureFest
June 22. This third-annual all-day yoga and arts festival is returning to Los Angeles State Historic Park with an expected turnout of a whopping 20,000 people—double the size of last year. While the main event will be the live-streamed mass meditation, there will also be fresh plant-based vegan cuisine, live music, workshops, internationally known speakers and more. While there is a free ticket option, if you pay a little more for a fast pass, your money will go toward causes such as youth programs and homeless initiatives. 10 a.m.-10 p.m.1235 N. Spring St., downtown. Tickets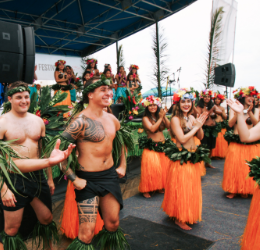 Pier 360 
June 22 & 23. The famed Santa Monica Pier won't be resting this weekend. It'll be hosting live music and dance performances, interactive games, ocean sports competitions and brand sampling—the list goes on. Whether you go with your family or single adult friends, you won't have any trouble finding a group activity that everyone can enjoy. One of the most highly anticipated events is the first-ever SaMo Pride Bar Crawl, which starts at the pier on Saturday afternoon before making its way down Ocean Avenue. Check out the website for the complete schedule. 200 Santa Monica Pier, Santa Monica. santamonicapier.org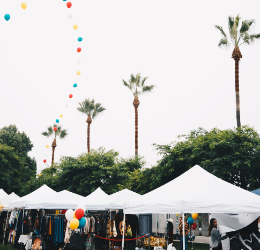 Summer Fest at Artists & Fleas
June 22. Venice's beloved flea market, Artists & Fleas, is pulling out all the stops for this all-day artistic celebration. With an exciting lineup of merchants, tastemakers, designers and curators, the event will have no shortage of artistry to explore. Not only will there be contests, live demonstrations and DIY workshops, but shoppers can visit a mobile cat cafe where they can cozy up with coffee and some adoptable feline friends. 11 a.m.-5 p.m. 1010 Abbot Kinney Blvd., Venice. artistsandfleas.com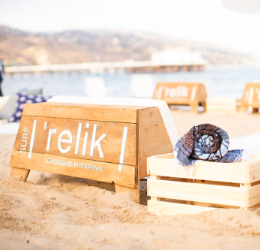 Relik Longboard World Tour
June 22 & 23. This weekend, Relik's one-of-a-kind surf competition returns to Surfrider Beach in Malibu, with 48 of some of the best male and female surfers from around the globe competing for $200,000 in prize money. Both days from 7 a.m.- 5 p.m. Surfrider Beach, Malibu. surfrelik.com
Art Beyond the Glass
June 23. Come see L.A.'s premier art and cocktail showcase and behold the creative side of over 100 talented bartenders—including some of the city's top mixologists. Now a national event, ABTG also encourages participation from bars across the country. Hosted in the spacious two-story nightclub Los Globos, this special event is full of imaginative costumes, decor and festive themed drinks. Not to mention, there will also be live bands, DJ sets, an art exhibit and plenty of food. Proceeds go toward Beautify Earth. 3-7 p.m. $75 at the door; $70 online. 3040 Sunset Blvd., Silver Lake Tickets
FOOD + DRINK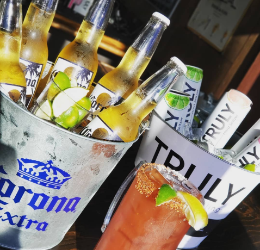 Women's World Cup at Big Wangs
June 20. Start the weekend early by cheering on the lovely ladies of the United States' women's national soccer team. This Thursday, watch the USA vs. Sweden match on dozens of HDTVs while enjoying food and drink specials at Big Wangs. With breakfast burritos and bloody mary steins for $12 and drink buckets for only $20, you've got loads to get rowdy about. Stop by either location—801 S. Grand Ave., downtown or 5300 Lankershim Blvd., North Hollywood. bigwangs.com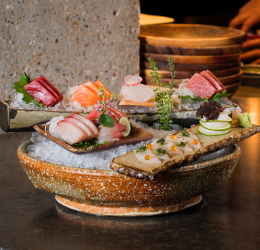 Inko Nito: Fire Feast
June 23. To commemorate its newly launched menus and bar space, Inko Nito teamed up with chef Ricardo Zarate (Rosaline, Pikoh, Las Vegas' Once). For one night only, guests can enjoy a family-style feast featuring the Japanese eatery's fresh dishes and the delicious craftsmanship of the highly revered Peruvian chef in a collaborative culinary celebration. $60+. Tickets 225 S. Garey St., downtown. 310.999.0476. inkonitorestaurant.com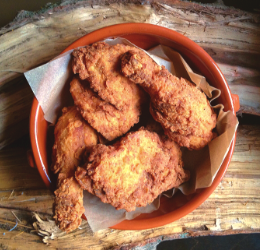 "Tennessee Style" Indoor Picnic
June 23. Kick back and enjoy a night of some Southern comfort inspired by Lucques owner Suzanne Goin's visit to the famous Blackberry Farm in the foothills of the Great Smoky Mountains. Feast on fun dishes like sweet-tea-brined fried chicken, succotash salad, pulled pork "sundaes," housemade biscuits and some apricot-cherry cobbler and buttermilk ice cream for dessert. Be sure to grab a specialty Tennessee whiskey cocktail while you're there. $65 per person. 5-9:30 p.m. 8474 Melrose Ave., West Hollywood. 323.655.6277. www.lucques.com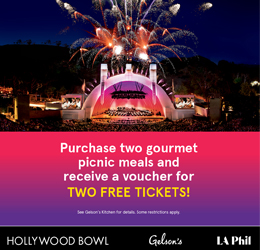 SPONSORED
Gelson's
Don't let the summer slip by without enjoying a delicious picnic meal from Gelson's! Whether it's an afternoon with your family in the great outdoors or a sophisticated summer soirée, the gourmet market's freshly made, flavorful picnic fare will delight your palate. Plus, when you buy two Gourmet Picnic Meals, you'll receive two FREE tickets to the Hollywood Bowl! Click the link for details.
ARTS + CULTURE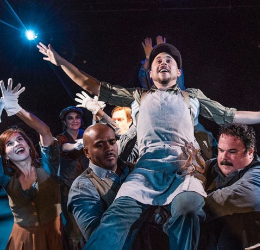 Gather: Surprising Stories & Other Mischief
Through June 22. Oscar and Tony nominee John C. Reilly and an ensemble of actors create an evening of story theater full of legendary creatures and colorful characters. See website for show times and ticket prices. Pasadena Playhouse, 39 S. El Molino Ave., Pasadena, 626.356.7529. pasadenaplayhouse.org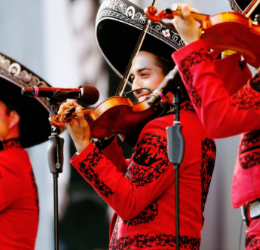 Mariachi USA
June 22. The premiere mariachi music festival and only annual Latinx-themed event at the Hollywood Bowl celebrates 30 years with the top mariachi bands from the U.S. and Mexico, traditional folkloric dance and a legendary fireworks finale. 6 p.m. Preshow activities begin at noon. See website for ticket prices. Hollywood Bowl, 2301 N. Highland Ave., Hollywood, 323.850.2000. hollywoodbowl.com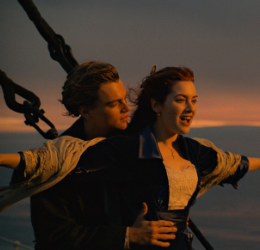 Titanic Live!
June 22. James Cameron's Oscar-winning film will be shown outdoors with New West Symphony performing James Horner's epic score, live. 7:30 p.m. $25-$175. William Rolland Stadium, Cal Lutheran University, 60 W. Olsen Road, Thousand Oaks. newwestsymphony.org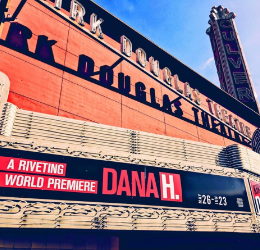 Dana H.
Through June 23. This play tells the story of Dana Higginbotham—a psych-ward chaplain who was held captive by an ex-convict for five months—in Dana's own words and reconstructed for the stage by her son, award-winning playwright Lucas Hnath. Kirk Douglas Theatre, 9820 Washington Blvd., Culver City, 213.628.2772. centertheatregroup.org
Photos: SaMo Pride Bar Crawl by Tiffany Rose. Aliencon by Cheri Root. Beer Art Fair and Contest courtesy Wonho Frank Lee. DisclosureFest by The Tri. Artists & Fleas courtesy Artists & Fleas. Longboard Tour courtesy Relik. Pier 360 courtesy @santamonicapier/Instagram. Art Beyond the Glass by Eugene Lee. Women's World Cup at Big Wangs courtesy @bigwangsla/Instagram. Inko Nito: Fire Feast courtesy Inko Nito. "Tennessee Style" Indoor Picnic courtesy Lucques. Gelson's courtesy Gelson's. Gather courtesy @pasadenaplayhouse/Instagram. Mariachi USA courtesy the Hollywood Bowl. "Titanic" courtesy 20th Century Fox. Dana H courtesy @ctgla/Instagram.