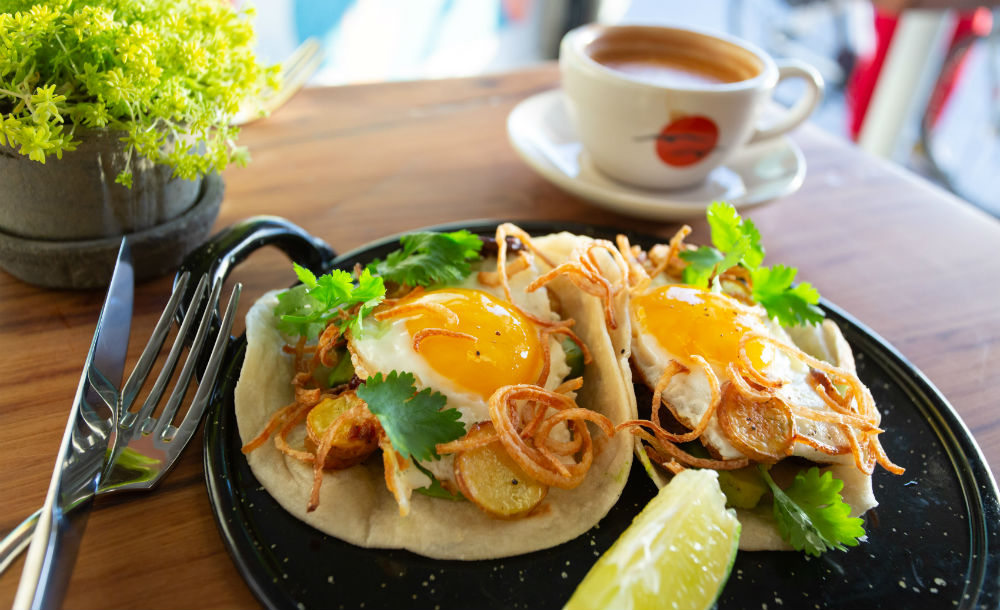 This weekend includes several Halloween treats, new art to see and new restaurants to try. Check out our top Los Angeles weekend event picks for October 25-28.
Edited by William Yelles.
EVENTS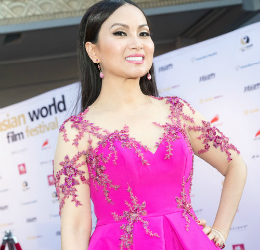 Asian World Film Festival
Oct. 24-Nov. 1. The Asian World Film Festival presents a diverse selection of films from over 50 countries in order to draw greater recognition to the region's wealth of filmmakers and strengthen ties between the Asian and Hollywood film industries. The theme of this year's fest celebrates women in film. See website for complete list of films and ticket prices. Arclight Cinemas, 9500 Culver Blvd., Culver City. asianworldfilmfest.org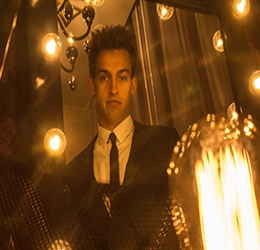 SPONSORED
See Illusionist Blake Vogt Live at iPic Westwood
Oct. 26-28. Blake Vogt is one of the world's most respected magicians. Over the past 10 years, he's created magic for the likes of David Blaine and David Copperfield. 17 Choices is a live magic experience performed exclusively at iPic Westwood. Also, don't forget to purchase a VIP post-show experience for an intimate meet and greet with Blake himself. F 6 p.m., Sa 6 p.m. and 9 p.m., Su 1 p.m. See website for ticket prices. 10840 Wilshire Blvd., Westwood, 310.307.7003. ipicmagic.com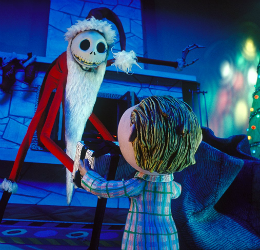 Tim Burton's "The Nightmare Before Christmas"
Oct. 26-28. Danny Elfman returns to the Hollywood Bowl to celebrate the 25th anniversary of Tim Burton's The Nightmare Before Christmas. He'll be singing as Jack Skellington with fellow castmembers live-to-film while the cult-favorite movie plays, accompanied by an orchestra and a choir. 8 p.m. See website for ticket prices. 2301 N. Highland Ave., L.A., 323.850.2000. hollywoodbowl.com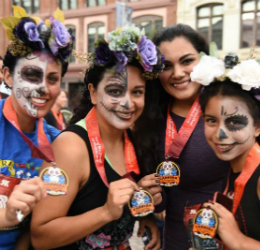 Carrera de los Muertos 5K
Oct. 27. Carrera de los Muertos is an annual 5k run through lower Chinatown towards Los Angeles State Historic Park that honors the Day of the Dead. Post-race activities at the finish-line festival include face painting to resemble skulls, decorating altars with bright orange marigold flowers, candles, photos and other memorabilia. 8 a.m. race; 10 a.m. festival begins. See website for race entry prices; festival is free. 845 N. Alameda St., L.A. losmuertos5k.com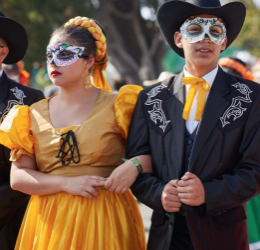 Dia de los Muertos Festival
Oct. 27. Celebrate Day of the Dead, Mexico's colorful and life-affirming holiday, at Hollywood Forever Cemetery, which presents its 19th annual Día de los Muertos festival. This year's event celebrates Coatlicue, "mother of the gods," and features Mexican cuisine, arts and crafts vendors, music by Grammy-winning artists, hundreds of Aztec ritual dancers, a traditional procession and over 100 altars honoring ancestors. Calaca, or skeleton, attire is encouraged. Noon-midnight. $25 GA; children 8 years and under and seniors 65+ free until 4 p.m. 6000 Santa Monica Blvd., L.A. ladayofthedead.com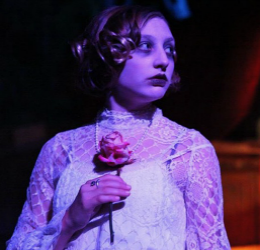 Theatricum BOO-tanicum
Oct. 27. Will Geer's Theatricum Botanicum transforms into the haunted BOO-tanicum with the company's eighth annual Halloween extravaganza, highlighted by its unique and infamous haunted house. Enjoy the tricks and treats of the season on the wooded grounds with a host of enticements including ghost stories, game booths, festive food and libations, performances by Creative PlayGround, Peter Alsop, comedy improv group Off the Grid and more. 4-10 p.m. $15 GA, $10 ages 6-15, free for kids under 6. 1419 N. Topanga Canyon Blvd., Topanga, 310.455.2322. theatricum.com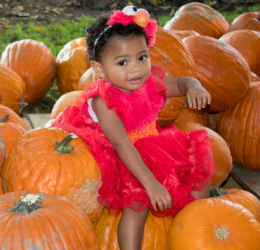 Marina Spooktacular
Oct. 27-28. This kid-friendly festival on the Los Angeles waterfront features costume contests, participatory dance events, arts and crafts and more. Daytime activities include carnival games, face painting, bounce houses, pumpkin carving and more but when night falls, the park evolves into a field of frights with tours of L.A's only haunted pirate ships recommended for teens and adults. 11 a.m.-9 p.m. Free. Burton Chace Park, 13650 Mindanao Way, Marina Del Rey, 424.526.7900. visitmarinadelrey.com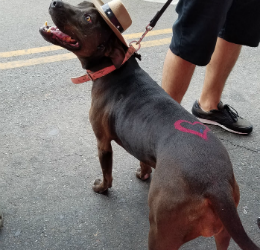 Eagle Rock Bark
Oct. 28. Eagle Rock Bark is a Halloween-themed block party and pet rescue adoption event with trick-or-treating, games and family-friendly fun for humans and pups. Entertainment includes a performance by Cookie the Psychic Wonder Dog, a human barking contest and a watermelon-eating contest (where you can compete with your own dog). 1-4 p.m. Free. Eagle Rock City Hall, 2035 Colorado Blvd., Eagle Rock. Tickets
FOOD + DRINK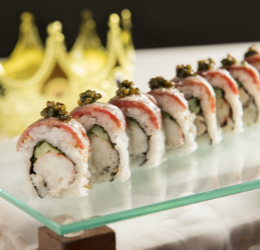 Katsuya King XXIII Roll
Now Available. To celebrate LeBron James joining the L.A. Lakers, Katsuya has created the King XXIII Roll made with king crab, Wagyu beef and topped with caviar. A portion of sales will be donated to the LeBron James Family Foundation to support its newly opened I PROMISE School in Akron, Ohio. The special creation ($35) is on the menu at all L.A. area Katsuya locations. 11777 San Vicente Blvd., Brentwood, 310.237.6174; 702 Americana Way, Glendale, 818.244.5900; 6300 Hollywood Blvd., Hollywood, 323.515.8782; 800 W. Olympic Blvd., L.A., 213.747.9797. katsuyarestaurant.com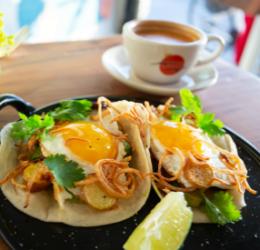 The Waterfront Venice
Now Open. Following an extensive months-long renovation, The Waterfront re-emerges on the Venice Beach boardwalk as an all-day cafe, sit-down restaurant, lounge and beer garden. Also new are the adjacent coffee and matcha tea bar and tacqueria offering breakfast tacos and other favorites. Seating at the 10,000-square-foot dog-friendly space is mostly outdoors—perfect for weekend brunch and people watching. M-Th 11 a.m.-10 p.m., F 11 a.m.-midnight; Sa 8 a.m.-midnight; Su 8 a.m.-10 p.m.; Boardwalk Tacos, 8 a.m.-8 p.m. daily. 205 Ocean Front Walk, Venice. thewaterfrontvenice.com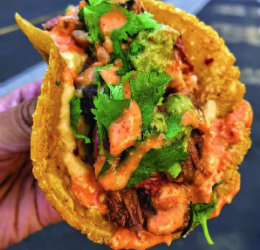 Eat. Play. Move.
Oct. 27. L.A.'s first "Filipino-Angeleno" food fest returns to the Arts District featuring Filipino flavored dishes created by local chefs and restaurants. There's also a beer garden, kids' activity area and musical performances by The Lokel Show. Noon-4 p.m. $5. N. Vignes St. and Jackson St., L.A. Tickets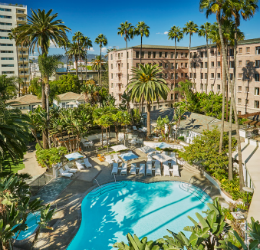 Sausage Fest 2018
Oct. 28. The Fairmont Miramar hosts an afternoon filled with sausages, local brews and a polka band. Sausages will be grilled up by chefs Jason Prendergast (executive chef of the hotel's FIG Restaurant), Ray Garcia (Broken Spanish) and Jonathan Butler (formerly of 71 Above). Windy City native Prendergast promises a hometown-inspired Chicago dog and an Italian sausage with vinegar braised peppers. 3-6 p.m. $35. Miramar Gardens at Fairmont Miramar Hotel & Bungalows, 101 Wilshire Blvd., Santa Monica, 310.319.3111. Tickets
ARTS + CULTURE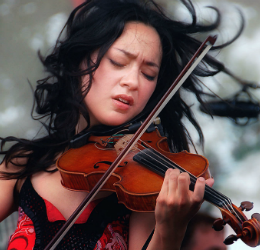 Lucia Micarelli
Oct. 26. Classical crossover artist Lucia Micarelli performs a concert program that moves from classical to jazz to traditional fiddle music and Americana. Micarelli is recognized throughout the world for being a featured soloist with Josh Groban, Chris Botti and Jethro Tull, and also for her starring role on HBO's Treme. Her PBS special aired this past spring. 7:30 p.m. $40-$70. The Broad Stage, 1310 11th St., Santa Monica, 310.434.3200. thebroadstage.org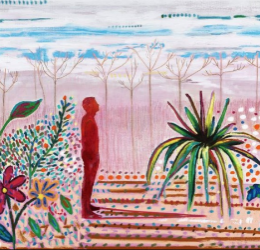 The Other Art Fair Los Angeles
Oct. 26-28. Following a spring launch in downtown L.A., the Other Art Fair makes its Westside debut. Presented by Saatchi Art, the Other Art Fair showcases work by 100 talented emerging artists, each hand-picked by a selection committee of art world experts. F 3-10 p.m., Sa 11 a.m.-8 p.m., Su 11 a.m.-6 p.m. $15 GA; $13.50 students and seniors. Barker Hangar, 3021 Airport Ave., Santa Monica. theotherartfair.com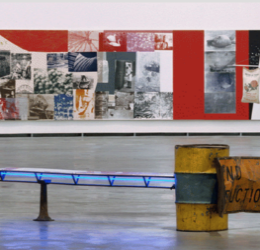 "Rauschenberg: The 1/4 Mile"
Opens Oct. 28. The Los Angeles County Museum of Art presents Rauschenberg: The 1/4 Mile, an expansive and immersive installation featuring pioneering American artist Robert Rauschenberg's magnum opus. Completed over a period of 17 years, The 1/4 Mile is composed of 190 panels that combined measure approximately 1,000 feet—or nearly a quarter mile—in length. M, Tu, Th 11 a.m.-5 p.m., F 11 a.m.-8 p.m., Sa-Su 10 a.m.-7 p.m. See website for ticket prices. 5905 Wilshire Blvd., L.A., 323.857.6010. lacma.org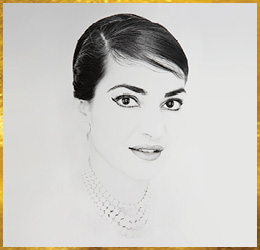 SPONSORED
"Maria By Callas" Coming Soon to a Theater Near You
Opens Nov. 2. Maria By Callas reveals the essence of an extraordinary woman who rose from humble beginnings in New York to become a glamorous international superstar and one of the greatest artists of all time. A loving portrait of one of history's most extraordinarily talented women told in a way that is revelatory, unprecedented, and authoritative. sonyclassics.com
STYLE + BEAUTY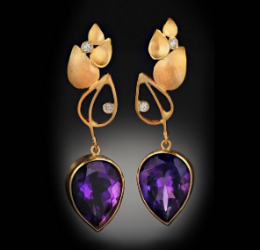 Contemporary Crafts Market
Oct. 26-28. Meet acclaimed artisans, decorators, designers and collectors and shop for hand-crafted, one of a kind works of functional, decorative and wearable art: furnishings, ceramics, blown glass, textiles, jewelry and more. F-Sa 10 a.m.-6 p.m., Su 10 a.m.-5 p.m. $8 GA; children 12 and under, free. Pasadena Convention Center, 300 E. Green St., Pasadena, 310.285.3655. Info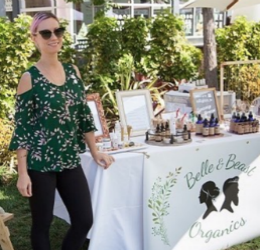 Artisanal LA Harvest Pop Up
Oct. 27. Shop locally-made gifts, handcrafted jewelry, candles, indulgences and more from 30+ merchants including Drunken Cake Pops, Hush Beauty Labs, Pacific Pickle Works, Rose Gypsy and many more. 10 a.m.-5 p.m. Free. The Point, 850 S. Sepulveda Blvd., El Segundo, 310.414.5280. thepointsb.com
Asian World Film Festival photo courtesy Asian World Film Festival. "The Nightmare Before Christmas" ©1993 Disney Enterprises, Inc. Carrera de los Muertos 5K photo courtesy Generic Events. Dia de los Muertos Festival photo by Mauricio Hoyos. Theatricum BOO-tanicum photo by Claire Bryett Andrew. Marina Spooktacular photo courtesy Marina del Rey Convention & Visitors Bureau. Eagle Rock Bark photo courtesy Fitzburgh Realty/Homes Fur All. Katsuya photo by Ryan Forbes. Eat Play Move photo courtesy @eatplaymovela/Instagram. Sausage Fest photo by Christian Horan Photography. Lucia Micarelli photo courtesy The Broad Stage. The Other Art Fair artwork (Chrys Roboras, "Pink Horizons," acrylic, oil, conte and pastel on canvas) courtesy @theotherartfair/Instagram. "Robert Rauschenberg, The 1/4 Mile or 2 Furlong Piece," 1981–98, installation view, Robert Rauschenberg: A Retrospective, Guggenheim Bilbao Museoa, 1998–99, ©Robert Rauschenberg Foundation, photo ©FMGB Guggenheim Bilbao Museoa, by Erika Barahona Ede. Contemporary Crafts Market photo of jewelry by Rosario and Enrique Garcia courtesy @contemporarycraftsmarket/Instagram. Artisanal LA photo courtesy @thepoint_sb/Instagram.
[et_bloom_inline optin_id=optin_11]