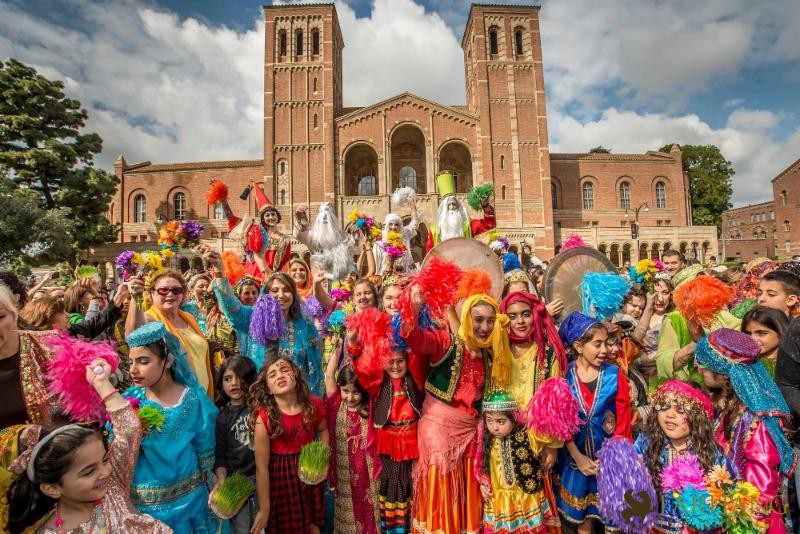 Festivals of colors and kites, International Women's Day, Iranian New Year and more…Check out our top L.A. weekend event picks for March 7-10.
Edited by William Yelles.
Reminder: Daylight Savings Time begins at 2 a.m. Sunday.
EVENTS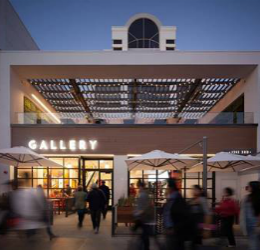 International Women's Day
March 8. The Gallery food hall celebrates International Women's Day with outdoor yoga, happy hour featuring sounds mixed by DJ Lezlee of Real 92.3 and a woman-powered lineup of musicians including rapper QVEEN Herby and soul singer Madison Watkins (America's Got Talent). Bev sparkling rose wine specials priced at $8 will be served throughout the day; a portion of the proceeds will be donated to non-profit Visionary Women. 2:30 p.m. yoga; 5 p.m. happy hour; 7-10 p.m. concert. Free. Registration required for yoga class. 1315 3rd Street Promenade, Santa Monica. Tickets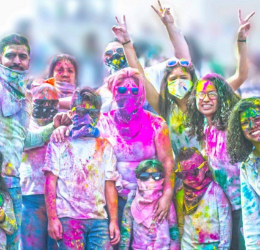 Festival of Colors
March 9-10. Tens of thousands of partygoers converge at Whittier Narrows Park to mark Holi—the traditional Hindu custom where individuals welcome spring by dousing each other in colorful powders. Yoga, bhangra (Punjabi folk dancing) and musical performances with a spiritual bent round out the festivities. See website for complete schedule. Event held rain or shine. Sa 11 a.m.-5 p.m., Su 11 a.m.-4 p.m. $6.50, if purchased online; kids 12 and under free. Whittier Narrows Park, The Meadows, 750 S. Santa Anita Ave., South El Monte. festivalofcolorsusa.com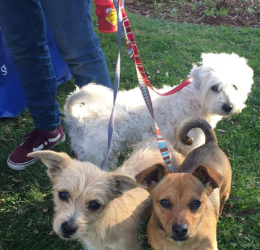 Bowling for Paws
March 10. Put on some bowling shoes and make a strike for the animals. Bark Avenue Foundation and Home Dog LA are hosting a fundraiser to keep pets out of animal shelters. Entry fee includes bowling shoes and a lane for bowling with friends. Also vegan food and drinks for purchase and a silent auction. 1:30-4 p.m. $20-$40. Pickwick Bowl, 921 W. Riverside Drive, Burbank. Tickets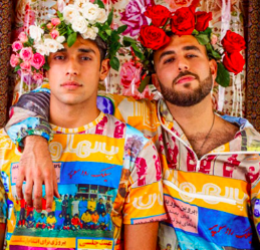 Farhang Nowruz Celebration
March 10. The Farhang Foundation celebrates Nowruz (the Iranian New Year) with a variety of activities and entertainment including a colorful Spring Walk parade, traditional dance performances, an Iranian Tea House, puppet shows and authentic musical performances. See website for complete schedule of activities. Noon-5 p.m. Free. Dickson Court, UCLA campus. farhang.org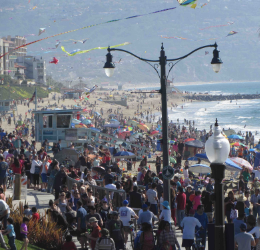 Festival of the Kite
March 10. If you ever wanted to tell someone to go fly a kite, now's your chance. This community event features the opportunity to launch a 25-foot-wide kite, Prizes for best homemade kite, highest flying kite, youngest kite flyer and more. Other activities include a hot dog on a stick eating contest. Noon-5 p.m. Free. Redondo Pier, 100 Fisherman's Wharf, Redondo Beach. redondopier.com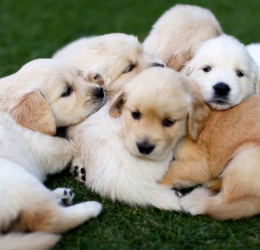 Pedaling for Puppies
March 10. The CycleBar cycling studio in Culver City commemorates its two-year anniversary with several weekend charity rides including one for Michelson Found Animals Adopt & Shop; the charity will have puppies available for adoption at the studio as part of the event. 8:30 a.m.-1:30 p.m.; charity ride at noon. $25 suggested donation. 4130 Sepulveda Blvd., Studio C, Culver City, 323.325.5759. cyclebar.com
FOOD + DRINK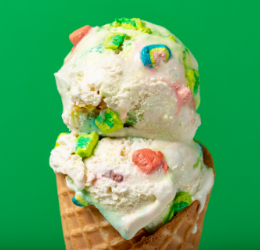 Salt & Straw's Flavor Vault Series
Now Available. Salt & Straw has brought back beloved ice cream flavors from its past including Pots of Gold & Rainbows—cereal-infused sweet cream ice cream with Lucky Charms marshmallows incorporated throughout. Also Wild-Foraged Berry Slab Pie, Smoked Sea Salt & Chocolate Crack, Cupcake Royale's Salted Caramel Cupcake and Silencio Black Tea & Coconut Stracciatella. 8949 Santa Monica Blvd, West Hollywood; 829 E. 3rd St., downtown; 12180 1/2 Ventura Blvd., Studio City; 1357 Abbott Kinney Blvd., Venice; 240 N. Larchmont Blvd., Hancock Park. saltandstraw.com
Openaire x Moonrise Standard x Madre Mezcal
March 7. Moonrise Standard teams up with Madre Mezcal and the poolside greenhouse restaurant Openaire at LINE LA to bring the essence of Oaxacan livelihood in the heart of Koreatown. Guests will enjoy appetizers and a seven-course menu, all paired with mezcal over the slow-tempo of traditional boleros. Reservations a must. 7:30-10:30 p.m. $125. The LINE Hotel, 3515 Wilshire Blvd., L.A., 213.368.3065. thelinehotel.com
PPLA Food Fare
March 7. The 40th annual food event features tastings from more than 150 restaurants, caterers, vendors, wineries and breweries. Participating venues include AR Cucina, Baltaire, Maple, Otium and Salazar. Crustacean Beverly Hills' Helene An is being recognized as chef of the year. Proceeds benefit Planned Parenthood Los Angeles. Daytime session 11 a.m.-1 p.m.; evening session 6:30-9:30 p.m. $150-$350. Barker Hangar, 3021 Airport Ave., Santa Monica, 213.284.3300. pplafoodfare.com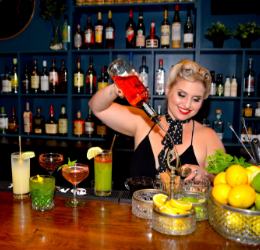 The Mermaid Wig Party
March 8. Grab your favorite wig and head on down to The Mermaid to celebrate the achievements of women. In honor of International Women's Day, the women of The Mermaid have curated a specialty cocktail made with women-led distillers and spirits founders. Enjoy food and drink specials (extra bonus drink specials if you wear a wig), then enjoy a rock n' roll music night from DJ Liuba. 5 p.m.-1 a.m. The Mermaid, 428 E. 2nd St., Litlle Tokyo. themermaidla.com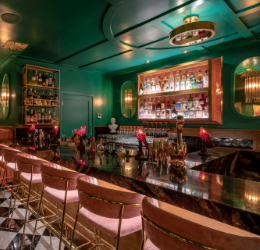 Society Room at Conservatory
March 8-9. In celebration of International Women's Day, Society Room at Conservatory will open for special hours for this coming weekend only, with a specialty list of cocktails saluting inspiring women around the world. In conjunction with Yola Mezcal, a women-owned and operated Mezcal brand that prides themselves on promoting the economic independence of women in Oaxaca, Mexico. 3-7 p.m. Cocktails $13 each. 8289 Santa Monica Blvd., West Hollywood, 323.654.0020. conservatoryweho.com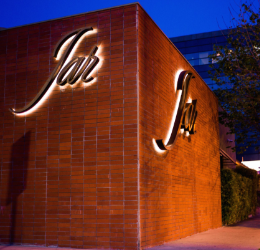 The Bear and Star Pop-Up
March 10. Chef Suzanne Tracht of Jar hosts Chef John Cox of The Bear and Star, and Fess Parker Rancher Katie Parker McDonald showcasing specialty selections from this Central Coast gem. Chef John and Katie Parker McDonald, the granddaughter of the late Fess Parker, will be on hand with their 30′ custom-built reverse-flow Texas smoker to smoke and grill meats and produce sourced from the Fess Parker Ranch and farm for this one-night-only dinner. Jar's favorite salads and desserts complement the menu. Reservations required; available from 5:30 p.m. $120. Jar, 8255 Beverly Blvd., L.A., 323.655.6566. thejar.com
ARTS + CULTURE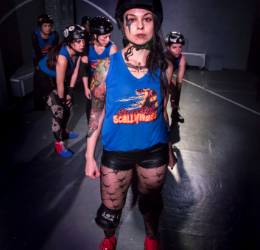 Block Party 2019
Opens March 7. This third annual celebration of the L.A. theater scene spotlights three encore productions from outstanding local theater companies. For the Love of (or, the Roller Derby Play) runs March 7-17; Rotterdam opens March 28. See website for show times and ticket prices. Kirk Douglas Theatre, 9820 Washington Blvd., Culver City, 213.628.2772. centertheatregroup.org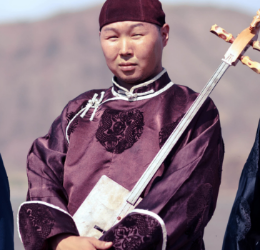 Alash
March 8. The Eli and Edythe Broad Stage presents a rare performance by Alash, a trio of master throat singers from Tuva, a tiny republic in the heart of Central Asia. Grounded in tradition while expanding its musical vocabulary with new ideas from the West, the ensemble and its individual members have consistently won top honors on the highest stages. 7:30 p.m. $40-$65. 1310 11th St., Santa Monica, 310.434.3200. thebroadstage.org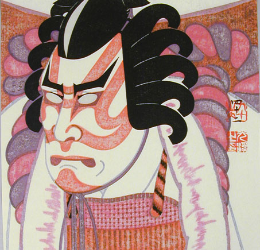 ArtNight Pasadena
March 8. Enjoy a free evening of art, music and entertainment as Pasadena's most prominent arts and cultural institutions—including USC Pacific Asia Museum where a kabuki prints exhibition is now on view—swing open their doors. Attendance is expected to top the 16,000 people who participated in the event last fall. Top food trucks will be on hand as well. See website for complete list of activities and venues. Free shuttles run all evening with stops at each venue. Park at any one venue and ride to the others. 6-10 p.m. Free. artnightpasadena.org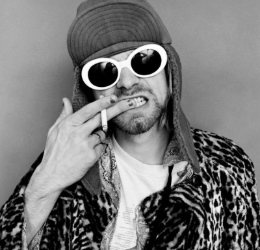 Grunge: The Rise of a Generation
Opens March 8. In honor of what would have been Kurt Cobain's 50th birthday, Morrison Hotel Gallery presents a photography exhibit celebrating grunge music, the fashion, the attitude and its impact on anyone who has listened to Nirvana, Soundgarden, Pearl Jam or worn a flannel shirt. M-W 10 a.m.-7 p.m., Th-Sa 10 a.m.-11 p.m., Su 11 a.m.-6 p.m. Free. Morrison Hotel Gallery, Sunset Marquis, 1200 Alta Loma Road, West Hollywood, 310.881.6025. morrisonhotelgallery.com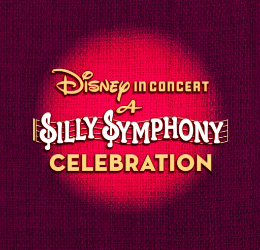 Disney in Concert, a Silly Symphony Celebration
March 10. Disney in Concert, a Silly Symphony Celebration is a tuneful and colorful celebration from the 75 groundbreaking cartoons produced at the Walt Disney Studios between 1929 and 1939. Six of these innovative, entertaining, and classic films will be screened with the CSUN Symphony Orchestra conducted by John Roscigno playing live. The program includes Three Little Pigs, with possibly the most popular song ever from a short "Who's Afraid of the Big Bad Wolf?" 3 p.m. $30+. The Soraya, 18111 Nordhoff St., Northridge, 818.677.3000. thesoraya.org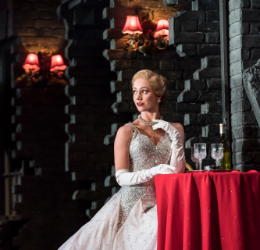 Cinderella
Through March 10. In New Age's production of the classic fairy tale, choreographer Matthew Bourne transforms the princess story into a wartime romance with a twist of Hollywood glamour—all set to a score by Prokofiev. See website for show times and ticket prices. Ahmanson Theatre, 135 N. Grand Ave., downtown, 213.628.2772. centertheatregroup.org
Photos: Farhang Nowruz Celebration courtesy Farhang Foundation. International Women's Day courtesy The Gallery. Festival of Colors courtesy Festival of Colors USA/Facebook. Bowling for Paws courtesy @barkavenuefoundation/Instagram. Festival of the Kite courtesy Redondo Pier/Facebook. Pedaling for Puppies courtesy Cyclebar. Salt & Straw's Flavor Vault Series courtesy Salt & Straw. Openaire by Sydell Group/Chase Daniel. PPLA Food Fare courtesy PPLA Food Fare. Wig Party at The Mermaid courtesy The Mermaid. Society Room at Conservatory by Ryan Tanaka. The Bear and Star Pop-Up courtesy Jar. Block Party 2019 by Photo by Darrett Sanders. Alash courtesy Alash. ArtNight Pasadena (Tsuruya Kokei, "Matsumoto Koshiro as Kamakura Kengoro," Japan, July 1991, Ink on Ganpi paper) courtesy USC Pacific Asia Museum Collection. Grunge: The Rise of a Generation (Kurt Cobain "The Last Session", 1993) ©Jesse Frohman courtesy Morrison Hotel Gallery. Disney in Concert courtesy The Soraya. "Cinderella" by Johan Persson.