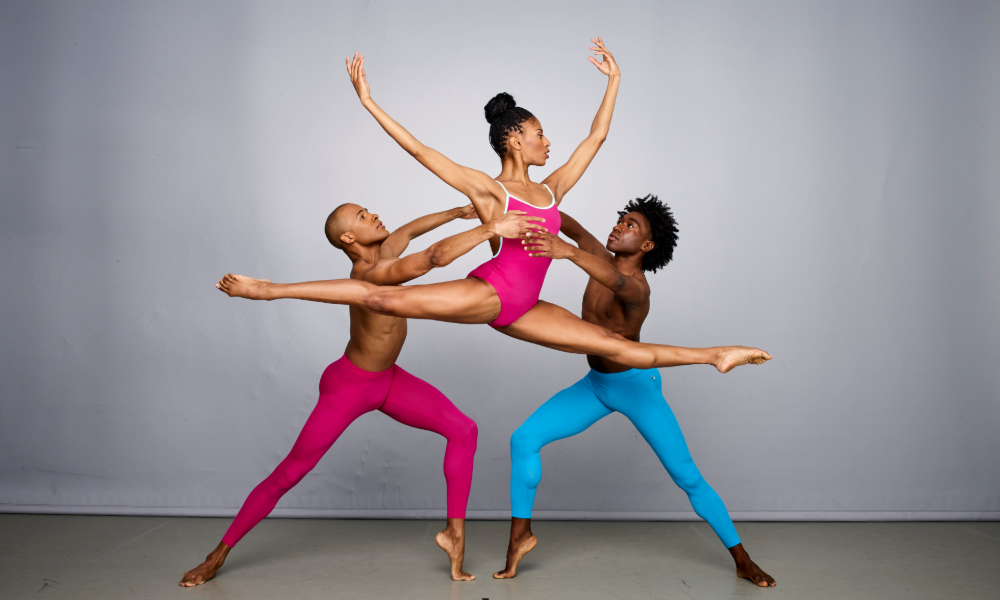 The Brewery Artwalk, Masters of Taste, new brunch options and more…Check out all of our top Los Angeles weekend event picks for April 4-7.
Edited by William Yelles.
EVENTS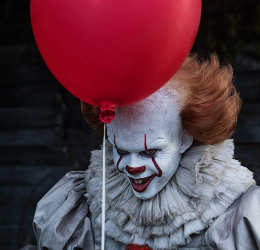 I Like Scary Movies
Opens April 4. The multi-sensory immersive art installation inspired by some of Warner Bros. Pictures' and New Line Cinema's most iconic scary movies will lure fans into artistic reinterpretations of the worlds of the first chapter in the IT saga, The Shining, Beetlejuice, The Lost Boys, and A Nightmare on Elm Street. Noon-10 p.m. $39. The Desmond, 5514 Wilshire Blvd., L.A. Tickets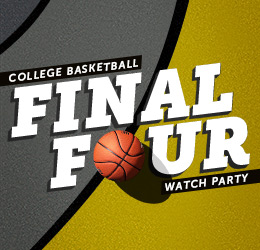 SPONSORED
Final Four at OUE Skyspace
April 6. Make OUE Skyspace LA your NCAA Final Four destination as they host an official Watch Party with a backdrop of 360-degree skyline views of downtown L.A. and beyond. Included in your VIP ticket is access to all levels of the new Skyspace experience, a ride on the Skyslide, open bar, food buffet and more. Tickets are limited so purchase yours today. 2 p.m. $60. 633 W. 5th St., 70th floor, downtown. Tickets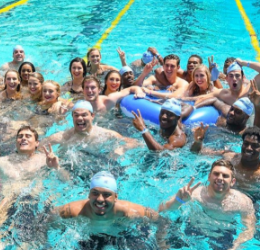 Swim With Mike
April 6. Held annually at USC, the Swim With Mike event raises funds for physically challenged athletes to pursue advanced education. The day starts with a masters' swim session and continues with a pancake breakfast, barbecue, dive show, football showcase, Trojans marching band performance, and capped off with a USC Trojans baseball game vs. Arizona State. 7:30 a.m. registration; 8-9:30 a.m. swim; festivities continue until 2 p.m. $25 minimum donation to participate. USC Uytengsu Aquatics Center, 1026 W. 34th St., L.A., 213.740.4155. swimwithmike.org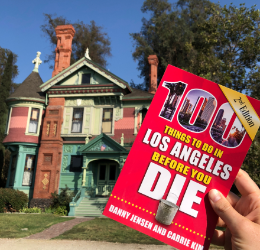 10 Things to Do in Old Hollywood Walking Tour
April 6. Old Hollywood Walking Tour creator April Clemmer and 100 Things to Do in Los Angeles Before You Die co-author Danny Jensen will lead guests on a behind-the-scenes tour of classic Hollywood. Tour stops include a peek at the 1938 Hollywood in Miniature diorama and the oldest remaining residence on Hollywood Boulevard. At the end of the tour, enjoy a drink and light appetizers at Tiki-inspired bar Lono (included in the ticket price). 3:30-6 p.m. $45. Advance purchase required. 6562 Hollywood Blvd., Hollywood. Tickets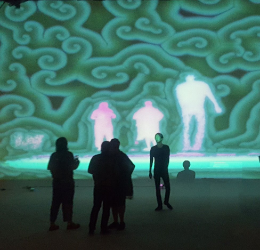 Brewery Artwalk
April 6-7. This biannual art walk takes place in what organizers claim is the world's largest art complex, which is inside a former Pabst Blue Ribbon brewery. Browse the personal studios of more than 100 resident artists. There's also a restaurant on-site. 11 a.m.-6 p.m. Free. 2100 N. Main St., L.A., 323.638.9382. breweryartwalk.com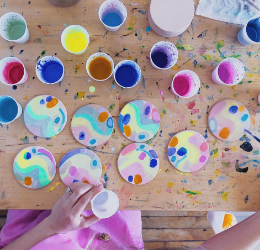 Renegade Craft Fair
April 6-7. This celebration of the DIY and maker spirit features over 200 artisans selling their wares, plus vinyl DJ sets, craft drinks, food trucks and interactive features. 11 a.m.-6 p.m. Free. Los Angeles State Historic Park, 1245 N. Spring St., L.A. renegadecraft.com
FOOD + DRINK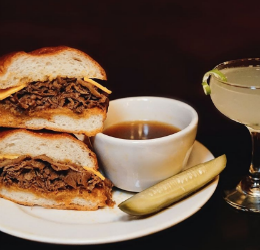 Friday Brunch at Cole's
Starts April 5. Get a head start on brunch as Cole's expands weekend brunch service to Fridays. In addition to the historic destination's signature French Dips and classic craft cocktails, enjoy Belgian waffles, biscuits and gravy and other goodies. F Noon-2 a.m. Also Sa-Su 11 a.m.-2 a.m. Cole's French Dip, 118 E. 6th St., downtown, 213.622.4090. 213hospitality.com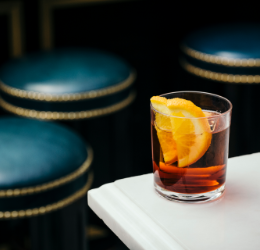 NoMad LA Pop-Up Cocktail Experience
Starts April 5. The NoMad LA Coffee Bar presents a pop-up cocktail experience that transforms on a monthly basis to showcase a new theme. The first pop-up, "Mamma Guidara's," is a riff on the NoMad crew's long-running dinner series from NoMad New York that pays homage to red-sauce joints. The NoMad LA bar crew will offer a menu of distinct drinks, including large-format options and a limoncello fountain; while the kitchen will provide a menu of snacks and desserts. F-Sa 5:30-11 p.m. 649 S. Olive St., downtown, 213.358.0000. thenomadhotel.com
Easter Bunny Brunch
April 6. Get a jump start on Easter at The Americana at Brand's North Italian dining destination Trattoria Amici. The special Bunny Brunch includes bottomless mimosas for adults and a VIP photo opportunity in The Americana's Bunny Bungalow. Kids can participate in an Easter egg hunt on the green. Reservations required. 8:30 a.m.-noon. $39+ adults; $17+ children. 889 Americana Way, Glendale. Tickets
Wigs & Waffles Drag Brunch
Starts April 6. The Standard Downtown L.A. starts a new brunch tradition this Saturday and continuing weekly. The all-you-can-eat affair includes bottomless bloody marys, mimosas, juice or coffee. Hosted by Maebe A Girl and Indica Sativa with special guests weekly.
$45. Noon-1:30 p.m. 550 S Flower St., downtown. Tickets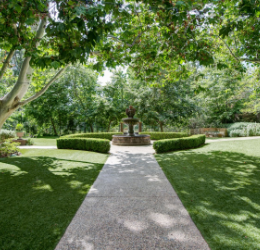 The Front Yard Spring Block Party
April 7. Enjoy a variety of new activities including lawn games and a pop-up shopping soireé, live music, and gourmet samplings prepared by Executive Chef Larry Greenwood. Sip on some of California's best breweries and wineries. Proceeds benefit the Wildlife Waystation animal sanctuary. 2-5 p.m. $29 advance; $38 door. Beverly Park at The Garland, 4222 Vineland Ave., North Hollywood. Tickets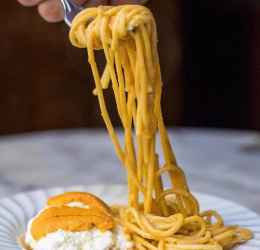 Masters of Taste
April 7. This premier food and beverage festival lets you stroll the 50-yard line at the iconic Rose Bowl while feasting on fare from some of L.A.'s top chefs and restaurants (including Gus's World Famous Fried Chicken and Kass Wine Bar + Restaurant), sipping handcrafted cocktails by the city's master mixologists and tasting offerings from eclectic California wineries and local craft breweries. All proceeds benefit Union Station Homeless Services. 21+. 4-7 p.m. $105. (Use promocode WHERELA19 at checkout for $10 off.) Rose Bowl, 1001 Rose Bowl Drive, Pasadena, 626.240.4550. mastersoftastela.com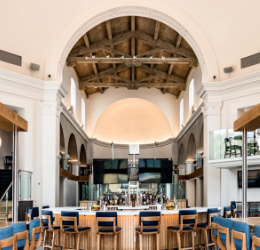 National Beer Day
April 7. In honor of National Beer Day, Beer Goals is aiming to crack the world record for "world's largest beer toast" by getting as many people as possible to toast at the same time. Beer Goals will be toasting live from Broxton brewpub in Westwood, broadcasting via livestream. Come join in, raise a pint (Broxton's Banana In the Tailpipe Hefeweizen, brewed on site is a refreshing choice) and be part of beer history. 6 p.m. 1099 Westwood Blvd., L.A., 310.933.9949. Info
ARTS + CULTURE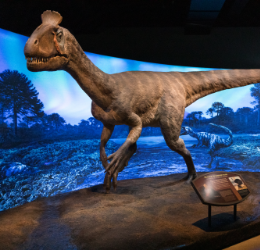 Antarctic Dinosaurs
Now Open. The new exhibition at the Natural History Museum of Los Angeles County contains immersive environments that transport visitors millions of years into the past to Antarctica's lush, temperate prehistoric environment where crocodile-sized amphibians and elephant-sized dinosaurs once roamed. The exhibition features full-sized replicas of four species of dinosaurs, as well as original fossils from the lost world. 9:30 a.m.-5 p.m. See website for ticket prices. 900 Exposition Blvd., Exposition Park. nhm.org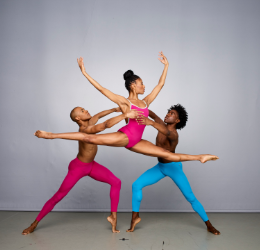 Alvin Ailey 60th Anniversary Tour
April 4-7. Alvin Ailey American Dance Theater will pay homage to traditional modern dance techniques blended with the new as the Ailey company will perform four different programs of mixed repertory with classic Ailey works and contemporary masterworks. Th-F 7:30 p.m., Sa-Su 2 p.m. and 7:30 p.m. See website for ticket prices. The Music Center, Dorothy Chandler Pavilion, 135 N. Grand Ave., downtown, 213.972.0711. musiccenter.org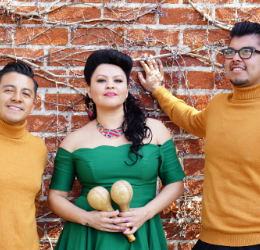 Boleros de Noche
April 5. Boleros De Noche, a musical and cultural experience that seeks to preserve, uplift, and celebrate Latin American bolero music history in Los Angeles, kicks off its fourth season with Boleros Made in L.A., featuring locally based female performers. Sharing the stage will be singer/songwriter Martha Gonzalez, multi-genre artist Margarita Luna and homegrown band Tres Souls who re-create vintage sounds of the 1940s-60s. 6-10:30 p.m. $21-$45. LA Plaza de Cultura y Artes, 501 N. Main St., downtown. Tickets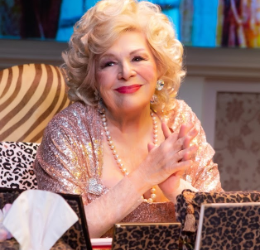 Renee Taylor in My Life on a Diet
Opens April 5. The Hollywood and Broadway actress looks back on a life full of memorable roles—and fad diets—in this funny show, having its Los Angeles premiere. See website for show times and ticket prices. Wallis Annenberg Center for the Performing Arts, 9390 N. Santa Monica Blvd., Beverly Hills, 310.746.4000. thewallis.org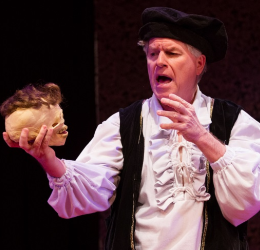 The Reduced Shakespeare Company
April 5-6. In this "tale told by idiots," The Reduced Shakespeare Company weaves famous Shakespeare characters, lines and speeches into a brand new Shakespearean smorgasbord. William Shakespeare's Long Lost First Play (abridged) is a comic misadventure that will feel strangely familiar yet excitingly new. Recommended for ages 13 and up. 7:30 p.m. $39-$69. The Broad Stage, 1310 11th St., Santa Monica, 310.434.3200. thebroadstage.org
STYLE + BEAUTY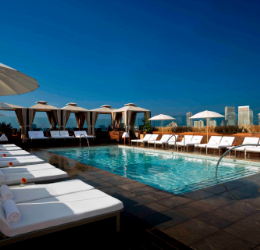 Fauxchella
April 6. Prep for next weekend's Coachella music festival at this "fashion and music pop-up." Shop from a curated mix of designers and fashion forward LA brands on The SIXTY Hotel's rooftop pool deck. Fuel up from a small bites and discounted cocktails will be offered. 1-5 p.m. Free. The SIXTY Hotel, 9360 Wilshire Blvd., Beverly Hills. Tickets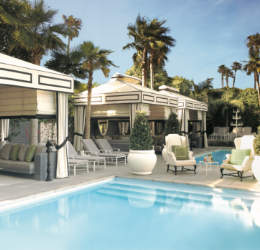 Sip & Shop Spring Festival Trends
April 7. Shop from a curated selection of vendors while sipping champagne from Veuve Clicquot and enjoying bites from Cast Lounge, with music by duchess. During the event, guests who purchase a pair of TOMS classics can have them custom painted/air brushed by a local artist. Guests can also have their hair styled by Beachwaver to try out their festival look. Other featured brands include 12th Tribe, Style Firm activewear, and Bijou Indochine jewelry. Noon-4 p.m. Free. The Viceroy Santa Monica, 1809 Ocean Ave., Santa Monica. Info
Photos: Alvin Ailey Dance Theater by Andrew Eccles. I Like Scary Movies ("IT") by Brooke Palmer ©2016 Warner Bros. Entertainment Inc. Swim With Mike courtesy @uscswimwithmike/Instagram. 10 Things to Do in Old Hollywood Walking Tour courtesy @100thingslabook/Instagram. Brewery Artwalk (Creative Technology Center) courtesy Brewery Artwalk/Facebook. Renegade Craft Fair courtesy @renegadecraft/Instagram. Friday Brunch at Cole's courtesy 213 Hospitality. NoMad LA Pop-Up Cocktails courtesy NoMad Hotel. Easter Bunny Brunch courtesy The Americana at Brand. Wigs & Waffles Drag Brunch courtesy The Standard. The Front Yard Spring Block Party (Beverly Park) courtesy The Garland. Masters of Taste (Cento Pasta Bar) courtesy @mastersoftaste/Instagram. National Beer Day (Broxton) courtesy New Original Breweries. Antarctic Dinosaurs ©Photo by Gina Cholick, Natural History Museum of Los Angeles County. Renee Taylor by Jeremy Daniel. The Reduced Shakespeare Company courtesy The Broad Stage. Fauxchella courtesy The SIXTY Hotel. Sip & Shop courtesy The Viceroy.