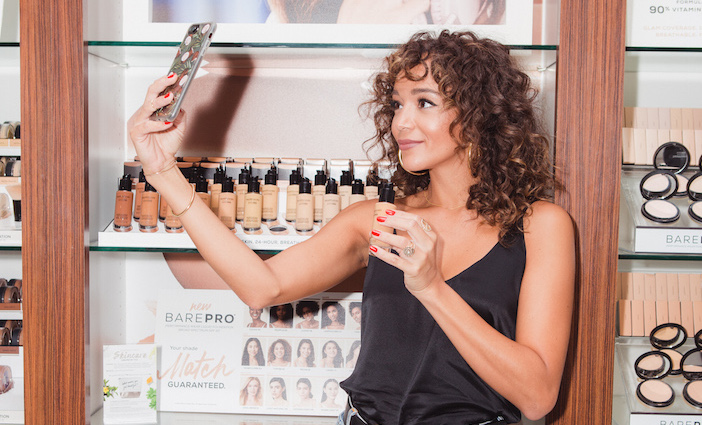 BareMinerals' new ambassador Ashley Madekwe played a witch on Salem, but Los Angeles has cast its spell on her.
By Suzanne Ennis.
We recently sat down with the English actress and blogger—who also starred in Revenge and Secret Diary of a Call Girl, and has a series-regular role in TNT's upcoming drama pilot Deadlier Than the Male—to chat about makeup, Macbeth and L.A.'s magical powers.
You moved to L.A. 5 years ago. How has your relationship to the city evolved?
When I first started coming here, I found it quite isolating. But the city has changed so much since I moved here. Uber has really opened it up, and once I felt comfortable driving here, that really changed it. Then I grew to love it.
What are some favorite local spots?
I love the Chateau Marmont—I think it will never, ever go out of style. In England we say you have your local—your local pub. The Chateau Marmont is my local. I'm always there. Maybe too much! As for daytime spots, Izaka-ya [by Katsu-Ya] for sushi is my favorite place for lunch. I live not too far from Runyon, so I like going there to hike or sometimes read my scripts.
I read on your lifestyle blog, Ring My Bell (ashley-ringmybell.com), that you're a beauty-product junkie.
I am a little bit, yeah! Especially because I'm in the lucky position of being an actress and having a website, people send me things, and I get to try a lot of stuff—and I hoard it!
What drew you to bareMinerals?
When I got to try the BarePro Foundation, I was completely sold. I've struggled with finding a shade for my skin tone. I'm not the lightest, and I'm not the darkest—I fall somewhere in the middle, and I think a lot of girls are like that. This product range is so diverse, and that really spoke to me.
Your skin looks beautiful.
Thank you! I'm wearing Shade number 23.
What are some of your favorite bareMinerals products for travel?
I like my makeup look to be quite unfussy, so if I were to take only a couple of products with me, I would take BarePro, which is great for travel because you can put it on in the morning and forget about it. I would take a nude lipstick, like Honeybun [Gen Nude Radiant Lipstick], which is quite a neutral shade—and then Lash Domination mascara.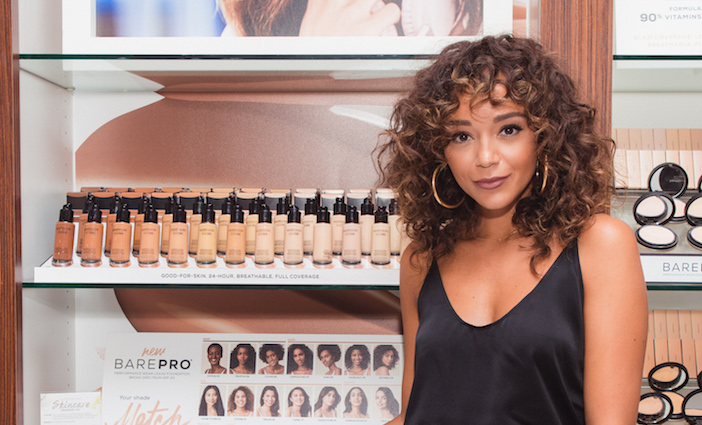 What else do you bring on a flight?
I always take hand sanitizer wipes. I have become a germaphobe later on in life! When I was younger I didn't care about it, but now I'm the person who always wipes down the tray table. And for my skin, I always have Elizabeth Arden 8 Hour cream, which I mostly use as a lip balm, but it's also great for dry cuticles.
I enjoyed your recent post on Ring My Bell about Parisian Florist, the flower shop that Joe DiMaggio used to send flowers to Marilyn Monroe's grave.
How romantic is that? He wasn't even her husband when she died. They'd already divorced, and he sent her flowers for, like, 25 years.
The shop is also an L.A. gem. Can you share any other cool L.A. spots?
I love Old Hollywood. The Chateau Marmont is like an old Hollywood institution. I mean, people have died there! Not to be morbid. [laughs] I love that. I still like doing touristy things. I'm not over walking down Hollywood Boulevard, and I still get really excited when I see the Hollywood sign.
Speaking of morbid…you recently played Tituba in Salem, which was a truly terrifying show. Was it frightening for the actors, as well?
The scariest moments on the Salem set were when you're doing a night shoot and you wander off to pee. Like, you're in the middle of the woods!
I stopped when I saw leeches.

You didn't see anyone vomiting up nails? That was a pretty intense scene.
If you could create a role for yourself, what would it be?
I think the more complex a woman is, the more fun she is to play. I'm drawn to driven, complex, deep women. If I could pick any role for myself it would be Lady Macbeth.
Have you done theater?
I have done some theater, I haven't played Lady Macbeth. I did use her speech to get into drama school. Now, if you could imagine the arrogance of a very young 20 year old trying to get into drama school playing Lady Macbeth…
It worked!
I think they just liked my confidence!
Do you like to go to the theater here?
I've only seen musicals in L.A.. The last play I saw was back in London a month or two ago: The Goat, or Who is Sylvia, an Edward Albee play, which I loved. My cousin was starring in it. It was his West End debut.
So you come from an acting family.
Well we're trying. It's just the two of us. How many do you need to create an acting dynasty? [laughs]
So what's next?
I'm about to shoot a pilot for TNT called Deadlier than the Male. It's a female-driven show both behind and in front of the camera, which I was really drawn to, and it's in the vein of a murder-mystery, I would say. It's different than Salem in that it's set in the modern day, and I'll be playing a modern-day American. I'm excited.
And how about for you personally?
I don't know, do I have a personal life? I'd like to get more into development, so I am reading more things that I think could be developed, but I think that's a long way off.
In the meantime you can build your dynasty.
Somebody's going to have to have a baby to build this acting dynasty!
Photos by Hagop Kalaidjian.