Exploring the North Sea following the historic wake of the Vikings is a bucket list item for so many people. Doing it with Viking Cruises takes the experience to a whole new level of luxury.
Viking floated out their newest ocean liner — the Viking Jupiter — earlier this year. And their Viking Shores & Fjords expedition is just one of their many itineraries around the globe. On this eight-day adventure, passengers sail through Norwegian Fjords starting in Bergen, Norway and follow ancient sea paths to Flam, Norway through leafy green hamlets and craggy mountains overflowing with cascading waterfalls above the jewel-box villages below. And that is just the first 24 hours.
The journey continues through Nordic lands, stopping in Norwegian cities such as Stavanger and Oslo, before moving onto Skagen, Denmark, and finally docking in Amsterdam, Norway.
From Disney to the Danube, there are endless options for cruises to fit any vacation style. For travelers looking for expeditions that are tops on culture as well as cuisine, Viking is an industry leader.
Viking cruises are designed for travelers with specific interests in art, music, and cuisine both on and off board. The cruise line is synonymous with river cruses, but they have been steadily building their ocean fleet. The Viking Jupiter is the sixth oceanliner since 2015. The opportunity to set sail on the seas has expanded Viking's destination offerings as well, which now include itineraries in Scandinavia and Northern Europe, the Mediterranean, Asia and Australia, the Americas and Caribbean, and grand world tours that visit 27 countries from London to Los Angeles. Here are six exciting features that set Viking apart.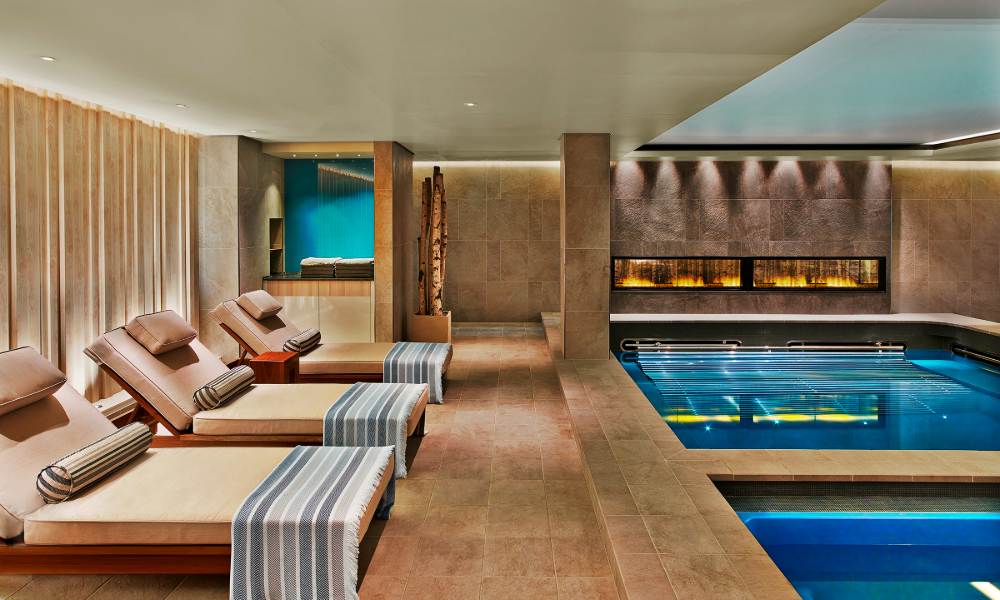 Small Ship Big Benefits
The average passenger capacity for ocean liners is around 3,000 guests (with the largest being well over 5,000) and with that comes undesirable interior room options, unremarkable dining and an overall crowded and chaotic feel. The Viking Jupiter holds 930 passengers — max. This makes you feel as though you have the ship to yourself at times. Specialty dining reservations, spa appointments and shore excursions are easy to come by, making it easy to completely indulge in every aspect of the journey.
All Veranda Staterooms
One of the best parts of cruising the ocean is relaxing on your private balcony and soaking up the scenery as you travel from port to port. This isn't an included feature on every cruise lines' ships. But all of Viking Jupiter's staterooms have verandas. They also feature luxury linens, large bathrooms with heated floors, premium Freyja® toiletries, plush robes and slippers. Housekeeping also visits twice a day to tidy up, refill purified still or sparking water, and replenish the mini-bar.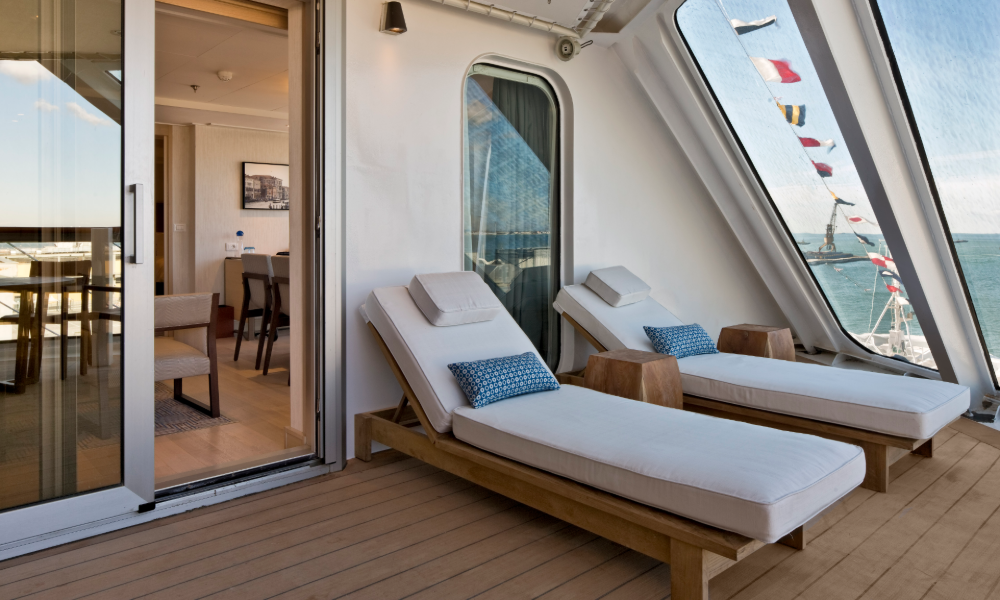 Shore Excursions
Ships are small to get guests closer to their destination, with more time in port and more overnights. Viking always offers a free shore excursion in each port, or you can choose from a variety of supplemental experiences all well coordinated and facilitated by knowledgeable staff. One of the signature activities of any Viking Cruise is their Kitchen Table experience. In a designated port during the cruise you can join the ship's Executive Chef on a tour of local markets. You'll meet with each of the purveyors and taste through ingredients that the chef will select for a private dinner that evening.
During the Viking Shores & Fjords trip, Executive Chef Gaetano Monteriso lead a group of hungry travelers through the fish, vegetable, cheese, chocolate, and meat markets of Stavanger, sampling and picking up local delicacies like mackerel, award winning cheeses, artisanal chocolates, and charcuterie. Later that night back on board, he and his chef team prepared an interactive dinner featuring highlights like scallops with caviar and celery root puree; roasted venison; smoked mackerel; and cloudberry truffles.
Cultural Programming
From live music and comedy, to movies, TED talks, and lectures by the ship's resident historian and astronomer, Viking offers incredible opportunities for enrichment on every cruise. The Viking Jupiter also the second ship in the fleet to feature its own planetarium where you can reserve a seat for one of the three shows daily, which are presented in 2 and 3D.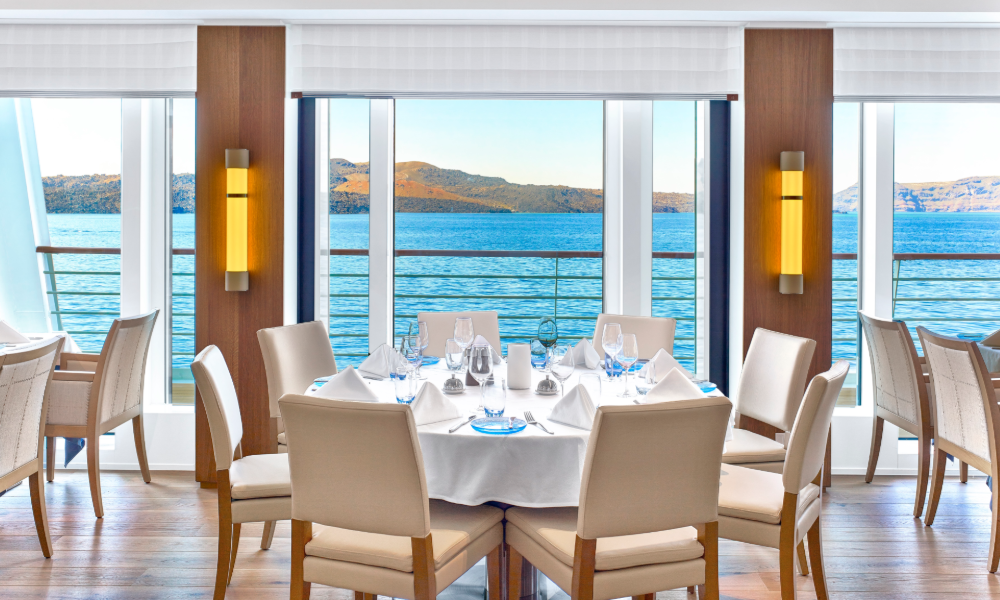 World Class Dining
With eight dining outlets plus around-the-clock room service, indulging is always an option on the Viking Jupiter, and the offerings are endlessly enticing — the ship budgets 100,000 pounds of king crab for passengers every year. This delicacy is always available for dinner on the buffet in the World Cafe. The smaller passenger load makes made-to-order meals a regular practice on the ship. Start your day with a bespoke omelet, and enjoy a tasting menu at The Chef's Table for dinner. This restaurant and Manfredi's Italian Restaurant are two of the ship's alternative dining options that are available to passengers with a reservation. The ship also offers a few interactive dining activations throughout the trip such as fresh seafood and caviar poolside, and an afternoon in Italy with fresh pasta finished off in a cheese wheel accompanied by refreshing Aperol Spritzs. All pastries and bread are also made fresh on board. And traditional high tea is served in the Wintergarden daily. Everyone also receives complementary beer and wine with lunch and dinner service, and you can opt to upgrade to an enhanced spirits package.
Nordic Spa
All passengers can unwind in the Thermal Suite in the LivNordic Spa — no reservation required. Amenities include two heated saltwater whirlpools, steam room, Snow Grotto, gender specific sauna, and cold plunge pool. The spa also offers and array of facial and body treatments, including hydro facial and Nordic hair mask by appointment. On specific "sauna nights" passengers can also opt to take part in the Nordic bathing ritual to encounter a series of traditional Scandinavian hot and cold treatments.